9
Aug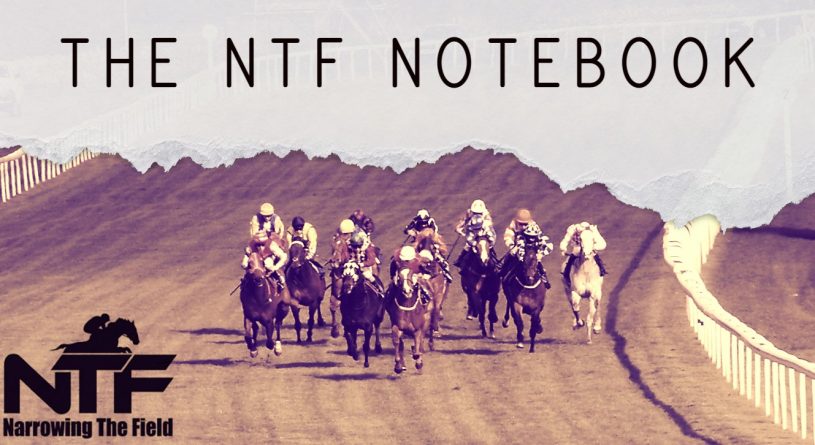 NTF NOTEBOOK: Monday 1st – Sunday 7th August
The Notebook horses have been running well of late, picking off some decent wins and placed efforts along the way, which is always great for the betting bank 😃 🤑
The likes of LINCOLN PRIDE (Winner at 11/2 – Newcastle – 3rd Aug), MITROSONFIRE (Winner at 13/2 – Newmarket – 6th Aug), HAVE SECRET (Winner at 6/1 – Haydock – 7th Aug), VARIETY ISLAND (Placed at 10/1 – York – 23rd July), BERGERAC (Placed at 9/2 – Newmarket – 23rd July & Winner at Evens – Newmarket 5th Aug) and TEMPER TRAP (Winner at 7/4 – Hamilton – 30th July & Winner at 15/8 – Ripon -8th Aug) being just some of the NTF Notebook horses that have been doing the business in recent weeks.
Hopefully plenty more of the NTF Notebookers will pick of some profits before season end…
(p.s. the end of season Full NTF Service Discount offer is still available here)
Here's the latest bunch of NTF Notebook horses from last week's racing…
.
---
.
NTF NOTEBOOK: Monday 1st August – Sunday 7th August
.

CHARLIE ARTHUR
4th of 11, 1m2f 4yo+ Handicap, Windsor, 1st August
Simon Hodgson's 6yo has been in fine form this year, winning 2 of his 7 starts and placing on two other occasions. He was only beaten 1.4L in 4th here and that caught my eye as his 41 day break won't have been ideal, indeed he is only 1/10, 0p off breaks of 41-days+ and he should come on for this run.
I've actually been waiting for him to return off a break of 14-days or less as that is when he seems to be at his absolute peak, with a form line of 112112 (4/6, 2p) off such breaks, and he's well worth keeping on the radar for a quick return run in the coming weeks.
.

FAST AND LOOSE
2nd of 10, 6f 3yo+ Handicap, Pontefract, 3rd August
Drawn 9 of 10 over the Ponte 6f trip is never an easy task so Kevin Ryan's 3yo deserves plenty of credit for only going down by a head at the line, even more so when he managed it from mid-pack against course specialist CORINTHIA KNIGHT, who was perfectly drawn, had the prime racing position and was still very well in on his best form.
FAST AND LOOSE banged in a career best effort here on his 8th career start and the cheek-pieces he wore here for the second time do seem to have done the trick, given he broke his duck when wearing them for the first time on his last run and then fired in this career best speed figure effort.
He's usually a horse that likes to be more prominent than he was here but his 9-box draw made that an almost impossible task and if he gets a better rub of the draw green next time out there's every reason to think he'll be running another big race.
.

LETHAL NYMPH
7th of 13, 6f 3yo+ Handicap, Doncaster, 4th August
Middle to high was the place to be drawn in this valuable Class 3, with the first three home drawn in stalls 13, 8 & 11. Stall 1 gave this Clive Cox trainer 3yo little chance of getting involved and I'd be more than happy to mark up his 3L 7th a couple of pounds.
This was only his sixth career start and connections should be able to find easier openings than this, hopefully with a bit more luck from the draw, and he should be able to pick off another win before seasons end.
3yo gelded offspring of his sire Lethal Force do also have some solid stats in the August/September period in turf handicaps…13/75, 17p…improving to 12/52, 10p when they've had between 4-13 previous career starts.
.

ALBEGONE
3rd of 12, 5f 3yo+ Handicap, Doncaster, 4th August
Only found a couple of 3yo's too good for him here but there was plenty to like about his run and he posted a figure not too far below his best.
He's been on the go plenty this season and finds himself back below his last winning mark (ran here off OR 66…high/last win mark is OR 67) and on this evidence he shouldn't be far off posting a fourth career victory.
He does seem to come to life in the August/September period, with form of 643112 (2/6, 2p) at this time of the year, and he's worth looking out for under the following Prime Conditions…
OR 67 or less | Straight 5f Handicaps | DSLR 25 or less = 31211646232 (3/11, 5p)
.

SPIRIT OF THE BAY
2nd of 12, 1m2.5f 3yo+ Handicap, Doncaster, 4th August
Bumped into a winner in the shape of PLEDGE OF HONOUR (Notebooked in this post) who had Prime Conditions and the better of the draw. This was also the fillies first try beyond 1m and Pledge Of Honour is a confirmed stayer at the trip. Add in the fact that Spirit Of The Bay is possibly best in smaller fields…
Form in fields of 10 or less = 173241121 (4/9, 3p)
Form in fields of 11+ = 426875 (0/6, 1p)
…and off shorter breaks (she was running off a break of 26 days here)…
Form off DSLR 21 or less = 1711213 (4/7, 2p)
Form off DSLR 24+ = 72258464 (0/8, 2p)
… then there was quite simply a lot to like about this effort.
This longer trip opens up options for her and I'd be interested in backing her under the following…
Fields of 10 or less | DSLR 21 or less | 1m+ trips = 21111 (4/5, 1p – all 4 career wins)
…although she is one I'd be relatively flexible with as this run proved she maybe doesn't need all her boxes ticked to be running well.
.
---
Remember you can flick through all previous notebook posts by visiting the main NTF Blog page
…and to make sure you never miss any NTF news simply pop your name in the form below…
⬇️⬇️⬇️
3 responses to "NTF NOTEBOOK: Monday 1st – Sunday 7th August"