5
Jul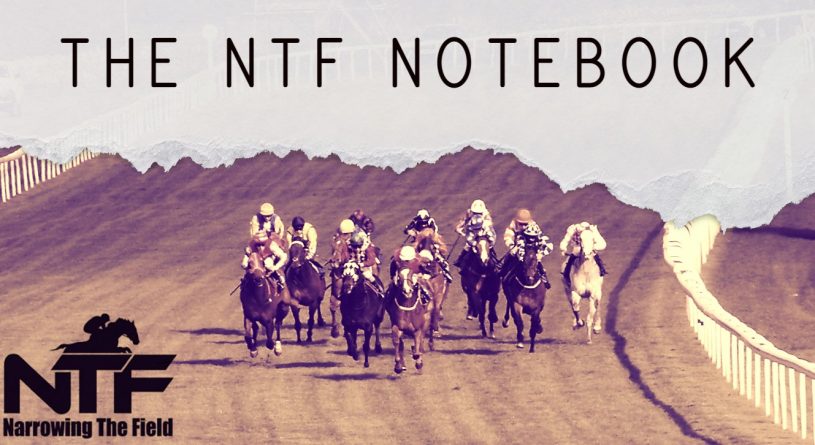 NTF NOTEBOOK: MONDAY 27th JUNE – SUNDAY 3rd JULY
The 2022 renewal of the Coral Eclipse was a bit of alright, wasn't it? 😯
A quick squint at the Proform Speed figures achieved by the Eclipse winners since the 2000 renewal (remember that one? Giant's Causeway and Kalansi going head to head in a ding-donger up the Sandown straight!) tells me that this year's renewal is bang up there… not quite at the Nathaniel and Sea The Stars sort of level but comfortably near the top end all the same. It will be very interesting to see where connections go with the winner VADENI now, he's beginning to look a serious player with a number of options to toy with…
I won't bother notebooking Vadeni, however, I think it's clear to all that he's one we should be following… but here are the TEN horses I DID notebook from last week's racing…
---
NTF NOTEBOOK: MONDAY 27th JUNE – SUNDAY 3rd JULY
.
CONNIES ROSE
6th of 14,6f 3yo+ Handicap, Chepstow, 28th June
It was an advantage to be drawn low to middle in this contest and CONNIE'S ROSE was up against it from the off from her stall 13 of 14 berth. The fact she was only beaten 2L at the line and also popped in a career best on the figures marked this out as a noteworthy effort to my eyes and one that deserves to be marked up a few pounds on the bare result.
Her last three runs have all been on the Chepstow straight track and there's an argument to be made that she's been poorly drawn on ALL three of those runs, more so here as it was a bigger field, but she just doesn't seem to have had the rub of the green (or rub of the draw maybe?) on her three turf starts.
Despite being 0 from 8 so far in her career she does look more than capable of opening her account sooner rather than later and if she can just get a bit of luck in the draw stakes then I can see her taking advantage of her current mark of OR 52 (down 1lb for this run); the effort she produced here against the draw/track bias marks her out as one to keep on the radar.
.
LADY LADE
2nd of 8, 6f 3yo+ Handicap, Hamilton, 28th June
There was a definite track bias at play on the straight track at Hamilton this day and it very much played to the hands of those draw higher (near side). Keith Dalgleish's 3yo did well to get in the mix from stall 2 and even more so given the fact she was bumping into a winner – Jordan Electrics – who was running under bang Prime Conditions.
Despite the draw handicap she faced she still managed to post a career best effort on the figures (Proform Speed Figures used as my gauge as always), which was actually her second career best effort on the bounce (having also posted one on her last run, also at Hamilton). She entered handicap company on the relatively tough mark of OR 83 at the back end of her 2yo career but she's gradually dropped down the ratings to her current mark of OR 74 and her recent runs very much suggest that's more within her grasp, and she should be visiting the winners enclosure again before too long.
.
SUNSET GLOW
2nd of 10, 5f 3yo+ Handicap, Hamilton, 28th June
Again there was a big track bias at play here and the winner – Refuge – had the luxury of the 'Golden Highway' up high, breaking from stall 10 of 10. Grant Tuer's 4yo was parked on almost the complete opposite side in stall 2 and he deserves plenty upgrading for getting to within 1.75L of the winner at the line (even more so when you consider the winner did all but win when seen out again on Ayr on Sunday). The 4yo was last seen finishing 24L 13th of 13 at Ripon but that was his first run for 421-days and he clearly was well in need of that effort to blow away the cobwebs.
This was only his 5th career start and there's a chance he possibly still needed this outing also to fully get up to speed after his lengthy lay-off and he could well come on again for this effort, indeed his 2yo speed figures indicate he can run better than this and likely has more in the tank still.   
.
GILT EDGE
3rd of 7, 5.5f 3yo+ Handicap, Bath, 29th June
The wide draw (7 of 7) and racing above her class level (this was a C4 and she is now 0/6, 0p above C5 level… indeed she is now 0/11, 0p in races worth more than 3.5K to the winner…this was 5K to the winner) did for the 6yo here, but in fairness it was far from a bad effort and I see it as a run that tells us she's likely not all that far off finding her way back to the winners enclosure again.
She's at her peak in the June-August period…
June-August form = 6/19, 4p
Form in all other months = 0/13, 1p
…and is currently back below her last and highest winning mark of OR 72 (ran here off OR 70) for all another small drop wouldn't go amiss as she did have a claimer on top when winning from that mark of OR 72 last August (*Note: she was dropped 1lb for this run to OR 69).
I have Prime Conditions for her as…
C5 or less Hcps (<3.5k) | OR 72 or less | DSLR 26 or less | Good+ | June-Aug = 1211321113 (6/10, 3p – all 6 career wins)
…and I'll be looking out for her appearing under those conditions in coming weeks.
.
DREAMCASING
2nd of 20, 6f 3yo+ Handicap, Thirsk, 29th June
Not the hardest to find this one but still well worth highlighting…
There was a big track/draw bias towards the middle-high stalls at Thirsk this day and the fact this 4yo managed to get within a length of the winner from stall 2 was a seriously impressive effort. Even more so when you consider he was the only one from a single figure draw to make the first nine home (stall positions of the first nine home were… 16-2-18-19-13-15-17-20-14).
This was the Showcase gelding's first run on turf and only his second start in a handicap and he must be seriously well-handicapped at present to have gotten so close against a strong track/draw bias. The figure he posted here (a clear career best) also firmly suggests that he's some way ahead of his mark and he'll surely be taking advantage of it before too long.
.
DAWSON LANE
4th of 10, 5f 3yo+ Handicap, Haydock, 30th June
It paid to be drawn low in this 5f Haydock sprint, with the first two home drawn in stalls 1 & 2. Julie Camacho's 4yo was drawn in stall 7 and also got bumped leaving the stalls so was up against it right from the off. She did, however, dig in well in the final couple of furlongs and her 1.6L 4th looks decent given the draw and hampered start she had. She also posted a career best on the figures so every chance she could have went even closer given a better draw and cleaner start.
Also well worth noting that Camacho handicap debutants (which Dawson Lane was here) only have a 6 from 117 record (5% S/R – 45% below expectation) and generally don't score at the first attempt in handicap company, so reason there to believe we'll see improved efforts in coming starts.
Thirsk, Newcastle and Hamilton have been happy hunting grounds for unexposed Camacho handicappers and Dawson Lane would be of plenty interest if rocking up at one of those tracks in coming starts.
.
PLEDGE OF HONOUR
2nd of 11, 1m2f 4yo+ Handicap, Newbury, 30th June
Dean Ivory's 6yo has been in fine form this season after having spent a lot of his time off the back of his first career victory in September 2020 running off marks that look above his handicap ceiling. There were no real hard luck stories here, I think he simply bumped into a well backed improver in the shape of the John Butler trained PRECISELY and one who maybe had a bit of an easier passage down the middle/inside of the track (whilst Pledge Of Honour had to do his work down the outside).
This was a well-run race and one that returned a figure well above par for the grade, with Pledge Of Honour himself posting a career best effort in the process, again highlighting the fine form he's been in this season.
The handicapper only shuttled him up 1lb for this effort to OR 71 and that should still be a mark he's capable of winning from and he's worth looking out for under the following…
OR 75 or less | 1m2f hcps on LH tracks | Good or quicker | DSLR 45 or less = 23111 (3/5, 1p – all 3 career wins)
.
KARDINYA
3rd of 10, 1m0.5f 3yo Handicap, Beverley, 1st July
Wide draws' at Beverley are often tricky, especially when you try and lead like this Mehmas colt did, and you can often use up plenty gas early on to get a good racing position. KARDINYA was draw in 10 of 10 here and he couldn't quite get to the lead from his wide position and he did look to use up a bit of gas trying to get to the rail. It says plenty about the horse, however, that he only went down by 0.6L at the line and finished best of those up with the pace/setting the pace (the first two home were ridden with more restraint), posting a career best on the Proform Speed figures in the process.
It's also worth noting that the O'Meara yard were going through a bit of a quite spell for a couple of weeks (there are out of it now for the record) and this run from Kardinya was by far one of the better runs by one of the yards horses (it's always worth noting a horse that runs well whilst a yard is going through a lean spell).
Kardinya is still a maiden after 7-starts but he's got some decent bits of form that suggest his current mark of OR 66 (up 1lb for this run from 65) looks more than workable, especially his close 4th from Kempton on the 29th of January, with plenty of winners and placed horses coming from the race and sitting on higher marks than they were on when this lad raced against them.
.
TEMPER TRAP
4th of 8, 1mf 3yo+ Handicap, Doncaster, 1st July
Temper Trap has never really shown his best form out with Class 6 level (this was a Class 5) as his class splits testify to…
Form at Class 6 level = 5/15, 1p
Form at Class 5 level+ = 0/14, 1p
…and in the context of his own form this 4th placed effort is decent enough.
He generally starts to hit form in the second part of the year (July and later) so he's well worth keeping on the radar for when he dips back to his Class 6 comfort zone and I have prime Conditions for him as…
C6 | 7f-1m1f | July-Oct | OR 60 or less | DSLR 28 or less = 111112 (5/6, 1p – all 5 career wins)
…he's very consistent when he gets his Prime Conditions and David Allan riding would be a bonus as he's ridden the horse to all five of his wins.
.
RAMBUSO CREEK
4th of 10, 5f 3yo+ Handicap, Beverley, 2nd July
The stall 9 of 10 draw did for Kevin Ryan's 3yo here and jockey Kevin Stott took the early decision to switch behind the pack down to the inside rail and ride him for luck. Unfortunately luck deserted them on this occasion and the doors just did not open until it was too late; he spent a good part of the final couple of furlongs all dressed up with nowhere to go. When the gaps did appear it was all too late and Kevin Stott wasn't overly hard on the horse when it was clear his winning chance was gone. With that in mind the fact he almost equalled his career best figure from last time out was highly noteworthy, as was the fact he was only shuttled up 1lb for this effort to OR 80.
There are plenty of decent pieces of form on his CV that mark him out as one with still plenty to give from his current mark and it would be no surprise to see him bang in one or two more handicap victories before this season is out.
---
Remember you can flick through all previous notebook posts by visiting the main NTF Blog page
…and to make sure you never miss any NTF news simply pop your name in the form below…
⬇️⬇️⬇️
Cheers – Ben (NTF)