15
Aug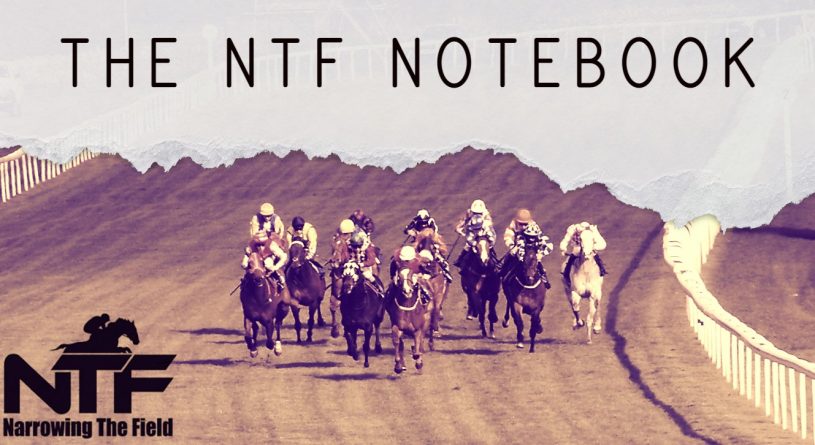 NTF NOTEBOOK: Monday 8th – Sunday 14th August
The Ebor meeting at York dominates the racing this week, with four days of top quality racing taking place on the Knavesmire from Wednesday through to Saturday. As always I'll be covering the meeting in detail on the full NTF service…
Before we get fully strapped in for the Ebor ride…
.
---
NTF NOTEBOOK: Monday 8th August – Sunday 14th August
.

OUR LITTLE PONY
3rd of 11, 5f 4yo+ Handicap, Beverley, 11th August
Stall 10 of 11 was always going to be a tricky position to do something from over the Beverley 5f trip but the 7yo stuck in well out wide and did a lot of good work late on, finishing less than a length off the winner come the line.
She's been running well this season, posting some solid figures in the process, and her current mark of OR 71 shouldn't be beyond her, she has won off higher marks twice before and has been giving plenty signs this season that she's a well-handicapped horse and one that is bang in form.
Her win at York in June has been working out very well – 10 winners and 10 placed horses have already emerged from the race with the 2nd, 3rd, 4th, 6th and 7th all having won at least once since – and she's worth keeping on the radar for when she rocks up under her Prime Conditions…
Turf C4 or less | 5f-6f | OR 78 or less | DSLR 45 or less = 7/20, 7p – all 7 career wins
.

FIRST DANCE
3rd of 8, 1m 3yo+ Handicap, Newmarket, 12th August
Tom Tate's 8yo mare posted a season best speed figure here, which was no real surprise as she is bang in her prime months now; her monthly form splits reading…
Jan-Jun = 0/11, 2p
Jul-Oct = 5/26, 5p
Nov-Dec = 0/6, 1p
…Newmarket's July course has always been a happy hunting ground for her as well, with form at the course of 11243 (2/5, 2p).
There were signs of life on her last start (29th of July) and she improved on that effort quite a bit here, she's worth looking out for under her following Prime Conditions…
C4 or less hcps | 7f-1m2f | OR 69 or less | DSLR 45 or less = 3482111431 (4/10, 3p – all 4 Handicap wins)
.

GENERAL LEE
2nd of 7, 1m2f 3yo+ Handicap, Newbury, 13th August
Mohammed Tabti almost stole this off the front with an enterprising front-running ride, but he just didn't quite leave enough in the tank to fend off one of the unexposed 3yo's he was facing off against. This was still, however, a fine effort from the 4yo and he backed up his comeback run at Glorious Goodwood last month, which was his first run for 126 days and was plenty better than the bare bones of 10th of 16 suggests.
Paul Cole's 4yo is a horse with plenty of upside still and connections should be able to find a winning opportunity for him before too long, with the following conditions possibly representing his Prime Conditions…
June or later | Good to Firm (Good likely to be OK as well) | DSLR 25 or less = 2112 (2/4, 2p – both career wins)
.
SNASH
6th of 14, 6f 3yo+ Handicap, Ripon, 13th August
Things didn't go to plan for Tim Easterby's 4yo right from the off here as he was slowly away out the gates and that's never really the place you want to be in the Great St Wilfrid, the last eight winners of the race either front-ran or sat just off the pace and trying to win it from out the back heightens your chance of finding trouble late in the day, which is exactly what happened in the final furlong to Snatch. I'm also not all that convinced that he wants to be threading his was through a large field anyway as he is now 0/8, 0p in fields of 11+ and he just looks much more comfortable with less runners to pick his way through.
He still, however, posted a solid speed figure here, suggesting he remains in decent form and on a mark that he should still be able to defy (ran here off OR 90) and I'd be interested in backing him under the following…
6f | fields of 10 or less = 1111 (4/4 – all 4 career wins)
.

COTTAM LANE
2nd of 8, 6f 3yo+ Handicap, Pontefract, 14th August
Nigel Tinkler picked up this 4yo from Kevin Ryan in April but he was above his handicap ceiling and is a horse who is at his peak in the August-September period…
Aug-Sep form = 2/6, 3p
All other months = 0/10, 1p
…so he's had to wait a few runs until he was ripe for winning again…his solid second here suggests that time is now.
I have Prime Conditions for him as…
OR 77 or less | August-September = 2112 (2/4, 2p – both career wins)
…and he's firmly on my radar for a suitable opening in the coming weeks…a return to Ponte wouldn't be a bad thing as he's now 213 (1/3, 2p) at the track.
.
---
Remember you can flick through all previous notebook posts by visiting the main NTF Blog page
…and to make sure you never miss any NTF news simply pop your name in the form below…
👇👇👇
Cheers – Ben (NTF)
p.s. get all the NTF York Ebor meeting coverage HERE