25
Jul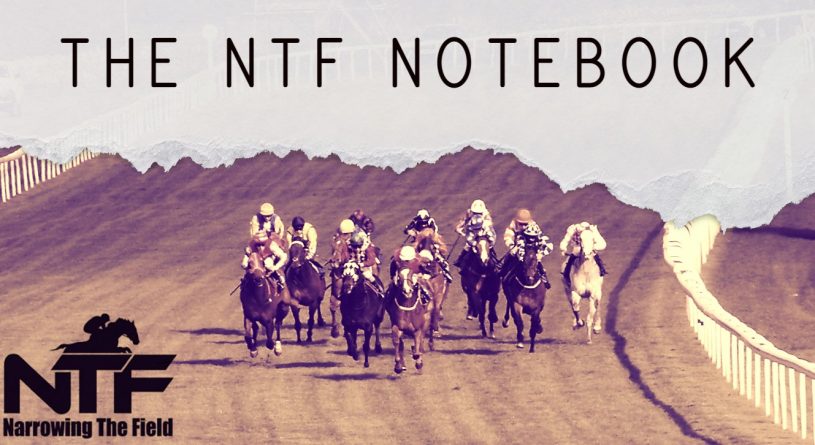 NTF NOTEBOOK: Monday 18th – Sunday 24th July
It's Glorious Goodwood/Galway Festival week, so I'm deep in analysis mode for full NTF members, with all five days of Goodwood covered and a light sprinkling of the big Galway races also covered in the NTF members area. As such it's just a quickfire five on the notebook this week…
You can hook up to the full service for the remainder of the Summer Season (now until Arc De Triomphe time at the start of October) for a discounted mid-season special offer, available on the following page…
Day one Goodwood analysis is already in there and there will be plenty more to come this week and indeed before the season is out…
Now for this week's notebook horses…
---
NTF NOTEBOOK: Monday 18th – Sunday 24th July
.

STREAMLINE
4th of 10, 6f 3yo+ Handicap, Ayr, 18th July
It looks like Amanda Perratt may be getting the spark back in this former Clive Cox inmate, who was having his 4th start for his current yard and his second start in the space of 3-days. He had run a solid 5th in the Scottish Stewards Cup at Hamilton 3-days previous to this and he backed that effort up here with a staying on 4th in the Ayr Gold Cup Trial Class 3 Handicap. Both speed figures recorded on those two starts suggest he's coming nicely to the boil again and looks one we should be keeping on the radar.
At his peak for Clive Cox he was rated OR 100 and was able to win a Class 2 Wolverhampton handicap off OR 94, so his current mark of OR 87 does look appealing and Amanda Perratt should be able to get him winning from on around that mark.
To date he's only won running round a bend…
LH/RH bend form = 4/8
Straight track form = 0/8
…but his last two efforts suggest he should be able to win on a straight track, albeit it is an angle I'd be keeping in mind if he doesn't break his straight track duck before too long.
.

WADE'S MAGIC
3rd of 9, 6f 3yo+ Handicap, Catterick, 20th July
Had a tricky draw to overcome here in stall 7 of 9 and the two that beat him were drawn on his inside and also had the run of the race out front (low draw and going from the front are positives over the Catterick sprint trips). With those factors taken into account this nose and neck third reads well, even more so when you consider he's done all his winning off breaks of 15 days or less (he was DSLR 26 here), his DSLR splits reading…
DSLR 15 or less = 5/23, 7p
DSLR 16+ = 0/15, 3p
This race reads strong for the level on Proform Speed Figures and Wade's Magic is worth looking out for under the following…
OR 66 or less | Hcps worth 5k or less| May-Sept | 11 or less runners | CP's | DSLR 15 or less = 1137321121 (5/10, 4p – all 5 career wins)
…he does need plenty boxes ticked to run to his best but when he gets them he generally puts his best foot forward.
.

LINCOLN PRIDE
3rd of 12, 7f 3yo+ Handicap, Yarmouth, 21st July
Banged in a career best on speed figures here, in a race that was run a good way above par for the class. David O'Meara's 3yo was comfortably ahead of the other 3yo's in this, only finding a couple of more battle-hardened older horses too good for her come the line.
7f on Good to Firm ground looks to be the key to her – form of 1-2-3 (1/3, 2p) – and on this evidence her trainer should be able to find another winning opportunity or two before the season is out.
.

DARE TO HOPE
2nd of 6, 6f 2yo Nursery Handicap, York, 23rd July
I suspect he just bumped into an even better handicapped youngster than himself in the shape of the winning fav CATCH THE PADDY, but he had the remainder a comfortable 4L+ back here and he's well worth keeping on the radar as I would be shocked should his current mark of OR 85 prove to be the ceiling of his abilities. I actually think he could have given the winner even more of a race had he not lost his position mid-race and have had to switch positions to get a run and I'd be marking the bare bones of the run up a couple of pounds with that in mind.
The form of his debut win at Nottingham (16th April) has worked out very well, the 2nd, 3rd & 4th have won 5-times between them since, with the second horse Rocket Rodney currently rated OR 105, and there's surely a nursery or two on the near horizon with Dare To Hope's name on it.
.

FAATTIK
3rd of 9, 7f 3yo+ Novice Stakes, Lingfield (AW), 23rd July
Bated Breath kids generally need their first run to get used to the racing game, especially when that run comes over 7f+, with the stats for those types now reading…
7/172 | 7% S/R | -£69.94 – W&P 30/172 | 17% S/R – 48% below exp
…with that in mind there was a lot to like about this debut run from Roger Varian's 3yo, who took a while to warm to the task but fairly motored home when the penny dropped to grab an eye-catching third.
The stats improve plenty for Bated Breath offspring on their second career start, again over 7f+ and when they finished in the top 4 on debut (won or beaten 8L or less)…
14/45 | 31% S/R | +£21.95 BFLSP – W&P 22/45 | 49% S/R – 41% above exp
Even if FAATTIK doesn't add to those stats instantly he does look worth keeping on the radar as there was plenty to like about this effort, especially as he managed to get within 1.5L of a well fancied Haggas winner.
.
---
Before I go…
I made my second appearance on 'The Final Furlong' Podcast this week, covering a lot of the major races for the Goodwood action, providing some trends and stats as well as highlighting some very interesting draw biases, all to help you narrow those ultra competitive Glorious Goodwood fields.
You can listen to what I had to say on the following link…
Cheers – Ben (NTF)
2 responses to "NTF NOTEBOOK: Monday 18th – Sunday 24th July"