2
Aug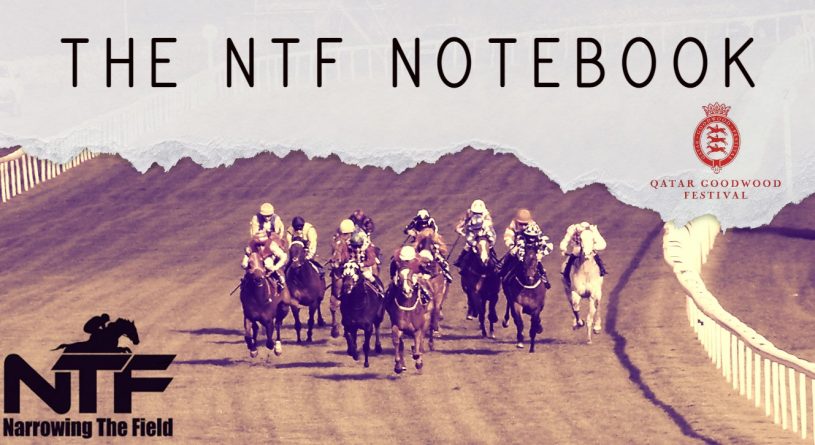 NTF NOTEBOOK: GLORIOUS GOODWOOD EDITION
That's another of the rollercoaster weeks that is Glorious Goodwood firmly stuck in the formbook…
Up, down, left, right, cutaway/no cutaway, doors shutting, congestion problems, straight track biases, swearing jockeys 🤨🤬 as per usual the Goodwood puzzle had it all!
Once again BAAEED turned up, did his job in an uncomplicated manner and left people deciding whether or not to compare him to Frankel… for me, I'm happy to let Frankel be Frankel and let Baaeed be Baaeed… don't see the need to compare personally and it's a bit unfair on Baaeed in all truth… it's surely unlikely we see many (any?) horses reaching the same sort of levels that Frankel did and it kind of detracts from what Baaeed is doing, just let him do his own thing and appreciate him for what he is…a damn fine racing machine that doesn't look like getting beat anytime soon!
Talking of Baaeed, here's a picture that one of my members Peter (PBN as we call him in the NTF Members Telegram group) took of the worlds highest rated horse as he cruised to Sussex Stakes victory last week…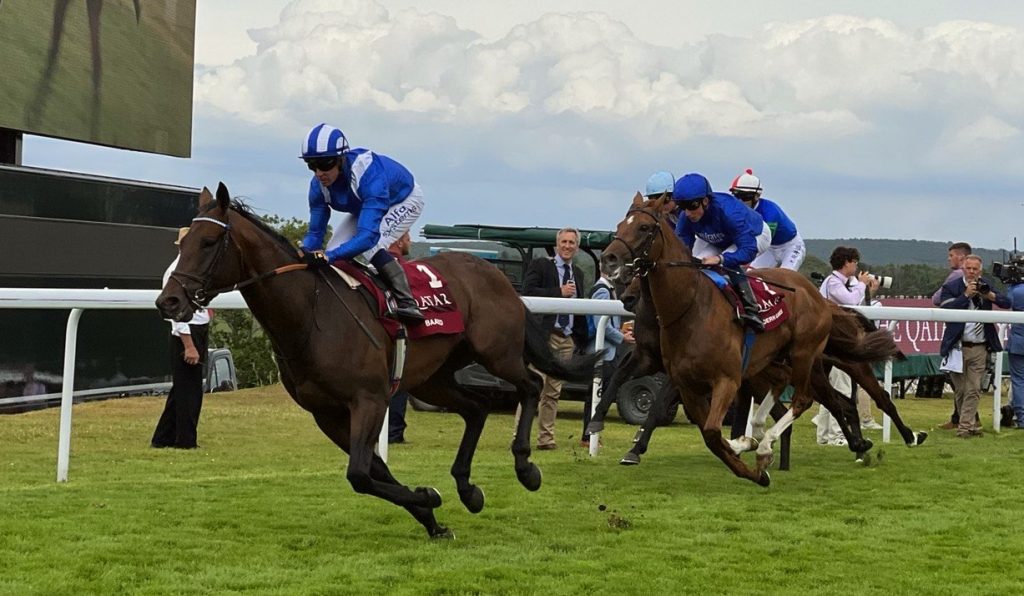 …he's some horse, let's just enjoy him for what he is…
As always Baaeed won't be making my NTF Notebook (I'm sure you all noticed his brilliance anyway!) but here are the nine runners from last week's action that did make my notebook…
---
NTF NOTEBOOK: Glorious Goodwood 2022
.

ACE ROTHSTEIN
7th of 18, 1m2f Chesterfield Cup Handicap, Class 2 (4yo+), 26th July
First run for his new trainer Martin Smith here and this evidence suggests that the 4yo's new connections have picked up a decent one here, being that he posted a career best Speed Figure with his 5.3L 7th. He only faded out of things inside the final furlong but there was plenty to like about this effort and you'd have to be very hopeful of him picking off something at least half decent before the season is out.
He's only had the 9 starts (plus 4 in Bahrain at the end of last year/start of this year) and somewhere around the mark he ran here off (OR 92) shouldn't be beyond him.
As things stand I'm open on what his Prime Conditions may be but a small drop into Class 3 company would possibly be a smart move.
.

SOULCOMBE
4th of 13, 1m4f Coral Beaten-By-A-Length Handicap, Class 2 (3yo), 27th July
Possibly found this happening a shade too fast for him on his first try above Class 4 level but he stuck in well and did a lot of good work inside the final furlong to get withing 1.5L of the winner – SECRET STATE – who is almost certainly going to be a Group level performer from here on out.
SOULCOMBE banged in a comfortable career best effort on Proform Speed Figures here, by quite a wide margin, and a return to slightly calmer waters than this should likely see him return to winning ways.
Also worth noting that Haggas has a decent record with his horses that ran at Glorious Goodwood last time out that started at a single figure SP and finished outside of the first two, especially those that start at around 5-1 or less on their next run (so relatively well fancied)…returning the following figures since 2011… 12/26 | 46% S/R | +£15.92 BFLSP – W&P 18/26 | 69% S/R – 48% above expectation… assuming SOULCOMBE starts near to the head of the market on his next start (which he likely will) then he'd be qualifying on that 'angle'.
.

BOUNCE THE BLUES
7th of 15, 7f Oak Tree Stakes, Group 3 (3yo+), 27th July
A very difficult race to win from the top quarter of the draw, with only 1 of the last 26 renewals being won by a horse coming out of the top quarter and a huge 14 of the 26 winners being drawn in the first quarter of the draw. Andrew Balding's 5yo broke from stall 14 of 15 here and was bang up against it from the off and could never realistically get into a position where she was able to lay down any sort of challenge, with that in mind a 4.4L 7th is significantly better than the bare form would suggest, even more so when you consider that 5 of the 6 horses that finished ahead of her were drawn in stalls 2, 5, 3, 4 & 1…the Jane Chapple-Hyam INTERNATIONALANGEL the only one to break that low number dominance as she broke from stall 10 and she also deserves plenty respect for her head 2nd.
Back to BOUNCETHEBLUES… she is actually yet to win since moving to the Balding yard from Ireland back in 2020 but she's been set tough enough tasks on all of her starts, with all ten runs being at Class 1 level, running with credit most times and her close second at Ascot last October looks particularly strong given how that race has worked out since.
This latest effort was, again, plenty better than it looks and now could be the time to catch her, with both her previous wins coming in August and her monthly form splits reading…
Aug-Oct = 11322 (2/5, 3p)
Mar-Jul = 522346827 (0/9, 3p)
…and recent efforts very much suggest that she's about to open her account at last for Andrew Balding.
.

DANCE FEVER
3rd of 18, 7f World pool Handicap, Class 3 (3yo+), 27th July
Equalled his career best figure here with a solid third and he just bumped into one that was running under Prime Conditions (LYNDON B) and one that is still very much on the up (THE ATTORNEY).
DANCE FEVER's current mark of OR 94 looks one he should be more than capable of scoring from, even though he's 1lb above his last/highest winning mark he has run well from marks as high as OR 100 and 94 shouldn't prove any obstacle, especially when he has his Prime Conditions to shoot for…and I'd be looking at Prime Conditions for him as…
6f-7f | July-November | OR 96 or less = 3231111 (4/7, 3p – all 4 career wins)
…C3 level and below would also be a bonus as all of his wins have come there.
.

VEE SIGHT
4th of 13, 1m2f Kincsem Handicap, Class 2 (3yo), 28th July
Stall 13 of 13 was a difficult draw for this Churchill gelding to try and get involved from but Hollie Doyle gave him a fine waiting ride out the back and she probably got the most our of her mount as she could from the widest stall of all, with the 3 that finished in front and the 2 that finished behind breaking from stalls 6, 3, 3, 5 & 4.
This was VEE SIGHT'S second step into handicap company and it isn't hard to think that connections gained a very favourable mark over shorter trips in his 2yo season and there should still be plenty more to come from on or around his current mark of OR 82.
It's also well worth noting that the horses that finished 3rd and 4th to him on his previous start at Sandown have both come out and won since, further adding to the thinking that his current mark should more than be exploitable.
.

MAKE MY DAY
10th of 14, 2m4.5f Coral Goodwood Handicap, Class 2 (3yo+), 29th July
Cruised into the lead turning for home but just as soon as it looked like he was going to be a serious player in the finish he just as quickly backed out of it a struggled to see out the finish, ending up a well-beaten 15.5L 10th of 14. I thought he was worth a dart at this given his decent previous track form but ultimately he just didn't stay this trip – now 0/3, 0p over further 2m – and he also possibly isn't quite up to Class 2 + level – now 0/3, p at Class 2 + level.
Until the stamina limitations became an issue he did move through this like a horse that was on a decent enough mark at present and he's worth looking out for under the following…
Turf races | C3 or less | 2m or less | Good to Soft or quicker = 221112 (3/6, 3p – all 3 career wins)
.

REVICH
3rd of 18, 1m Golden Mile Handicap, Class 2 (3yo+), 29th July
This was a big run from stall 13 (of 18) as this race massively favours those drawn in the bottom half of the draw, with only 3 of the last 26 renewals being won by a horse drawn in the top half of the draw. Richard Spencer's 6yo was the best home of the top half of the draw by a good margin, with the next best from that portion of the draw finishing 7th and 9th, with the remainder of the top half finishing 11th or worse.
The draw wasn't the only pre-race negative against REVICH as all his previous wins have come on a left-handed track (he is 0/18, 4p on all other track directions) and he's also much better with a more recent run under his belt as he is 0/7, 0p off breaks of more than 45 days (he was DSLR 56 here). Taking all those factors into consideration (draw, RH track, DSLR…) then it's not hard to be taken by this 3rd placed effort.
He'll hopefully get a little drop for this run as he ran here off OR 96 and I don't think he really wants to be much higher than OR 95 and he's worth looking out for under the following…
Turf LH Handicaps | June-Sept | OR 95 or less | DSLR 45 or less = 231732411311 (5/12, 5p – all 5 career wins)
.

MITROSONFIRE
6th of 12, 6f Stewards Sprint Handicap, Class 2 (3yo+), 30th July
This Muir & Grassick trained 4yo just couldn't get the gaps when he needed here and he had to sit and suffer between the 2f & 1f pole, once the gaps did appear he just didn't have enough time or track left to make an impact and he finished with plenty still to offer.
These were his conditions…
OR 85 or less (can be a little flexible on this mark) | June-Nov | Hcps | DSLR 60 or less = 61115111 (6/8 – all 6 career wins)
…and with a bit more luck I'm sure he would have at least placed. He's worth keeping on the radar for similar openings…
.

REGIONAL
3rd of 28, 6f Stewards Cup Handicap, Class 2 (3yo+), 30th July
Another that had his chances scuppered by traffic problems. He was a little out-paced in the early stages of this contest but Ryan Moore got him motoring as they neared the final furlong and he started to scythe through the pack with some serious rapidity and looked to be coming there with a huge challenge. Sadly he was blocked by the eventual runner-up and Ryan Moore had to change lanes and then also get him motoring again, by which time the two ahead of him and managed to squeeze out an advantage he was just not going to have time to close in on.
This was only the third time he had encountered Good to Firm ground and such underfoot conditions look the key to him as he is now 1-1-3 on Good to Firm and quick going looks to bring out the best in him.
He looks to have plenty still to offer from on or around his current mark of OR 100 and he's worth keeping on the radar for a similar race under similarly quick conditions.
.
---
Cheers – Ben (NTF)
p.s. remember you can get all previous NTF Blog posts by visiting the main Blog menu page
There are still plenty horse winning/placing from previous posts, such as HELM ROCK at Carlisle yesterday…
And remember… just let the boy Baaeed be Baaeed… no need for comparisons 😃
3 responses to "NTF NOTEBOOK: GLORIOUS GOODWOOD EDITION"