19
Jul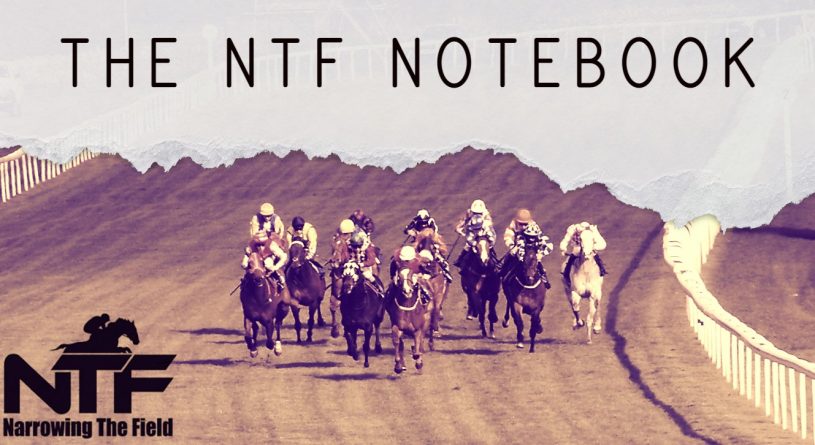 NTF NOTEBOOK: Monday 11th – Sunday 17th July
🥵🥵 El scorchio out there right now! Glad common sense has prevailed and most of the racing has been shelved today (and yesterday)…
My office gets like a furnace when it's roasting outside so I've been sitting at the kitchen table with the shutters shut and two fans going full pelt to keep myself with it 🥵🥵
In between cool drinks and tubs of ice cream I managed to pull together this weeks NTF Notebook post…
---
NTF NOTEBOOK: Monday 11th – Sunday 17th July
 .

ICONIC KNIGHT
2nd of 11, 7f 4yo+ Handicap, Chepstow, 14th July
A big run from the 7yo, who only found a horse who was better drawn and was able to grab the near rail right off the bat too good for him at the line.
He's posted some solid efforts throughout this season and he's of particular interest now we've reached the prime part of the season for him…
Form in June and earlier = 0/25
Form in July and later = 6/33
He's a good way below his peak winning mark of OR 75 and he's also currently below his last winning mark of OR 61 and he's worth looking out for under the following Prime Conditions…
OR 75 or less | July-Dec | DSLR 11+ = 288138123213111223 (6/18, 9p – all 6 career wins)
.

HAVE SECRET
4th of 12, 6f 2yo Novice, Pontefract, 15th July
Pontefract was heavily playing to the hands of those that were either making the pace or sitting just of the pace this day and Richard Fahey's youngster did well to get as close as he did here, given he was held up out the back from the widest stall of all (a wide draw also generally a negative over the Ponte 6f).
This was the Havana Gold colts third start of his career so he'll be eligible for a handicap mark now and he'll be interesting entering nursery company, he should get a workable enough mark given what he's show so far and this effort was plenty better than it looked.
*Have Secret was given an opening mark of OR 71 off the back of this effort
.

GOLDEN MELODY
3rd of 8, 1m2.5f 4yo+ Handicap, Chester, 16th July
This was an effort just shy of his best on the speed figure front and he just couldn't quite claw back the two ahead of him, who were ridden more prominently throughout (often an advantage at Chester).
He's had plenty runs for a 4yo (this was his 28th career start) but he's on a mark where he can run well off (upped 1lb to OR 72 for this and he almost won off OR 73 at Hamilton earlier in the season) and he's worth keeping on the radar for when getting similar conditions to the ones he ran under here…
Flat tracks | C5 or less = 311141 (4/6, 1p)
.

CAROLUS MAGNUS
3rd of 5, 1m2.5f 3yo+ Handicap, Doncaster, 16th July
Andrew Balding's 4yo bumped into two very progressive 3yo's on the shape of Adjourn and Asean Legend but he still managed to post a career best Proform speed figure here and he could very well still have improvement to come yet.
He's possibly best off breaks of 20 days or less…
312231 (2/6, 4p – both career wins)
…and a return to something at Newmarket would make him of plenty interest as he is 1152 so far at the track (all on the Rowley Mile…he's yet to race on the July course).
*He was dropped 1lb to OR 88 for this effort
.

NO GUTS NO GLORY
2nd of 7, 5f 3yo+ Handicap, Haydock, 16th July
This was a fine effort by the Cotai Glory filly on handicap debut as she bumped into a winner – Amor De Mi Vida – who is bang at the top of her game and was running under conditions where she was likely to run to her best. As such this 2.75L second was a fine start to No Guts No Glory's handicap career and she should be able to build on this run in coming starts.
She was last seen when finishing 4th (of 14) in a Thirsk maiden at the end of April, a race that has since worked well, with the second winning twice since and now rated OR 85 and the third also winning since and finding himself on OR 75. No Guts No Glory was seriously unsuited by the draw that day (she was in stall 3 and the place to be was middle or high) so the fact she manged to get herself home in fourth was definitely noteworthy, as is the fact she's rated a good bit below those two at present, suggesting she's got a good bit of wiggle room from her current mark of OR 64 (handily dropped 1lb for this run). Trainer Adrian Nicholls will hopefully manage to find a race for her shortly and one where she isn't bumping into a Amor De Mi Vida type as well!
.

VARIETY ISLAND
2nd of 12, 7f 3yo Handicap, Redcar, 17th July
Variety Island broke from stall 12 here and given that those that finished around him broke from stalls 4, 1, 6 and 2 you'd definitely have to be thinking that he was at a big disadvantage starting in the widest stall of all, he also met with a congested passage (🤨🤨) around the furlong pole and then again once inside the final furlong, and taking both those factors into consideration I'm inclined to be marking this run up a good few pounds on the bare form.
Simon Whitaker's 3yo is now 0/9 on turf (he's 1/2, 1p on the AW) but this was an improvement on what he had previously shown on grass and the step up to 7f for the first seemed to bring about a much improved performance. On the speed figure front he posted a figure just a smidge below his best but given his poor draw and trouble in running at the business end I'd be relatively confident he would have posted a career best with a better draw and a smoother run through. Quick ground and a 7f trip may be the key to him on turf and this run very much suggests he'll be opening his turf account sooner rather than later.
.
---
Cheers and stay safe out there – Ben (NTF)
p.s. remember you can get all previous NTF Blog posts by visiting the main Blog menu page