12
Jul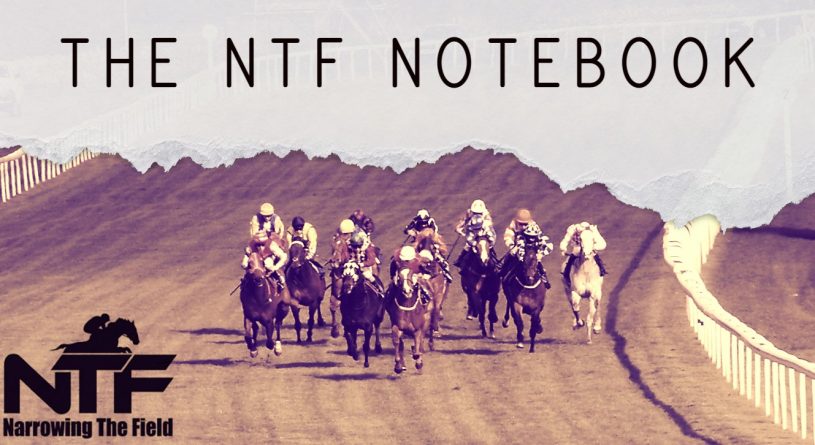 NTF NOTEBOOK: Monday 4th July – Sunday 10th July
A couple of previous notebook horses doing the job last week, which is always good to see 👍
If you ever miss a post or just want to flick back and see what I previously highlighted/get a reminder of Prime Conditions for notebook horses and such like, then remember you can just head to the main NTF Blog menu are read previous posts at your leisure 😎
Here are this week's NTF Notebook horses…
---
NTF NOTEBOOK: Monday 4th July – Sunday 10th July
.

BERGERAC
3rd of 8, 6f 3yo+ Handicap, Pontefract, 5th July
Had the worst of the draw in this 6f handicap at Ponte, being drawn in stall 8 of 8, so beaten just over a length in 3rd behind the horses that were drawn in stalls 1 & 2 (generally the best place to be on the Ponte sprint tracks), both of who were also well-treated on their best form, stands out as a noteworthy effort from Kevin Ryan's 4yo.
This third placed effort also represented a career best on Proform Speed figures and he's shaping as if his third career win is imminent, especially as he is now back below his last and highest winning mark of OR 88.
He has strong form under the following…
Handicaps from OR 88 or less | Good or quicker (or AW) = 312122 (2/6, 3p – both career wins)
…and I'll be looking out for him under such conditions in coming weeks (he was kept on OR 87 off the back of this effort).
.

SFUMATO
4th of 9, 7f 4yo+ Handicap, Catterick, 6th July
There were a couple of things against Ollie Pears' 8yo here…
Firstly his hold-up running style was a hindrance at Catterick this day as the track was favouring front-runners/close to pace runners more than normal, with all 8 races being won by a prominent runner, one that chased the lead or one that made the pace… SFUMATO being held-up in midfield was always going to make life difficult…
Secondly he was running here off a break of 39-days and he's yet to win off anything other than a break of 21-days or less, with his DSLR splits now reading…
DSLR 21 or less = 5/27, 5p
DSLR 22+ = 0/23, 5p
This run will have tuned him up nicely, however, and he's worth looking out for under the following…
OR 78 or less | C5 or less | July+ | DSLR 21 or less | fields of 12 or less | Good or quicker (or AW) = 5/13, 3p – all 5 career wins
…he was dropped 1lb for this run to OR 54, which puts him below his last winning mark and well below his peak winning mark.
.

AZURE BLUE
4th of 19, 6f 3yo Handicap, Newmarket, 7th July
The place to be in this was middle to far side and Michael Dods' 3yo filly deserves a decent upgrade for getting to within 2.2L of the winner come the finish given she was drawn low in stall 4 (the first 5 home were drawn in stalls 14-11-13-4-16) even more so when you consider she didn't get a clear run at around the 2f pole. Despite the disadvantaged starting position and the troubled passage at a crucial stage she still banged in a big career best on the figures and I'd be surprised if her current mark of OR 85 turns out to be the ceiling of her abilities.
She's actually proven to be a very consistent horse throughout her 8-race career, winning twice and placing on 5 other occasions, the only time she failed to even place was when finishing 5th of 21 at York on seasonal debut this year (but as most books will have paid 5th place I guess we can technically say she has NEVER at least failed to place on any of her 8 starts…) and I'd expect her to continue in a similar vein in coming starts, before the handicapper eventually catches up with her (she was left on OR 85 for this effort).
.

GRANDSTAND
3rd of 11, 7f 3yo+ Handicap, Chepstow, 8th July
Was bang up against it from stall 1 here over the 7f Chepstow trip, with the two that finished ahead of him breaking from the two highest stalls (11 & 12) and firing off on the front end from the get go.
Grandstand comfortably beat the others (it was 2L+ to the remainder) and despite being almost 5L behind the front two his effort here is still worth noting. The front two fired in a figure comfortably above par for the level, telling us how well they ran, and Grandstand himself only ran a smidge below par, which again is noteworthy given that he was very much compromised by his draw. His last two recorded speed figures (as always Proform Speed figures used as my barometer) actually read well and are a sign he's coming back to the boil.
He's not a horse that wins often and he seems to need quite stringent conditions to show his best, but he can do the job when he gets those conditions and he's worth looking out for under the following…
(since with R Price) OR 63 or less | July-Oct | 7f+ on tracks with undulations (or AW) | fields of 12 or less = 316211 (3/6, 2p – all 3 career wins)
…he was generously dropped 1lb for this effort.
.

PHANTOM FLIGHT
3rd of 12, 1m2f 3yo Handicap, Newmarket, 8th July
James Horton's 3yo gained his handicap mark after three spins in novice company over 1m trips between March & May this year, although in fairness to connections they were not trying to hide his ability and pick up a favourable mark as he finished 2nd (beaten 0.5L), 1st & 1st on those three runs. This was his handicap debut and also his first try at 1m2f and he banged in a big career best on the figures here, posting a speed figure well above what he achieved on those three novice spins. He may well have finished closer in this had he not met interference around 2f out and he looks like one with plenty still to offer around these 1m2f sort of trips. He was put up 3lbs to OR 98 for this effort but I don't think that will prove beyond him and he could pick off a decent pot somewhere before seasons end.


NTF readers can still take advantage of a FREE 7-day trial of HorseRaceBase on the following link…
It's usually only a 3-day trial so if you ever wanted to give the site a spin then using the above link is definitely the way to do it.
There are handy notebook/tracker options in the software so you can follow my own notebook horses and add my notes to the associated horses



ZARZYNI
3rd of 20, 5f 3yo+ Handicap, Ascot, 9th July
Ran a massive race against a strong draw/track bias and comfortably beat the horses he was racing against on his side of the draw, the first ten home breaking from stalls… 15-8-5-12-18-17-16-20-19-7… ZARZYNI breaking from stall 5 and spending a good part of the race running in a small 5-strong group on the far side, with the next home from that group being Equality in 12th.
The Barron's have done really well with this Siyouni gelding since he moved over to them from the Mick Halford yard, with form of 2 wins and 7 places in his 11 starts for the Barron's, and the recent application of cheekpieces' also seem to have had a positive impact, with the 5yo banging in form of 3-4-1 since they were applied, the 4 coming in the G3 Palace House Stakes where he was beaten only a length.
This effort suggests his current yard haven't yet got to the bottom of him and he's worth keeping on the radar going on from this…
.

CANOODLED
3rd of 10, 7f 3yo+ Handicap, Ascot, 9th July
The Ascot track was favouring front-runners and those just off the pace on Saturday so the fact Ed Walker's 4yo got to within 2L of the winner AND fired in a career best speed figure in the process definitely caught my eye.
His mark of OR 73 is one we know he can win from (he wasn't shifted from it off the back of this effort) and he's worth looking out for under the following…
OR 73 or less | 7f-1m handicaps | DSLR 30 or less = 3131 (2/4, 2p – both career wins)
.
---
Cheers – Ben (NTF)
2 responses to "NTF NOTEBOOK: Monday 4th July – Sunday 10th July"