26
Jan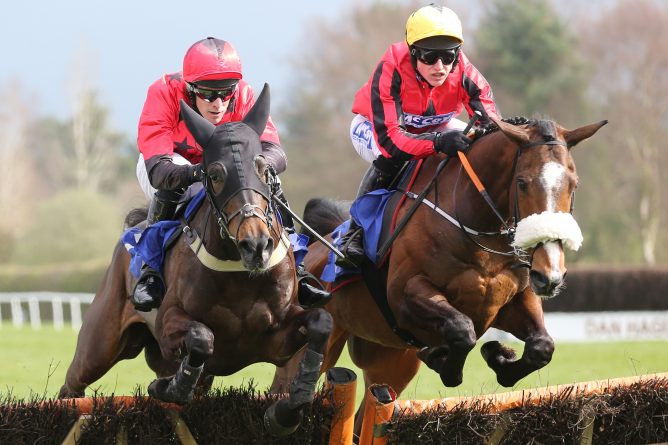 What we learned from the weekend: 22nd & 23rd January…
The weather is taking another firm grip this week, so much so even Wolverhampton had to call an inspection 🥶👀
Thankfully the high-class National Hunt cards managed to skip clear of the weather last weekend and we were able to get a decent chunk of the jumping stuff completed and in the form books.
So without further ado, let's crack on with the latest copy of 'What We Learned From The Weekend'…
What we learned from the weekend: 22nd & 23rd January…
1. ROYALE PAGAILLE burst into the Gold Cup picture…
The list of horses that have won a Peter Marsh Chase from marks on or above OR 154 is a slim one. Prior to Saturday only JODAMI (OR 169), CLOUDY LANE (OR 155) and BRISTOL DE MAI (OR 154) had managed the task. ROYAL PAGAILLE (OR 156) can now add himself to that list after sauntering through the Haydock mud to slaughter his opposition by a commanding 16L.
The victory quickly had him zooming up the Cheltenham Gold Cup markets and he now finds himself sitting around the 8/1 – 10/1 price, a general co-second fav (it's pretty congested in the betting behind Al Boum Photo, who naturally heads the market).
It's hard to argue with that price in all honesty and I get why his odds shortened up…but I do, as things stand, have a couple queries about the Gold Cup credentials of Royale Pagaille…
The last 21 winners of the Cheltenham Gold Cup had all previously won at Grade 1 level
In that period 125 horses have tried to win the Gold Cup without having tasted a Grade 1 victory and all 125 have been beaten (14 managed to place).
The last horse to win a Gold Cup without already having a G1 on their CV was COOL DAWN in 1998.
There are very limited opportunities between now and the Gold Cup for Royale Pagaille to rectify that situation. Breaking your Grade 1 duck in the Gold Cup has proven a serious stumbling block in recent times.
Furthermore…
Only two of the 67 horses to try and win a Gold Cup when moving up from Handicap company last time out have been successful
The last one to successfully make the transition from a Handicap to Gold Cup winner was BOBS WORTH in 2013 and in fairness his Handicap was the Hennessy Gold Cup, which he won from the lofty perch of OR 160. That was also, at the time, his only handicap start after having spent his Novice Chase campaign in G1 & G2 company.
The other horse in in the past 20-odd years to make the Handicap to Gold Cup transition? Yep, you guessed it…COOL DAWN!
As things stand ROYALE PAGAILLE will need to overturn both those race trends if he is to become the 2021 Gold Cup champion.
Not impossible and still time to get another race in somewhere to knock off one or both of those trends…but it's certainly something to consider in the wider picture.
If Royale Pagaille went straight to the Gold Cup from here he'd be doing something that very few have managed to do in recent times (Break G1 duck and/or win off the back of a handicap start last time out).
Can Royale Pagaille do what 125 previous horses have failed to do?
.
2. BUVEUR D'AIR got turned over on his return to action…
The former Champion Hurdler made his return to action on Saturday after 420 days off the track and on paper it looked a simple enough opening…a three runner field against lesser rated rivals and receiving weight from both his opponents…
As it transpired it was anything but simple and he just couldn't muster anywhere near enough oomph to glide past the 149-rated NAVAJO PASS down the Haydock home-straight.
Reasons to be worried about what level of ability the 10yo still holds? Maybe, but looking at the stats tells us these types rarely deliver for Nicky Henderson, and by 'these types' I mean…
Nicky Henderson horses in Class 1 races returning off breaks of 300-days or more
…with the record of his horses under those conditions now reading…
4/64 | 6% S/R | -£33.37 LSP – W&P 21/64 | 33% S/R
55% below exp
*in a strange turn of events CRAIGNEICHE, who was also a qualifier on the above angle, won the G3 handicap at Ascot on Saturday, although given that was only his 4th career start and first in a handicap off a lowly OR 127 I think we can safely assume there were different plans for him over Buveur D'Air!
So with those stats in mind can we maybe give Buveur D'Air a pass mark for his effort on Saturday? Well, yes, probably.
But how do those types fair on their next run, especially when that next run is also at Class 1 level (which we can assume will be the case for Buveur D'Air)?
Here's what the stats say…
N Henderson | Class 1 races | horse's last run was at C1 level off a break of 300+ days
2/43 | 4.5% S/R | -£36.37 BFLSP – W&P 14/43 | 33% S/R
70% below exp
Hmmm…also not great, especially not on the win front…
No horse should be written off after one below par effort but it has to be said the stats don't look great for those Class 1 long-term Henderson absentees…
Will Buveur D'air manage to recapture his old sparkle?
.
3. Nick Alexander is building some strong Handicap stats at Musselburgh…
Away from the main Saturday meetings, Friday's sole surviving National Hunt meeting at Musselburgh provided some much needed action north of the border.
Amongst the winners was BROADWAY JOE from the Nick Alexander yard, with that horse fitting the following angle I had plugged into my Proform database…
N Alexander | Musselburgh NH Handicaps | DSLR 45 or less | SP 8/1 or less
15/44 | 34% S/R | +£50.22 BFLSP – W&P 25/44 | 57% S/R
87% above expectation
You are much more likely to catch a Nick Alexander winner at Musselburgh in handicap company than in non-handicap company (2/42 (5% S/R) in non-handicaps compared to 16/120 (13% S/R) in handicaps) and the majority of those handicap winners can be found in the highlighted angle above, indeed the last 11 qualifiers on the angle have returned the following form line… 1212F122711.
An angle that is well worth keeping on your radar…
Keep an eye open for those Alexander Handicappers at Musselburgh…
---
---
Before I go, some more info on David Punshon's All-Weather service, which I will be helping to run over the coming weeks/months…
First up, many thanks for all the comments and emails regarding Dave's work and analysis, it's fantastic to hear so many of you enjoying the content.
It won't be for everyone but both Dave and I are more than comfortable with that.
The All-Weather service will not in any way be a simple 'bet on horse x, y and z and you get nothing else for your money' type of service, if you are after this type of service then please don't sign up when the doors open, you will almost certainly be disappointed. Dave aims to provide content that will interest and hopefully help people with their A/W betting and if he feels the race is worthy of a selection he will certainly say so, but he won't just put up something that he himself is not willing to bet.
The content Dave has already provided here on NTF is an excellent indicator of what the service will be about, with some extra bells and whistles to go along with the main analysis (albeit I feel the term bells and whistles really doesn't do Dave's work justice!!).
Dave and I are currently sorting the finer details of the service but both he and I are excited to get it started and get the show on the road…
As always I will keep everyone informed in due course, with the best place to make sure you don't miss out on any of the news being the FREE NTF mailing list…
Cheers – BEN (NTF)
*Readers of NTF agree that you will not modify, copy, reproduce, sell, or distribute any content included on this site in any manner or medium without permission
Continued abuse of this will result in legal action being taken
24 responses to "What we learned from the weekend: 22nd & 23rd January…"