17
Jun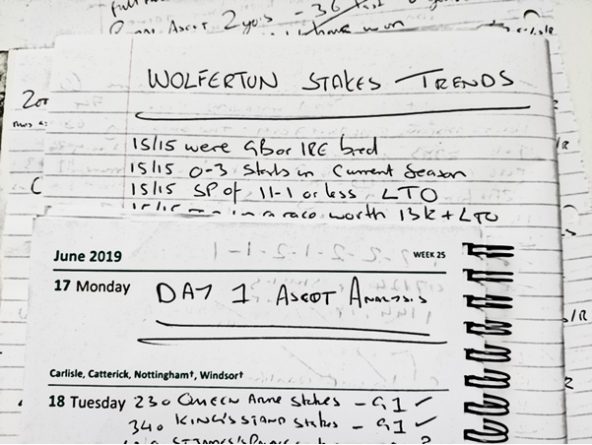 NTF Race Trends Analysis: 2019 Ascot Stakes
.
Time to get the 2019 Royal Ascot show on the road!
Hopefully you've all had time to tuck in the free Royal Ascot stats post I dropped last week?
If not you can still grab that here.
I'm deep in Royal Ascot trends analysis territory for full NTF members at present but I've managed to find a space in the schedule to drop some free analysis for you guys today, with the ASCOT STAKES Handicap (5.00) getting a bit of light NTF trends analysis below…
Ascot Stakes Race Trends
5.00pm – 2m4f – Class 2 Handicap – 18-06-19
Despite being a jumps fan at heart I have to admit to not being the greatest lover of this long distance race, but there are some seriously strong trends at play here and looking at the past 13 renewals as my basis I've settled on the following ten trends in my search for this year's winner…
1 13/13 13+ career starts (0/77 12 or less)
2 13/13 3+ career victories (0/84 2 or less)
3 13/13 DSLR 16-75
4 13/13 top 2 finish 1 of last 5 starts
5 13/13 4+ handicap starts
6 13/13 previously won over at least 1m7f (0/68 yet to win at 1m7f+)
7 13/13 last win came over 1m6f+ at C4 level+
8 12/13 2+ handicap victories
9 12/13 at least 3lbs higher than last win
10 12/13 previously won at Class 3 level+
A strict application of those trends to this years field leaves the following shortlist…
SNOW FALCON (N Meade)
COUER DE LION (A King)
MANCINI (J Portman)
THE CASHEL MAN (N Henderson)
Before delving into that lot it's worth mentioning perennial race winner Willie Mullins, who saddles current race favourite BUILDMEUPBUTTERCUP.
Mullins has won the race four times since 2009 (overall stats in race of 4/14, 3p) and if you concentrate only on his GB & IRE bred runners in the race you find a form line of…1-3-5-1-1-7-0-1-2 (4/9, 2p).
Clearly this is a race Mullins loves to win and there isn't a huge amount I can do to put you off his sole entrant this year (apart from, of course, it's 'weakness' on the trends), it's likely to be there or thereabouts. Without my money on it though, I'll be looking elsewhere…
But where?
Ascot Stakes Conclusion…
SNOW FALCON is the one that instantly stands out at me. Although it's extremely difficult to compare a flat rating with a National Hunt rating you have to think he's potentially very 'well-in' here off OR 99, given that he's 156 (chase) & 157 (hurdle) rated in the jumps game. He's also shown that he handles varying ground conditions, which could be all important with a very unsettled forecast on the horizon. The booking of Colin Keane in the saddle is also a positive given that the jockey has ridden him twice previously, finishing 1st & 2nd on him, the second placed finish being an excellent effort in the 2017 Irish Cesarewitch. Large fields also hold absolutely no fear for him (114U02052 in fields of 13+, flat & jumps form) and he's one I want on my side.
MANCINI is unexposed over trips beyond 2m0.5f (this his first try) but there's been plenty in his recent efforts that suggest it will suit him and they did have this race in mind for him last year, but he wasn't quite rated high enough to get in. His last time out second at York reads well as the winner that day followed up next time out and the only concern would probably be the threat of rain softening ground (all depends on how much those thunderstorms deposit!).
The other two can't be written off, far from it, but I do have a slight concern over 5lbs+ claimers in 1m+ handicaps at Royal Ascot (0/58, 3p since 2003) so that's a worry for COEUR DE LION.
THE CASHEL MAN is a little tricky to predict I feel and it has been a long time since he tasted victory (August 2015, 14 starts back) but he does have some noteworthy back form so if that can be unlocked he could run above expectation.
Best of luck if you are getting involved, it looks, as it often does, a damn tricky puzzle to solve, but hopefully the trends hold up and point us to a bit of profit.
Ben (NTF)
p.s. if you want the full NTF trends coverage for Royal Ascot you can still hook up to the full service here.
4 responses to "NTF Race Trends Analysis: 2019 Ascot Stakes"