6
Jun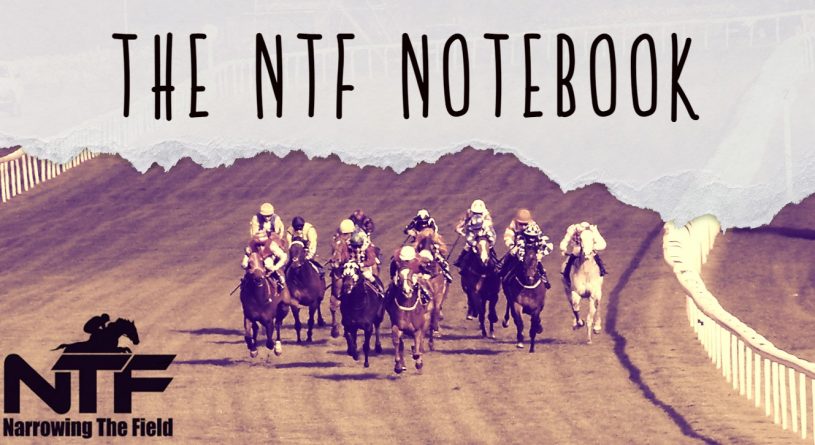 NTF NOTEBOOK: MONDAY 30th MAY – SUNDAY 5th JUNE
So, what did we all make of the 2022 Derby winner DESERT CROWN?
Personally I thought he looked very good. Hard to accurately say exactly how good he is/could be as it was only his third appearance on a racetrack, but the way he travelled through the race at Epsom and then put the Classic to bed in a matter of strides at around the 2-furlong pole was something pretty special. I suspect he won with plenty still left in the tank as well and I'm looking forward to see where he goes next…
On the NTF Notebook front EEH BAH GUM getting the job done at Musselburgh on Saturday at 13/2 (BFSP 9.78) was the clear highlight of last week. He had his Prime Conditions and he delivered at a tasty price 👍
Let's see what this week's NTF Notebook brings…
---
.
NTF NOTEBOOK: MONDAY 30th MAY – SUNDAY 5th JUNE
.
RETIREMENT BECKONS
4th of 10, 1m Handicap, Ayr, 30th May
Retirement Beckons run plenty but doesn't win all too regularly, if you are patient with him, however, and wait for him to appear under his Prime Conditions, he will reward you.
He's a horse that needs his first few runs in the season to get himself up to speed and off the back of this most recent effort he is now 0/8, 0p in the April-May period, with all his wins coming in the June-August period, and he does seem to have been coming to the boil this season, improving with each effort, this being his most eye-catching run to date.
He's now worth keeping in mind for the following Prime Conditions…
C6 | June-Aug | OR 50 or less | DSLR 20 or less = 23461131243 (3/11, 5p – all 3 career wins)
…a double figure field is also a bonus as he does like to stalk out the back and come late off a decent pace.
.
KAPONO
6th of 15, 6f Handicap, Thirsk, 31st May
Roger Fell's 6yo looked to have been undone by the draw here, with the first four home breaking stalls 10-9-15-16, meaning that the important action was happening away from him and his stall 4 berth. He ran well despite his draw handicap, posting a seasonal best figure and one that was just a smidge below par for the level.
He's on a winnable mark at present (ran in this race off OR 72) and he's worth looking out for under the following…
C5 or less | OR 76 or less | DSLR 16-30 | May-Oct = 611162131 (5/9, 2p – all 5 career wins)
…away from Thirsk would possibly be preferable as well as he is now 0/6, 0p at the track and I'm not sure it's the ideal hunting ground for him.
He was due to run at Pontefract yesterday (Monday 6th June) but he's ended up being a non-runner, which is possibly a good thing as the Good to Firm ground may well have been against him (0/4, 0p on G/F and his turf wins have come with cut underfoot).
.
KENDRED FIRE
6th of 12, 6f Handicap, Thirsk, 31st May
Did the best of the group that helped to set a fierce early pace in this, with the other three that butted heads early on ending up well-beaten out the back in 10th, 11th & 12th. Stall 2 possibly wasn't the best position to be breaking from either, with the ones that finished ahead of him here breaking from stalls 12-6-13-11-9. Taking those two factors into consideration then it's not hard to upgrade his 3.8L 6th a few pounds.
He's also slowly edging down from his opening handicap marks of 70-72 (ran here off OR 67) and he should be capable of picking off a lowly handicap shortly, especially now he's had a couple of starts to get himself into full fitness, he won on his third start last season as a 2yo and went close on his fourth start as well, so he may also just be entering his prime months now.
.
THORNABY PEARL
2nd of 7, 5f Handicap, Ripon, 1st June
Posted the third best figure of his career here (using Proform Speed Figures as my gauge) over a trip that is most likely short of his best, with his two previous wins coming over 6f. Adrian Nicholls has his string in fine form just now (his last 7 runners have returned a form line of… 1-2-9-1-6-4-1) and it would be no surprise should this 4yo bolster the yards form in coming starts, especially if he rocks up under the following conditions…
6f Handicaps | OR 72 or less | DSLR 30 or less = 1313 (2/4, 2p – both career wins)
.
BOWLAND PARK
6th of 15, 1m0.5f Handicap, Epsom, 3rd June
The wide draw and a large field were a negative for the Kubler's 4yo here but despite those discouraging factors he still managed to post a career best on the figures front, giving the suggestion that he could yet have a half decent pot in him.
The five ahead of him here all broke from a single figure box (1-6-8-7-2) whilst Bowland Park broke from stall 13 and he's yet to even place in fields of 12 or more (0/4, 0p) so this 4.5L defeat is better than the bare form suggests and he's worth keeping on the radar going forward, especially if he meets with the following…
Turf | 7f-1m1f | fields of 11 or less = 51171 (3/5 – all 3 career wins)
.
RAYONG
10th of 14, 6f Handicap, Epsom, 4th June
It paid to be drawn wide and held up off the pace in this with the first 4 breaking from the following stalls – 12-15-7-14 – and all recording either 'off the pace' or 'outpaced' as their running style comments. Rayong broke from stall 1 and sat mid-division and that plainly just wasn't the place to be. 6f isn't his bag either as he is now 0/7, 1p when racing over further than a bare 5f trip. He is, however, on a winnable mark at present (ran here off OR 84) and it's easy enough to forgive this run and I'll be looking out for him under the following…
5f | OR 93 or less | G/S+ | 13 or less runners = 125131 (3/6, 2p – all 3 career wins)
.
ANNANDALE
4th of 10, 2m Handicap, Musselburgh, 5th June
This 4yo had a couple of things against him here… he's now 0/5, 0p over 1m6f+ and he's 0/6, 1p on RH tracks… but he travelled smoothly as they approached the 2-furlong pole before his stamina reserves begun to ebb away. There was enough in the run, however, to suggest he on a winnable mark at present – OR 82 – and he's worth looking out for under the following Prime Conditions…
OR 83 or less | C3 or less | 11 or less runners | 1m5f or less = 112113 (4/6, 2p – all 4 career wins)
Whilst I'd prefer him on a left-handed track this run suggested that he doesn't need to go that way round, although it would be another box ticked should he meet with his Prime Conditions at somewhere like Ayr.
.
GOMETRA GINTY
5th of 11, 7f Handicap, Musselburgh, 5th June
Gometra Ginty ideally needs a smaller field than this 11 runner contest, with his field size splits now reading…
8 or less runners = 8/19, 3p
9 or more runners = 0/14, 0p
He ran well to a point in this, recording a decent figure in the process, but ultimately he was swamped late on and his dislike of larger fields eventually told.
There was plenty to like about this effort, however, and he is currently on a decent mark – OR 75 – and he's worth looking out for under the following Prime Conditions…
G/S+ | 8 or less runners | OR 80 or less = 8/15, 3p – all 8 career wins
---
Cheers – Ben (NTF)
To make sure you don't miss any NTF news or NTF Notebook posts simply sign up to the FREE NTF mailing list below 👇👇👇
.
P.S. If you want notification of when the NTF Notebook horses are running (and whether or not they meet with their Prime Conditions) then hook up to the full service on the following link…
Examples of the NTF Stats Sheets can be found HERE