14
Jun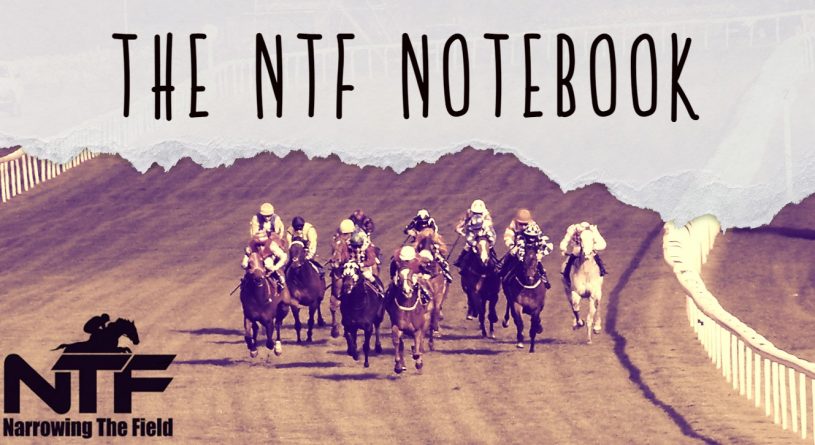 NTF NOTEBOOK: MONDAY 6th JUNE – SUNDAY 12th JUNE
Royal Ascot week this week so naturally I'm deep in analysis mode for NTF Members for the five-day extravaganza (if you want to hook up for the Royal Ascot analysis, and indeed the rest of the season, then just slide along to this page).
As such I've just a quickfire five for you today's NTF Notebook…
---
.
NTF NOTEBOOK: MONDAY 6th JUNE – SUNDAY 12th JUNE
 .
SINGE ANGLAIS
8th of 13, 6f Handicap, Pontefract, 6th June
Drawn widest of 13 runners and being held-up over the Ponte 6f trip is never really going to yield much in the way of results and so it proved for Nigel Tinkler's 5 year old here, who finished a never nearer 8-length 8th of 13.
He's a horse that historically hasn't reached his peak until the second half of the year anyway, with his monthly splits now reading…
July-Sept form = 5/17, 3p
All other months form = 0/13, 2p
…but these runs keep him ticking and help him build fitness for his prime months.
I have Prime Conditions for him as…
OR 66 or less | 5f-6f | Straight track | DSLR 25 or less | July-Sept = 14211115 (5/8, 1p – all 5 career wins)
…and he's one that starts to become of interest as we edge closer to July.
Note – He ran at Carlisle on Monday (13th June) and finished a solid 3rd and there are plenty signs that he's starting to come to the boil nicely…
. 
SPOOF
3rd of 7, 5f Handicap, Windsor, 6th June
This was a solid run from the Charles Hill 7yo, especially when you consider he is best when returning within 30-days of his last run and he was racing here off a break of 56-days (he is now 0/18, 1p when racing off breaks of more than 30-days).
He's on a very winnable mark at present – OR 82 – a mark that is below his last two winning handicap marks and comfortably below his peak winning mark of OR 95, and this effort suggests he's hopefully on the cusp of taking advantage of his current rating.
He's one I'll be looking to back under the following conditions…
Good or softer | 11 or less runners | OR 95 or less | DSLR 30 or less = 3471211181371173 (7/16, 2p – all 7 career wins)
.


I'm often asked where I find my 'Prime Conditions' for the horses I notebook. One of the best resources for me is the HorseRaceBase website, it's a great tool for visualising where a horse is likely to perform at it's best and what conditions it is likely to need to getting itself into the winners enclosure.
NTF readers can take advantage of a FREE 7-day trial of HorseRaceBase on the following link…
It's usually only a 3-day trial so if you ever wanted to give the site a spin this is definitely a great time to do it. Even better given that you can have a trial of the site during Royal Ascot week 👍


 .
QUEEN AMINATU
3rd of 9, 7f Handicap, Haydock, 8th June
The breaks just didn't come for the Willie Haggis filly here and when the door did open she simply didn't have enough time to get into top gear and get the job done. I'd be confident that she will turn out to be far and away the best horse from this 3yo handicap and it was simply circumstances that played against her here, with the two that beat her managing to avoid any congestion by being drawn out wide and getting a clear passage throughout (whilst QUEEN AMINATU had to sit and suffer on the rail from her 2 box).
Queen Aminatu was already in my notebook from her debut run at Newcastle back on the 28th of December last year, a race where she finished only a short-head behind the Karl Burke trained AL QAREEM, a horse that is now sitting on a mark of OR 96 after banging in some fine efforts so far in his 3yo season, most notably when he picked off a decent handicap last time out at York. Given there was only a short-head between Queen Aminatu and Al Qareem on that Newcastle run, but currently 14lbs separate them in the ratings, it's not hard to come to the conclusion that the Haggas filly has plenty to work with on the handicapping front.
I'd be hopeful of her taking advantage of her current mark before too long…
*She does hold an entry in the Sandringham Stakes at Royal Ascot on Friday so it will be interesting to see if she takes up that engagement…
.
ENDERMAN
2nd of 11, 6f Handicap, Nottingham, 9th June
I'd be marking this run up plenty as Paul Midgley's charge was drawn in stall 2 here whilst those that finished around him were drawn in stalls 13, 12 & 10 and the higher numbers did seem to be the place to be in the 6f sprint.
ENDERMAN isn't a horse that's managed to hit a high strike-rate so far in his career, with the Bated Breath 4yo only managing to win one of his 20-starts to date, but the cheek-pieces he's been wearing on his last three starts do seem to have unlocked something in him (he's placed on all 3 CP wearing runs) and I think he's worth keeping on the radar, in the short-term at least.
I have a tentative set of Prime Conditions for him as…
OR 59 or less | Straight 6f-7f | Good to Soft or quicker = 232421 (1/6, 5p)
 .
REBEL AT DAWN
4th of 8, 5f Handicap, Chester, 11th June
Always difficult to make an impact when you are drawn in the widest stall of all over the Chester 5f, Rebel At Dawn being drawn in stall 8 of 8 here, and it's even worse when you are a horse that likes to be prominent, as Rebel At Dawn likes to be, and he simply was never going to make an impact in this. His jockey Richard Kingscote accepted the situation from the off and made the best of what he could from his draw and he finished off strongly to pick of a solid fourth, without really throwing any serious punches.
He's on a winnable mark at present and he's worth looking out for under the following…
Straight 5f | Flat-Slightly Undulating track | OR 87 or less | DSLR 25 or less = 12432411 (3/8, 3p – all 3 career wins)
---
Cheers – Ben (NTF)
p.s. I'll be back next week with a special Royal Ascot edition of the NTF Notebook. To make sure you don't miss out on that get yourself on the FREE NTF list… 👇👇👇
4 responses to "NTF NOTEBOOK: MONDAY 6th JUNE – SUNDAY 12th JUNE"