16
May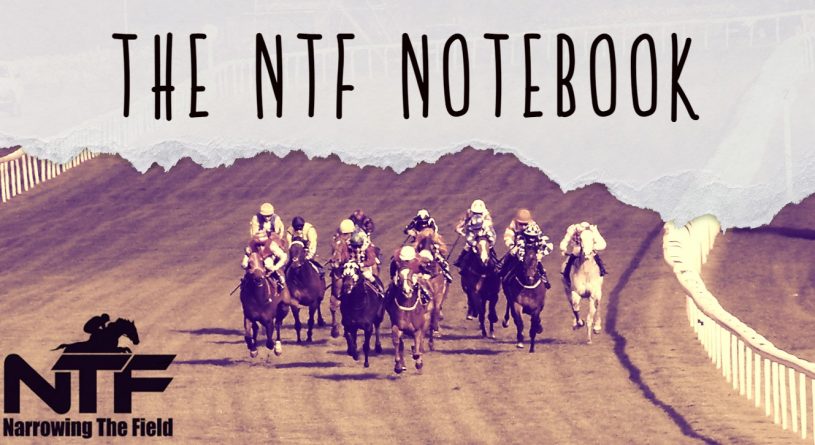 NTF NOTEBOOK: MONDAY 9TH – SUNDAY 15TH MAY
Hi everyone
It's been a while… I know… indeed the last post I did here on the free blog was for the Cheltenham Festival 😵😲
Family health issues once again had to take precedence so I unfortunately had to park the free Blog for a couple of months until things settled down a bit.
Things are a bit better now and I'm ready to crack on with a summer of blogging on the free side of the NTF site (as well as keeping the members side of things rolling as per normal).
My plan for the summer here on the free blog is to provide a weekly list of 'NTF Notebook' horses. It's pretty self explanatory…I've done similar posts many times over the years…so…you know…let's crack on with it!
.
---
.
NTF NOTEBOOK: MONDAY 9

th

– SUNDAY 15

th

 MAY
.
HOW BIZARRE
3rd of 7, 7f Handicap, Musselburgh, 9th May
The 7yo has been busy already this season, with this run being his 4th since the 7th of April, and despite being 4L back come the line here this still rates as decent effort, with Liam Bailey's Gelding posting a figure pretty much bang on par for the level (using Proform speed figures as my gauge). The run is even more noteworthy as this run came only 7-days after his previous start and he really prefers a bit more of a break between his races, with his record off breaks of 7-days or less now reading 0/11.
In truth he's not the most straightforward of horses and he seems to have a VERY specific set of circumstances that he needs to run to his best… OR 72 or less | C4 or less Handicaps (worth 6k or less) | fields of 11 or less | Flat tracks | NO Headgear | DSLR 8-75 = 641318231121 (5/12, 3p – all 5 career wins)… and even then he doesn't always put his best foot forward… but his last three start have suggested he's about ready to snap his long losing run and he's worth keeping on the radar, especially if connections find a race for him where he gets to dictate the pace on his own.
**
PRIMOS COMET
6th of 6, 5f Handicap, Musselburgh, 9th May
Finishing last of the six runners doesn't really tell the full story here as the course specialist (all 5 of his turf wins have come at Musselburgh) was only beaten 1.5L come the line and there wasn't much between the field at the finish, in a race that was holds up well on the Proform Class par speed figures. I'm also far from convinced he fully lets himself down on Good to Firm ground as he is now 0/7, 1p on such ground and he seems better on slightly lesser quick ground, as such this effort is a lot better than the bare finishing form suggests.
The 7yo is on a winnable mark at present (ran here off OR 75) and I have Prime Conditions for him as…
5f | C4 Hcp or less | OR 79 or less | DSLR 27 or less | Not Good to Firm = 8/21, 5p (all 8 career wins)
…and he's worth looking out for under those conditions, he's won every season since his 2yo season and he could well be visiting the winners enclosure before too long on slightly easier ground than he faced here.
**
DUNDORY
4th of 14, 1m Handicap, Chepstow, 10th May
A Chepstow pace/draw bias firmly at play here with the first three home being drawn 14-11-13 and the winner hogging the near side rail and making all to score comfortably. DUNDORY on the other hand was parked in stall 5 and was clearly up against it from the off, giving himself an even bigger handicap by sitting out the back on the opposite side of the pace bias. As such his 4L 4th is plenty better than it looks and his trainer John O'Shea should be able to find winning opportunities for his charge before the handicapper catches up with him. He ran here off OR 68, a mark he was able to win off when trained in Ireland by Tony Martin, and although I suspect he doesn't have bundles to play with on the handicapping front he should have enough in hand to pick off a similar type race to this Class 5 Chepstow handicap.
**
ABERAMA GOLD
5th of 22, 6f Handicap, York, 11th May
A fine effort from the 5yo here as he didn't have the best of the draw in this Class 2 sprint as he was the only horse in the first 7 home to break from a single figure stall (the first 7 were drawn 21-18-10-20-7-19-12… Aberama Gold was stall 7, obviously…). He also generally needs a run to get going as well as he is now 0/4, 0p when running off breaks of more than 50-days (he was DSLR 90 here). Those two factors alone (draw and DSLR) make his 2.2L 5th an extremely noteworthy effort and suggests he's about ready to be winning again.
He's a good way below his peak rating of OR 105 as he was running here off OR 88 and that's a mark trainer Keith Dalgleish should definitely be able to exploit and I'd be looking to back him under his Prime (turf) Conditions of…
OR 92 or less | DSLR 50 or less = 11414413 (4/8, 2p – all 4 career turf wins)
He was also running here off a wind-op and the early evidence suggests that it has had the desired effect.
**
HIGHWAYGREY
6th of 13, 1m4f Handicap, York, 11th May
This Dick Turpin 6yo found himself over 1m4f for the second race in succession and once again he looked to me like he just didn't stay the trip, this run taking his record over 1m4f to 0/3, 0p. He travelled into the race like a well-handicapped type (which he is) but he just didn't see it out and weakened into 6th without being able to land a serious blow.
I have Prime Conditions for him as…
LH Tracks | Good+ | C3 or less Hcps | OR 86 or less | 1m1f-1m2.5 = 021111131 (6/9, 1p – all 6 career wins) – David Allan in the saddle a positive (ridden horse to all 6 wins)
The 0 in that form line came on his first run this season and he probably needed the run.
A drop in trip and ideally David Allan back in the saddle and I'd be interested in him for sure…
**
LA TRINIDAD
8th of 13, 1m Handicap, York, 12th May
The 5yo was given a nice quite ride out the back here on seasonal debut and I suspect this was nothing more than a run to get him up and running for the season ahead. He generally peaks in the June-August period – 4/8, 2p in those months compared to 0/13, 2p all other months – and I'd say this was job done and mission accomplished (blow the cobwebs away with really getting involved at the business end). I'd be looking at the following as Prime Conditions for him…
June-Aug | Good or quicker ground | Handicaps | OR 89 or less = 113311 (4/6, 2p – all 4 career wins)
…and he particularly enjoys a double figure field to attack as he can sit quiet off the fast pace generated by the pack and pounce late with his effort.
On the OR front I don't think he'll need to drop all the way back to OR 89 to get competitive again so I'd be a bit more flexible with regards to that part of his Prime conditions.
**
SPARTAKOS
5th of 8, 6f Handicap, Hamilton, 13th May
This 4yo is much better running round a bend and he is now 0/14, 1p when racing on a straight track like the Hamilton 6f strip and I have no idea why he started as 11/4 fav for this contest. Both his wins to date have come over 7f trips as well so there was plenty against him here (for all I'd definitely consider him over 6f when running round a bend).
This run was easily excusable and I have prime Conditions for him as…
6f-7.5f | Running round a bend | Class 6 races | DSLR 25 or less = 112 (2/3, 1p – both career wins)
…and hopefully connections switch him back to running round a bend next in coming starts.
**
VENTURA EXPRESS
4th of 9, 5f Handicap, Thirsk, 14th May
Paul Midgley's charge missed the break a touch here and was bumped by both horses on either side of him within the first 10-yards, meaning he was on the back foot from the off. He made up some ground in the middle part of the race but the damage had been done by then and he could only manage a 3.25L 4th come the line, which given how the first few yards of the race went for him is plenty better than it looks.
The ground probably wasn't quite fast enough for him anyway as he is now 0/8, 3p on ground slower than Good to Firm (he is 2/10, 4p on Good to Firm ground). The race won't have been lost on him, however, as this was his seasonal debut and the run will have sharpened him up nicely for the coming months and I'd be looking to back him under his the following prime Conditions…
(Since with P Midgley) C3 or less | Apr-July | Good to Firm = 32121 (2/5, 3p – both career wins)
Both those wins came at Pontefract and he does have a particularly good record there on Good to Firm (3121…his other run at the track came on Soft ground and he finished a well-beaten 14L 5th of 6).
**
EEH BAH GUM
6th of 14, 6f Handicap, Thirsk, 14th May
The 7yo has moved to Kevin Ryan this year and there's no doubt he's picked up a horse that is on a very good mark right now. He was racing over the wrong trip on Saturday (now 0/6, 0p over further than 5f) but there was enough in the effort to suggest that Kevin Ryan has begun to rejuvenate the Dandy Man gelding (possibly helped by a recent wind-op) and he's worth looking out for under the following prime Conditions…
Straight 5f Hcps | OR 83 or less | Good+ | May-Aug | DSLR 30 or less = 20384634511111 (5/14, 3p – all 5 career wins)
He ran well for Kevin Ryan when meeting with those conditions two starts back and he'll surely find a race for him before too long.
**
ELDEYAAR
4th of 14, 6f Handicap, Ripon, 15th May
There was a clear pace/draw bias at play here, with the first three home all racing in the smaller group on the far side, drawn in stalls 2, 3 & 4. Antony Brittain's Slade Power 3yo raced in the near side group, emerging from stall 12 and winning his side of the draw with a strong finishing effort (in old NTF money I'd be classing him as a Badly Drawn Horse!! Remember those days?).
Eldeyaar didn't make his debut until the end of January this year and he quickly racked up three appearances on the Tapeta at Newcastle in the space of three weeks, with connections clearly keen to get him on a handicap mark so they could get him down the handicap route (and starting handicap life on a decent looking mark). He's now shown up well on both handicap starts (here and at Thirsk at the start of the month) and on the evidence of this run (where he essentially won the race he was running in, it just happened to be that the group on the other side was where he needed to be) he shouldn't be long in opening his account.
**
---
I plan on posting the NTF Notebook every Monday or Tuesday here on the free blog so stay tuned for a long hot summer (🤞) of NTF notebooking 📝
And if you want even more NTF content then get yourself on the full members service by clicking on the image below…

Cheers – Ben (NTF)
6 responses to "NTF NOTEBOOK: MONDAY 9TH – SUNDAY 15TH MAY"