30
May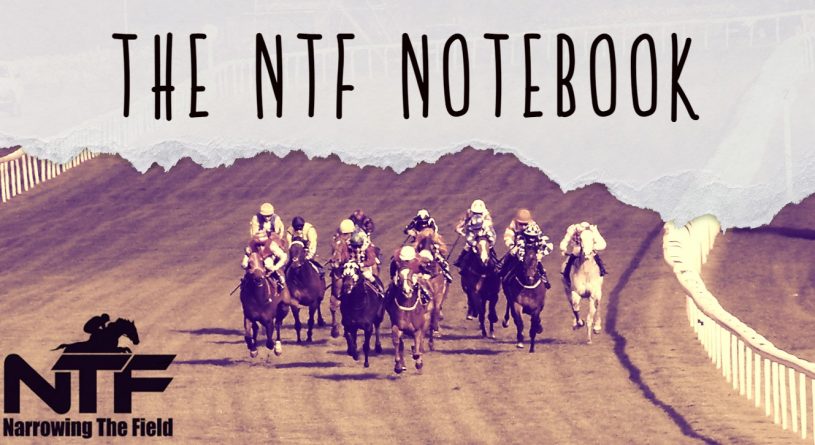 NTF NOTEBOOK: MONDAY 23rd – SUNDAY 29th MAY
Afternoon racing fans
The Derby and Oaks from Epsom dominate the racing this week and I'll be covering a selection of races from the two day meeting on the full NTF Members Service.
We sadly lost the winning most jockey in the Derby's history with the passing of the legendary Lester Piggott on Sunday, one of those names that transcended his sport and reached an audience above and beyond just your average racing fan, I certainly knew who Lester Piggott was before I ever really understood really what horse racing was all about…
R.I.P Lester…
On the racing front last week there were no Notebook horses of any real interest, a couple took to the track but none of them had their Prime Conditions so were easily left alone for betting purposes.
Let's see what this week brings…
---
.
NTF NOTEBOOK: MONDAY 23rd – SUNDAY 29th MAY
 .
PORTELET BAY
4th of 11, 5f Handicap, Bath, 24th May
A flat 5f is probably on the sharp side for this lad (he's now 0/6 over the minimum trip) but he ran a sound enough race in fourth here, only giving way in the final furlong. He's been struggling a bit in the handicap since recording back to back wins last summer but he's now back on a mark where he can be competitive and I'd be interested in backing him under the following Prime Conditions…
C6 Turf Handicaps | 5.5f-7f | OR 61 or less = 3116321 (3/7, 3p – all 3 career wins)
The David Evans yard have also been a little on the quiet side recently (1/29 the last 14 days and 3/56 the last 30 days) but they've had a winner and couple others go close in recent days and the yard may be about to hit a bit of form shortly.
 —
HARD SOLUTION
6th of 12, 6f Handicap, Ripon, 25th May
David O'Meara's 6yo was disadvantaged by the draw here, breaking from stall 1 and racing in the small group on the far side, with the five that finished ahead of him all racing in the near side group, indeed the winner – Gullane One – was drawn almost right on the opposite side of the track (1 away from the near side rail). Hard Solution comfortably won his side of the draw, with the two that raced alongside him ending up last and second last.
This was seasonal debut for Hard Solution and he's now 0/7, 0p on his first run of the season so it's reasonable to think he'll come on plenty for this outing, in fact he's yet to win out with the June-Sept period (0/20 out with those months) so he should start to hit peak form from next month (June) and he's worth looking out for under the following Prime Conditions…
OR 64 or less | June-Sept | 10+ runners | wearing a visor or NO Headgear = 8/19, 5p – all 8 career wins
*This race was run in the name of Graeme Dand, who some of you may have known on twitter as @theformanalyst. Graeme sadly lost his battle to cancer a couple of hours before this race was run. There is a Just Giving page set up to help support his young family, if you have a spare couple of pounds then you can still donate via this link
—
WRENTHORPE
4th of 8, 5f Handicap, Haydock, 26th May
Another of those who always needs a first run back, with the gelding now 0/12 off breaks of 30 days or more (this was DSLR 204). He posted a solid figure in defeat, however, in a race where the front two ran above par for the level (using Proform Speed Figures as my gauge) and he should also get the benefit of being dropped a pound or two for this run, which would take him below his last and highest winning mark. I'd be interested in him going forward off this run and will be looking out for him under the following Prime Conditions…
Turf Hcps | OR 84 or less | DSLR 30 or less = 3012311211 (5/10, 4p – all 5 career wins)
—
SUMMER SECRETS
7th of 11, 6f Handicap, Carlisle, 27th May
The low numbers just never got into this race at all, with the first six home drawn 7-8-6-9-11-10 followed then by stalls 2-5-1-3-4 (I've used Proform's adjusted stall numbers, which takes into account the position occupied once non-runners were accounted for). It was a similar scenario in most of the races at Carlisle this day, with the inside stalls struggling to make an impact. Summer Secrets broke from stall 2 in this and he did at least manage to hang on to the coattails of the six ahead of him and putting a yawning 8L+ between himself and the remainder. It was also notable that he recorded a career best on the figures here on his first step into handicap company and he's possibly entered handicaps on a decent enough mark.
He's not all that easy to assess but he's one I want to keep an eye on in coming starts, he could be one to run well at lofty odds.
—
TRIPLE NICKLE
4th of 17, 1m3.5f Handicap, Haydock, 27th May
It was always going to be hard for the 6yo to make an impact in this race given she was drawn in stall 17 of 17 but jockey Jessica Llewellyn did the right thing and sat quiet out the back and picked up what she could down the home straight, with a 2.5L 4th a pretty decent return given the starting position. The mare is on a winnable mark at present and I'd be looking to back her under the following Prime Conditions…
(Since with BJ Llewellyn) C5 or less Turf-A/W Handicaps | OR 64 or less | 1m1.5f-1m4f | DSLR 45 or less = 41139131916 (5/11, 3p – all 5 career wins)
—
KEY LOOK
5th of 12, 7f Handicap, Catterick, 28th May
Tried to take the brave route up the inside after having to switch across from her stall 7 berth and she got mullered at the furlong pole when still travelling as well as anything. I doubt she would have beaten the winner Langholm even with a clear run but she would certainly have finished a lot closer than her 4L 5th and she crossed the line with what looked to be plenty still in the tank. Despite the interference she managed to post a figure bang on par for the level and I'd be interested in backing her under the following…
(since with G Harker) OR 60 or less | DSLR 30 or less | LH-Straight tracks | CPs = 4/11, 2p – all 4 career wins
—
UGO GREGORY
3rd of 9, 7.5f Handicap, Beverley, 28th May
Ran a fine race in third, only just dropping off in the final half a furlong or so. He's now back below his last and highest winning mark and looks about ready to be winning again, especially as we are now approaching his prime months…
8/34 in June-Oct
0/11 all other months
This class of race (C3) has proven beyond him previously (0/8 at C3 level+) and he's always shown to be a better horse giving weight to lesser horses that receiving weight from better horses (7 of his 8 wins have come when carrying 9-05 or more… he was racing with 8-13 on his back here, the 2nd lowest weight in race) as such this was probably an even better effort than it looked given he was racing above his class ceiling.
I don't have stringent Prime Conditions for him but I'd be looking to back him under roughly the following conditions…
C4 or less Handicaps | June-Oct | OR 80 or less | Carrying 9-05+ = 7/14, 6p (7 of his 8 career wins)
—
FLASH THE DASH
4th of 9, 7f Handicap, Haydock, 28th May
This race played into the hands of those that were right up on the pace and Flash the Dash missed the break a shade and was on the back foot from the off. He worked his way into things late in the day and was nearest at the finish and in doing so was able to post a comfortable career best effort on the figures, in a race that does look strong on the speed figure front.
He possibly started handicap life a shade too high on OR 86 but the handicapper did chop him back 3lbs after his last effort and he should go down another 1lb or 2lb for this effort as well. Realistically he's probably not a mid-80's type but he is getting back to a mark where he should become more competitive and this effort very much tells us he's not far of finding the winning thread again.
It's also worth noting that the Julie Camacho 3yo handicappers never really do much in the May period, with figures of 1/59 to show for their exploits, and they do tend to show better form from June onwards (August would be the absolute peak month for her 3yo handicappers).
There was plenty to like about this effort, in what looks like potentially being a hot enough race, and he's interesting going forward from this.
---
Add the latest NTF Notebook horses to your trackers so you don't miss them, or, alternatively, hook up to the full NTF service where I'll post in the NTF Stats Sheets when they are set to run (if I deem them to be running under Prime Conditions of course), along with all the other horse I've compiled notes on in recent weeks/months/years.
Have a great week 👍
Ben (NTF)
4 responses to "NTF NOTEBOOK: MONDAY 23rd – SUNDAY 29th MAY"