4
Oct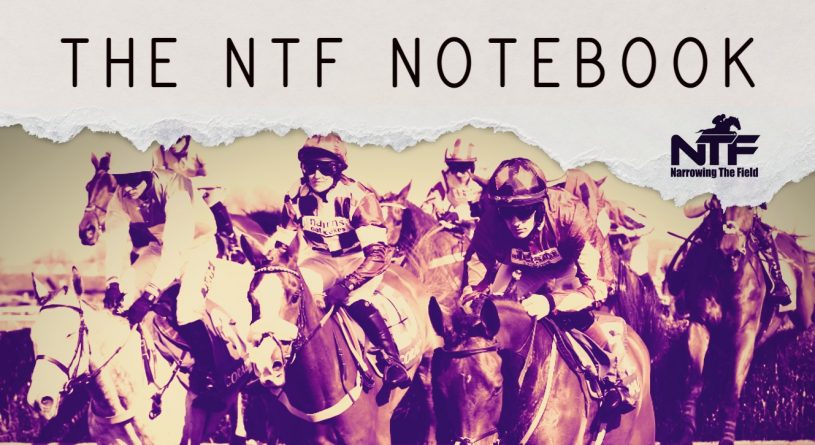 NTF NOTEBOOK: Early Season Novice Chasers
Fair play ALPINISTA, Mark Prescott, Luke Morris and Kirsten Rausing 👏👏👏👏 the first 5yo mare to win the Arc since 1937… if you are going to break a 'trend' then you might as well do it in style! I didn't back her myself but fair play to all involved… she's a special girl, she's won eight on the bounce, the last six of them being Group 1's… maximum respect from myself 👌
I'm actually now on a bit of a break at present, just letting my brain wind down a bit after the Summer NTF Members Service and letting the old coupon refocus and re-sharpen itself before the resumption of the 2022/23 NTF National Hunt service, which will be the 14th (FOURTEENTH!?!) year of the full NTF National Hunt service 😮😮😮 where has the damn time gone… 😵‍💫
I had, however, mentally committed myself to posting on the free blog today and I like to follow through on my commitments (even if they are in my own head!) so I've got a bit of a 'Novice Chaser Notebook Special' for you all to tuck into.
I had a look back at the notes I've been compiling since the start of September and cherry-picked FIVE Novice Chasers who have already had a spin this season, ones I'd be very confident will open their chasing accounts sooner rather than later.
It's a bit of an eclectic bunch…
---
NTF NOTEBOOK: Early Season Novice Chasers
.
MIDNIGHT GLANCE (A King)
2nd of 7, 2m6.5f Novice Handicap Chase, Uttoxeter, 7th Sept
This was the 7yo's second chasing start, his first coming at Hexham at the beginning of May, which I personally thought was a strange piece of placement, given he was thrown straight into open chase handicap company against a bunch of hardened chase handicappers, over the demanding 3-mile Hexham undulations. To be fair to the horse he made good headway to find himself disputing the lead at two-out but when he hit the uber-stiff Hexham finish he though 'nah, bugger this, not today!' and ended up a well-beaten 32L 6th.
This run at Uttoxeter was his first run since that Hexham debut but he bumped into the Peter Bowen trained JUDGE EARL on this occasion and he was a horse in bouncing form at the time, rounding out his third win in the space of two weeks, and Midnight Glance's 6L 2nd was more than respectable.
I actually first noted this lad after that Hexham effort as his breeding caught my eye, being by Passing Glance out of a Midnight legend mare, and that is a cross that has provided winners over fences, with the six that have gone chasing picking off 6 wins and 5 placed efforts between them, for overall stats of 6/24, 5p… improving plenty when you look at their chase starts on Good to Soft or softer, for stats of 6/17, 3p… which would tie in with MIDNIGHT GLANCE'S own form as he is 0/5 on Good ground, all 3 of his wins coming on Good to Soft or softer… this Uttoxeter effort was on Good ground so again no disgrace in coming a 6L 2nd against a red-hot rival AND on ground that he won't have enjoyed.
Once the ground begins to soften up I'd fully expect this one to be opening his chase account and based on what we've seen from him to date I'd have his Prime Conditions as the following…
Good to Soft or softer | Handicaps with single figure fields = 12311 (3/5, 2p – all 3 career wins)
His trainer Alan King is expert at getting chase wins into his lightly raced chasers (0-5 previous chase starts) especially at one of the following tracks… Bangor – Exeter – Hereford – Plumpton – Warwick – Wincanton… with combined stats at those tracks with his lightly raced chasers of… 114/343 | 33% S/R | +£91.56 – W&P 174/343 | 51% S/R – 23% above exp… MIDNIGHT GLANCE is 2 from 2 at Plumpton over hurdles so it would be no surprise to see him score over fences there also.
.
GOWEL ROAD (N Twiston-Davies)
2nd of 3, 2m4.5f Novice Limited Handicap Chase, Perth, 22nd Sept
On the face of it this was a disappointing Chasing debut from the 6yo, beaten 20L in a 3-runner race as an 11/10 fav, but I think he's probably just a big ol' stuffy type who likely just needs an outing to get going… he's now 72262 (0/5) off breaks of 50+ days compared to 114013 (3/6) off breaks of 35 days or less… and he should come on a bundle for this outing. The horse that beat him here – STATUARIO – had been on the go all summer and had 15 previous chase starts in the bank and his race fitness and chase experience ultimately were more than enough to see off Gowel Road, who was always going to come on for the outing anyway.
In truth I'm not exactly sure where he'll eventually slot into the wider picture in the Novice Chase scene… but I'd be very confident he'll prove plenty better than this opening run… the upside of which was the fact he was dropped 3lbs to OR 141 for the effort… which was nice and generous of the handicapping team.
I've no solid set of prime Conditions for him yet but I'm possibly wary of his field size limitations as he has been well beaten on all three large field starts (fields of 16+) so he maybe just prefer 'smaller' fields, and if you look at him under the following… DSLR <50 | Fields of <16… you get… 31114 (3/5)… and they may just be the conditions where he proves to be at his best.


DOORS TO THE NTF NH SERVICE ARE NOW OPEN!


.
GANDHI MAKER (W S Coltherd)
PU of 4, 3m0.5f Novice Handicap Chase, Hexham, 30th Sept
A less than ideal chase debut for this 6yo but being a son of POLICY MAKER he should improve for the switch to chasing… Policy Maker offspring over Hurdles = 6/137 | 4% S/R compared to Policy Maker offspring over Fences = 19/105 | 18% S/R… although clearly that wasn't quite in evidence here with Gandhi Maker.
I wouldn't be convinced, however, that he's really wanting 3m sort of trips, with Policy Maker kids returning the following when racing over 2m4f+ trips… 3/86 | 3.5% S/R – 70% below exp… and 0/27 over trips further than 2m5f… and to date stamina hasn't been their defining feature.
This was also the 6yo's first run for Coltherd since moving from Kirby and Coltherd isn't really one to get a new recruit bouncing straight off the bat… 6/93 | 6.5% S/R with runners on their first start for him after moving from another yard… things do improve a little on their second start for him, especially when the second start comes in a handicap chase…4/22 | 18% S/R.
Coltherd also has some solid stats with his chasers on their second chase start (when that second start is a handicap), returning the following figures since 2014… 10/31 | 32% S/R | +£29.48 BFLSP – W&P 17/31 | 55% S/R – 66% above exp…
To be fair this one may be a bit of a longer project for the trainer, his form to date in his four career starts looks downright filthy (beaten 45L, 35L, 82L & PU), but he did win his Point-to-Point by 6L and the horses he beat there do very much suggest his opening chase mark of OR 83 should not be anywhere near his ceiling (second horse Rocky Lake is a hurdle winner and rated 118, third horse Chancycourt finished a close 2nd on his sole rules run so far behind a promising Paul Nicholls youngster and fourth horse Bridge North finished last season rated OR 127 having run in a G1 at Aintree)… GANDHI MAKER needs to show plenty more than he did at Hexham last week but there are some promising angles/stats/form pointers that suggest he is better than what we've seen so far…   
.
GALICE MACALO (Mrs J Williams)
2nd of 5, 2m Handicap Chase, Uttoxeter, 2nd October
Six chase starts and no wins yet for this 6yo Saddler Maker mare but I think she just started chasing on too high a mark (OR 130 when she went chasing last December) and she's on a much more realistic and workable mark now (ran off OR 121 here).
Her fitness probably begun to tell in the closing stages of this one (first run for 203 days) and the winner – JAMACHO – was hard race fit from a summer of racing and racing under his probable Prime Conditions (LH tracks in May-Oct | 2m-2m1f | 10 or less runners = 9/20, 1p)… so with that in mind I'd say this was a satisfactory return for Galice Macalo given it was seasonal debut and the winner has plenty in his favour.
A step back in trip may be a good move as Saddler Maker chasers over shorter than 2m3f trips are… 6/47 | 13% S/R… whilst over 2m3f-2m6f they are… 28/133 | 21% S/R… improving to… 16/62 | 26% S/R… for 6yo-9yo's at C2 level and below (over those 2m3f-2m6f trips)… and maybe Galice Macalo just hadn't found her stamina boots last season when trying those trips.
She's not one I'd hang onto for too long but she's certainly not devoid of talent and she should hopefully be able to open her chasing account now she has a bit more of a realistic handicap mark to work off…
.
JETOILE (R Potter)
2nd of 4, 2m Novices' Chase, Uttoxeter, 2nd October
Looks an exciting prospect for the chasing game for his small yard this season and this was a solid first crack at the larger obstacles, even more so when you consider runners from the potter yard almost always need their first run off a break, with Potter runners off a break of 60 days or more returning the following… 3/69 | 4% S/R | -£60 – W&P 12/69 | 17% S/R – 46% below exp… so JETOILE going down by only 0.75L at the line against a horse rated 7lbs ahead of him (but racing off levels here) tells you plenty about the potential talent of this 7yo.
The 7yo already has some decent form parked on his CV and although he failed to shine on his last two starts of the campaign it's not inconceivable to think that he maybe suffered a little for getting to within farting distance of CONSTITUTION HILL in the Tolworth at Sandown in January, in bog-heavy winter ground (it certainly didn't do his handicap mark any favours!!).
I don't think that G1 effort was a fluke though, he had posted some decent Speed Figures on his previous starts, and he should be winning chase's this season.
---
The National Hunt game does step on a gear this season, with Chepstow's two day 'Jump Season Opener' taking place this Friday and Saturday (8th & 9th October), and if you haven't yet managed to get your hands on my FREE 'Winter Warmers' guide then what you waiting for?!?
The guide gives you 16 National Hunt horses that are at their peak in the October to January period and is one of a number of guides I'll be releasing to members of the FREE NTF service.
If you enjoy reading my thoughts on the free NTF blog then you will LOVE the FREE Winter Warmers Guide, I can guarantee you…
Anyway… I'm off to continue giving my brain a bit of downtime…
'Anything nice planned Ben?'
Why thanks for asking… well today's non-racing related task is to clip/trim my 36KG retired greyhound's nails 😐😯😒 he really hates the vets… and I mean REALLY hates the vets!!! It's not worth the stress of getting his nails clipped there… and as he gets older and walks less (cos he is absolutely the laziest sh!t known to the greyhound world… even by greyhound standards!!!) his nails grow longer because the 'walks' don't wear them down naturally… so I'm putting on my hard hat and going in!!
If you don't hear from me again then the big boy will have battered me to death!!! If he can be bothered he may take over the blog… this could be the new owner of NTF the next time a blog appears…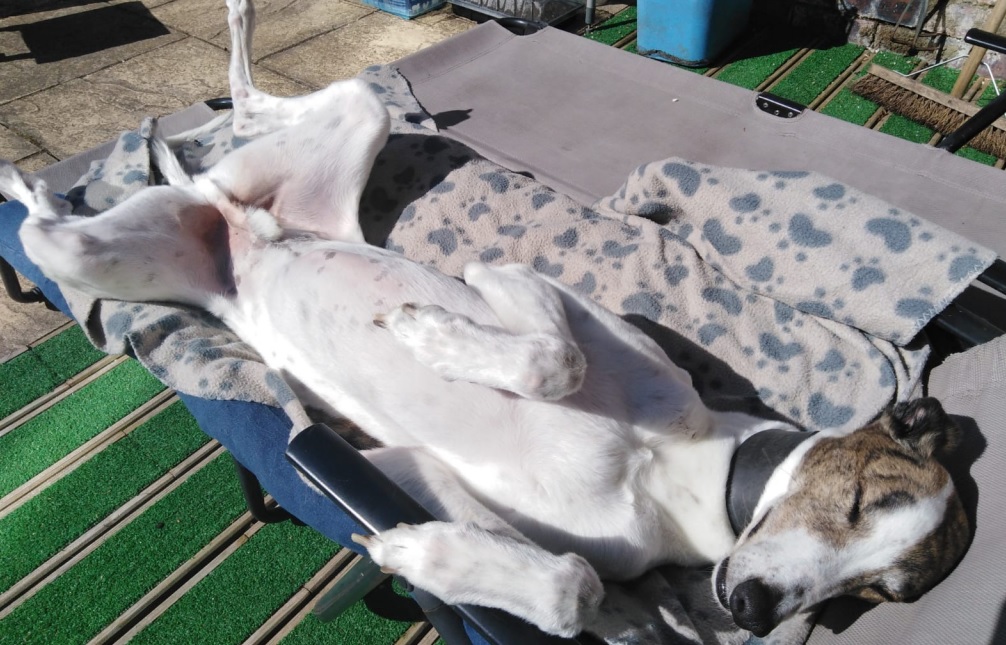 Cheers – Ben (NTF)
12 responses to "NTF NOTEBOOK: Early Season Novice Chasers"