26
Sep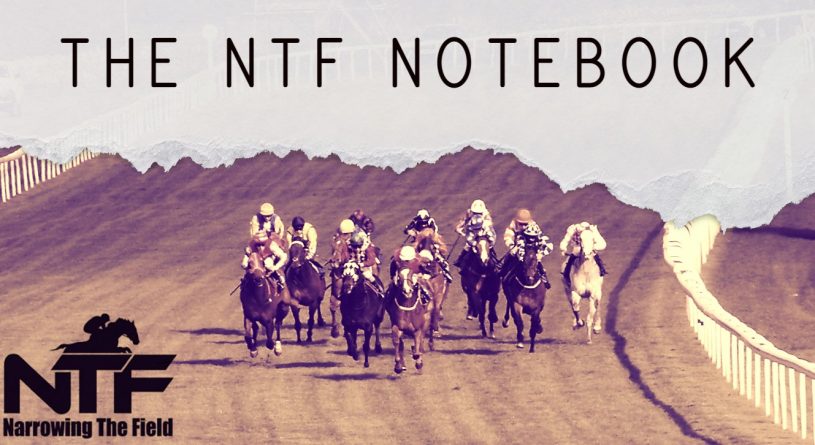 NTF NOTEBOOK: 19th – 25th September
We roll into October this weekend and the Prix de l'Arc de Triomphe kicks the month off in style.
Is there another Torquator Tasso in the field? (apart from Torquator Tasso himself obviously… who is likely to line up to defend his crown) 
No Baaeed of course but it still looks a fascinating renewal and I'll be very interested to see who the trends point to when I pull them together later on this week. 
I'll throw you out one trend to help you along the way…
14 of the last 15 Arc winners have been aged 3yo or 4yo
Indeed only 3 of the last 40 Arc winners have been aged older than four (all 3 were 5yo's) and it has, unsurprisingly, been a race for the younger age groups…
Still plenty of 5yo+ horses entered at time of writing… will one of them defy the stats this year?
We will soon see…
The Arc smashing into view also means I need to further ramp up my National Hunt work… I've been digging deep into my mound of jumping notes anyway but as soon as we hit October I'll be doubling down on my 'homework' and properly getting stuck in.
Talking of the jumping game… I've almost finished the first of my FREE National Hunt guides that I'll be releasing to members of the FREE NTF List (should be with you at some stage this week) and if you want to make sure you get your hands on that guide then make sure you are on that list by popping your name and best email in the following form…
.
.
…I've still, however, got some Flat stuff to take care of and here is this week's NTF Notebook post…
---
NTF NOTEBOOK: Monday 19th – Sunday 25th September
 .
SURPRISE PICTURE
3rd of 16, 7.5f 3yo+ Handicap, Chester, 24th September
Almost snatched this with a winning move at the furlong pole but was run down by two making a later move than him from off the pace.
This Keith Dalgleish gelding is generally susceptible to at least one or two finishing ahead of him in these larger fields as ideally he wants to be running in a field of 10 or less…
Form in fields of 10 or less = 3/14, 5p
Form in fields of 11+ = 0/14, 2p
…so it's fair enough to crack the bare form of this performance up a pound or two given he won't have been 100% happy in the large field.
He's on a very workable mark at present (ran here off OR 85) and he's worth looking out for under the following…
C4 or less handicaps (worth 6k or less) | fields of 10 or less | OR 85 or less | DSLR 45 or less = 5131232361 (3/10, 5p)
.
YOUNG FIRE
3rd of 12, 1m 3yo+ Handicap, Haydock, 24th September
Was parked widest off all here, which made things tricky from the off, and Danny Tudhope had to sit and wait out the back for longer than ideal for the gaps to appear so he could mount his challenge. He finished well but the two ahead of him were able to mount their challenge earlier and that was more than enough for them to hold off David O'Meara's 7yo.
Young Fire is, however, well worth keeping on the radar in the short term, especially now the ground is beginning to soften up, as he is very much one that loves to get his feet muddy…
Form on Good or Good to Firm = 0/11, 1p
Form on Good to Soft = 0/4, 2p
Form on Soft = 4/12, 3p
Form on Heavy = 0/2, 0p
…so ideally he wants Soft or Good to Soft… I think he'd cope OK with Heavy if all other conditions were in his favour as well and I have his Prime Conditions looking like…
OR 96 or less | Race worth 21K or less | Good to Soft – Soft | DSLR 21 or less = 3114161 (4/7, 2p – all 4 turf career wins)
.
ANOTHER INVESTMENT
7th of 16, 6f 3yo+ Handicap, Haydock, 24th September
You quite simply had to be drawn high on the straight track at Haydock this day and that was no more evident than in this race, with the first SIX home all drawn in double figures (Stalls 15, 14, 13, 10, 12 & 17). Nigel Tinkler's 3yo ANOTHER INVESTMENT was the first home of the single figure stalls, a feat that was made even more impressive by the fact he was drawn in the lowest stall of all in 1.
The Awtaad gelding is yet to score this season but he's been running well on a few occasions and I do think he's on a workable mark (ran here off 81) given some of the form he's shown with the likes of LETHAL LEVI (now rated OR 98), LETHAL NYMPH (OR 89), PINK CRYSTAL (OR 96) and OBJECT (OR 84).
He's possibly not a horse that is likely to fire in a sequence of wins but he should hopefully open his handicap account before too long…
.
DUAL IDENTITY
3rd of 28, 1m1f 3yo+ Handicap, Newmarket, 24th September
A relatively 'obvious' one to be following here but nevertheless one that is well worth highlighting.
William Knight's 4yo looked all set to land this huge pot but was run out of it in the final strides by two on the other side of the track that had done their racing in the larger near side group. Closer scrutiny tells you exactly how big a run this was from DUAL IDENTITY as he was the ONLY horse in the first NINE home to come from the far side group, the next home from that side was Protagonist who was a full 5L behind Dual Identity; he essentially smashed his group by a wide margin but was undone by two who benefitted from racing on the other side of the track.
On this evidence he is clearly in rude health at present and compensation for this effort could well be just around the corner.
.
---
Next week may well be the last of the NTF Notebook posts as again I'll be looking to shift focus to the jumping game…
The free blog will, as always, keep ticking away and there will be plenty of content available throughout the winter months to keep the National Hunt fans amongst you entertained 😎
Cheers – Ben (NTF)
10 responses to "NTF NOTEBOOK: 19th – 25th September"