25
Oct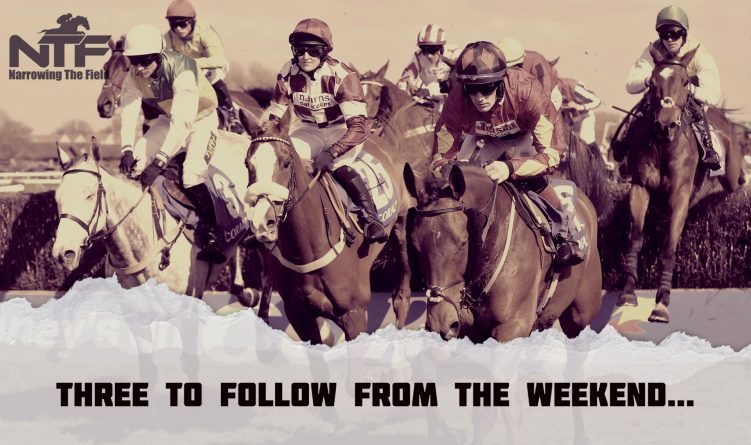 Three to follow from the weekend: 21st, 22nd & 23rd October…
Old Roan Chase now in the form book ✅
Charlie Hall Chase coming our way this weekend ✅
Yeah I reckon we can definitely say we are now bang in the National Hunt zone! 🥳🥳🥳
Which also means it's time to get the regular weekly NTF blogs back up and running and into full stride for the National Hunt season, in the shape of 'Three to follow from the weekend'.
For those of you that are not familiar with these posts the info is taking from my own NTF Weekend Notes that are posted to full NTF members at the start of each week, an in depth look at the weekends racing just past and jam-packed with thoughts, pointers, angles, trends and plenty more…
The latest copy of Weekend Notes ran to a girthy eight pages and the following three horses are just a small sample of the info included in the members guide…


DOORs TO THE NTF NATIONAL HUNT SERVICE 2022/23 ARE NOW OPEN!


.
Three to follow from the weekend: 21st, 22nd & 23rd October…
.
ONAGATHERINGSTORM

(F O'Brien)
3rd in a Class 3 Handicap Hurdle – 3.55 Cheltenham (Friday 21st) 
This was the 7yo's first run off a wind-op here and whilst that in itself was a positive (on trainer stats) the horse himself does generally need his first run of the season and he is now 3303 (0/4, 3p) off breaks of 56 days or more. Off breaks of 45 days or less he has much stronger form of 52112 (2/5, 2p) and he's handicapped to go well at present on OR 129.
Fergal O'Brien runners on their second start off a wind-op, particularly hurdlers, are generally profitable to follow as well, recording stats of… 7/39 | 18% S/R | +£54.28 BFLSP – W&P 16/39 | 41% S/R… and this dual winner is worth keeping on the radar.
.
CAPTAIN BROOMFIELD

(E Lavelle)
2nd in a Class 4 Maiden Hurdle – 1.40 Kelso (Saturday 22nd) 
I marked this one down last season as one to keep an eye on this term for a season of Novice Chasing and hopefully they switch over the larger obstacles now with this pipe-opener now in the bank.
This was his third hurdle start so they'll get a handicap mark after this and they'll be able to enter Novice Handicap Chase company off that mark, with that in mind they maybe were not really aiming to win this contest (so as to get a better handicap mark to go to war with over fences). He'll be very interesting if they step him up in trip as well when going chasing as his pedigree does very much suggest that longer trips than the 2m trips he's been contesting will suit him best.
*Note – he has been allocated an opening mark of OR 115 and that should be something connections can very much exploit.
.
KRAQUELINE

(K Lee)
5th in a Class 4 Novice Hurdle – 1.45 Ffos Las (Sunday 23rd) 
I noted this one last year after her second bumper run (a second at Ascot in February) with the following note…
'One worth keeping on the radar for when she goes hurdling and then ultimately chasing. Some strong stamina influences in her pedigree and 2m4f+ will probably prove to be her optimum in time, probably even 3m+. Posted two strong speed figures on her two bumper runs to date'
…and the way she ran here backs up my thinking that we won't see the best of her until she goes over longer trips. I revisited her breeding profile after watching this debut hurdle race back and I must admit I'm maybe not as sold on my initial 3m thinking… her dam line may limit the full depth of the stamina influences she gets from her sire, but I do feel 2m4f/5f would suit her well.
I wouldn't have actually expected any more from this opening hurdle effort though, with Kerry Lee Hurdlers on seasonal debut only returning figures of 3/77 | 4% S/R – 69% below exp… dropping to 1/47 | 2% S/R – 81% below exp… in the Sept to Dec period… and she doesn't generally have her hurdlers fully wound up for their first run of the season. This was a solid opening for the mare, however, and I still like her as one to keep on the right side of this season, especially with this debut run now in the bank.
---
Doors to the NTF 2022/23 members service… OPEN SOON!
With the Charlie Hall Chase staring us full in the face this weekend that also means that the NTF Members Service for the 2022/23 season is also now open!
Previous members have been signing up since the weekend and doors will be open to members of the Free NTF list at the end of this week.
I'll be ploughing my own unique furrow through the bumps and grinds of the 2022/23 National Hunt season, with the following being my plan of attack…
👉 In depth Big Race Trends Analysis – Covering a large selection of the major National Hunt races and festivals
👉 Daily Stats Sheets – Highlighting PC/Handicap Sleepers, Noted Horses, Angle Qualifiers and Trainer Pointers
👉 NTF Weekend Notes – Covering all the vital trends, pointers, stats and angles from the weekend action
👉 Private NTF Members Telegram Group – Discuss the days racing with like minded racing fans and punters
Keep an eye on your inboxes at the back end of the week for your own discounted sign-up link…
In the meantime, if you are yet to get your hands on the latest FREE NTF guides – NTF Winter Warmers & Do you remember the first time? – simply slide along to the follow page…
Cheers – Ben (NTF)
4 responses to "Three to follow from the weekend: 21st, 22nd & 23rd October…"