30
Jun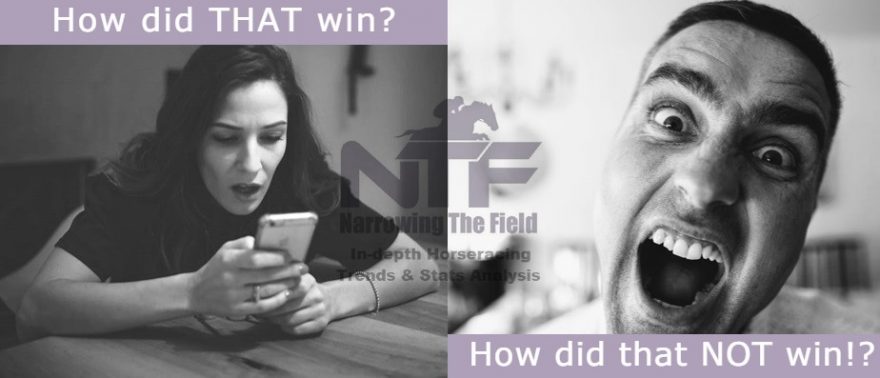 How did THAT win/NOT win? (30th June 2022)
Time for the latest instalment of…
How did THAT win/ How did that NOT win?!?
If you are new to the blog or just want a reminder of what these articles are about then have a quick flick back to last week's post here… but if you just want to crack straight on in…
---
30th June 2022 – How Did That Win/Not Win
.
How Did That Win?
FORCA TIMAO (R Hannon) – WON at 40/1 (BFSP 51.86)
1.35 Doncaster, Friday 24th June
Beaten 10.9L on debut at Sandown, finishing 7th of 7… I can see, to a certain extent, why Richard Hannon's 2yo was unfancied in the market for his second career start. A heavily fancied Charlie Appleby Dubawi colt – Courageous Knight – also headed the betting and was taking up a large chunk of the market… as such FORCA TIMAO was pretty much ignored in the betting for this (only the Brian Ellison debutant Utilis was trading at larger prices).
Given the following stats/angle I'm about to hit you with, however, we really should have been paying at least some level of attention to the Richard Hannon runner…
Take a look at the Hannon stats with his 2yo colts on their second career start (with a few additional filters thrown in)…
R Hannon | 2yo colts on second start | C2 or less Turf races in May-June | DSLR 15 or less
30/64 | 47% S/R | +£85.24 BFLSP – W&P 39/64 | 61% S/R – 43% above expectation
…backing them E/W would also have been a decent enough approach to take, as that would have pulled in +£81.75 points to level stakes…
Yes, the win of Forca Timao adds a hefty boost to the LSP figures… but even before his win the stats were very strong and we all should have been paying more attention to this unconsidered 'outsider'…
Did I personally back Forca Timao? Unfortunately no (😭)
Will I be keeping this angle in my back pocket for next May & June? You bloody bet I will!
.
How Did That NOT Win?!
KING OF ICE (W Haggas) – LOST at 8/13
7.30 Hamilton, Thursday 23rd June
Willie Haggas rarely leaves the money behind when he makes the trek up to Hamilton. It's about a 360-mile trip from his base so naturally you have to think he's not making the journey for sh!ts and giggles (🤨)…
He's got an overall strike-rate at the track of 38% and that improves to 49% when his runners start at an SP of 9/2 or less…
So what went wrong with KING OF ICE last Thursday?
I think I may have found the answer and it's possibly down to the sire of King Of Ice; ULYSSES.
Take a look at the stats of the Ulysses kids when they are asked to race on tracks with any level of undulations…
Ulysses offspring | Tracks with undulations
6/93 | 6.5% S/R | -£35.28 BFLSP – W&P 25/93 | 27% S/R – 49% below expectation
…I'd even add in another negative as the stats dip further on tracks with undulations in fields of 8 or more, where the stats read…
3/76 | 4% S/R | -£24.74 BFLSP – W&P 17/76 | 24% S/R – 62% below expectation
It's worth noting that the field size angle only comes into play on tracks with undulations (makes sense… if they are not comfortable tackling undulations then they probably don't want the added pressure of more runners to also deal with…) but it could certainly go some way to explaining the odds-on defeat of King Of Ice at undulating (and cambering) Hamilton Park, with 8 opponents around him.
To give a bit of substance to the above, take a look at the stats for the offspring of Ulysses on Flat tracks (so tracks with no or very little undulations)…
15/76 | 20% S/R | +£43.95 BFLSP – W&P 34/76 | 45% S/R – 12% above expectation
*For the record I've only looked at turf tracks but the Ulysses kids also have a decent record on All-Weather surfaces (an overall 19% S/R)… some of those tracks do have undulations but the synthetic surfaces maybe make it easier and less demanding to tackle the bumps and dips…
It would be easy to become disappointed with KING OF ICE, especially given his latest defeat and the fact that he is now 0/5 in his career, but four of his five starts have come on turf tracks with undulations, all of them also came in fields of 9+, and we know from the stats that as a whole that just doesn't seem to be the best area for the Ulysses kids…
Where did King Of ice's 'best' run to date come? Well that came on the All-Weather at Lingfield, where he only went down by a neck on his final start of his 2yo season…
Don't write off KING OF ICE just yet, he maybe just wants a return to the A/W or even better a crack at something on a flat track… like what most of the Ulysses kids seem to prefer…
*Also worth noting that King Of Ice posted a big speed figure (Proform Speed figure used as my gauge) at Hamilton, despite probably not enjoying the conditions, the front two posting a figure some way above par for the class…
---
I'll be back same time next week with the next edition of 'How did THAT win/How did that NOT win?'
Ben (NTF)
If you've missed any of the recent free NTF Blog posts then get them all on the main NTF Blog menu page
The latest 'NTF Notebook' post can be found HERE
2 responses to "How did THAT win/NOT win? (30th June 2022)"