28
Jun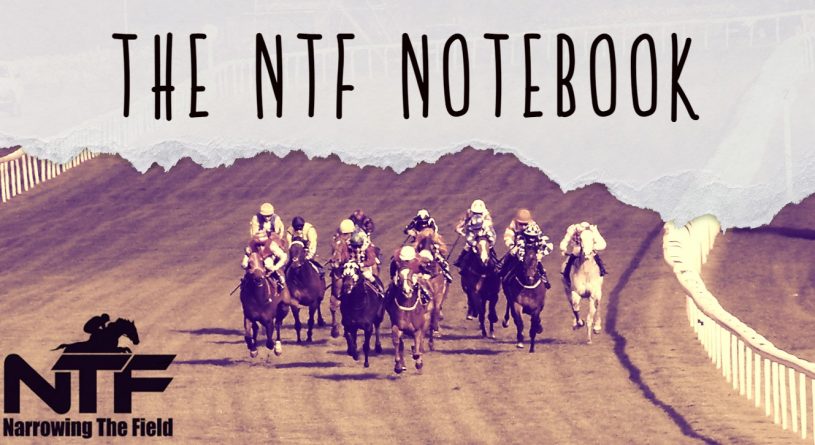 NTF NOTEBOOK: MONDAY 20th JUNE – SUNDAY 26th JUNE
A little bit of a quieter week last week after the top hat and tails show that was Royal Ascot…
As always, however, there was still some worthwhile action and performances that had me reaching for my notebook…
---
.
NTF NOTEBOOK: MONDAY 20th JUNE – SUNDAY 26th JUNE
 .
CARRIGILLIHY
8th of 14, 1m3f Handicap, Carlisle, 22nd June
Stall 12 was a tricky one to try and get involved in from for this 4yo, with the 7 that finished ahead of him all drawn in single figures and those drawn 10, 11, 13 & 14 filling 4 of the last 5 spots home, indeed stalls 1-4 filled 4 of the first 5 spots home, so a high drawn like that of Carrigillhy in stall 12 was always going to be a difficult one to overcome.
Class 4 and above (this was a C4) has also proven beyond this 4yo's reach (he is now 0/8, 0p at C4 level+) and realistically things were always going to be a tricky enough for Tim Easterby's charge.
Nevertheless he wasn't beaten all that far at the line and he also managed to post a joint career best effort on the figures (Proform Speed Figures) so I have this run as plenty better than the bare form would maybe suggest.
A little drop in grade and the ratings would be ideal (he was dropped 1lb for this effort to OR 71) and I'll be looking out for him under the following Prime Conditions…
C5 or less handicaps | Or 71 or less | DSLR 30 or less = 11132 (3/5, 1p – all 3 career wins)
.
I AM THE SEA
2nd of 7, 1m2f Handicap, Leicester, 23rd June
It can be tricky to win from stall 1 in Leicester handicaps on the round track, especially in fields of 6+ on Good to Firm ground, indeed since 2014 only 3 winners (from 107 qualifiers) have broken from that stall (under the conditions mentioned) with the stall performing 80% below market expectation.
I Am The Sea found himself in plenty trouble when push came to shove, having to wait for gaps, which never really appeared, and then having to switch out to the centre of the track to mount his challenge. Ultimately he just got going to late and by the time he was in top gear the line appeared and he went down by a nose. The draw was, however, a major handicap to try and overcome and he probably did exceptionally well to get as close as he did come the line and he'll surely be winning sooner rather than later.
William Haggas also has a decent record with his 3yo's on second Handicap start that were beaten fav on handicap debut…
W Haggas | Turf Handicaps in May-Aug | 3yo's on second handicap start | Beaten Fav LTO | Same or up in class
16/40 | 40% S/R | +£20.69 BFLSP – W&P 21/40 | 53% S/R – 43% above exp
…I Am The Sea likely to fit those stats next time out…
.
ROMAN DRAGON
3rd of 7, 7f Handicap, Chester, 25th June
Drawn widest of 7 here and that is always going to make life tough for any horse, especially one that likes to blast away in front. I also wouldn't be convinced he really wants to be going over 7f (now 0/4, 1p over 7f trips) nor do I really think he's a Class 2+ operator (now 0/5, 0p at C2 level+). I have his level at Class 3 or below and quite probably over 6f (although I'm flexible enough on the trip for now) and there has been enough in all three of his runs this season to suggest there is more to come from him as a 3yo.
.
BANDINELLI
6th of 20, 2m0.5f Handicap (Northumberland Plate), Newcastle, 25th June
The bottom quarter of the draw is a very hard place to win on the All-Weather at Newcastle over the 2m trips (in fields of 12+) and of the 40 races that have been run under those parameters only 5 have been won by a horse drawn in the bottom quarter of the draw (from 141 horses to have tried), as a group they have a 3.5% S/R and strike 52% below expectation.
BANDINELLI broke from stall 5 in this year's Northumberland Plate but despite the tricky draw he was still looking like a live player at the 2f pole, unfortunately he went for the same gap as eventual second Spirit Mixer and jockey Tom Marquand just had to ease up a little and flick back down the gears before re-galvanising his mount inside the final furlong. Given the draw 'handicap' and then the traffic issue at a vital stage I'd be more than happy to mark this effort up a good couple of pounds.
He also didn't have the best of the draw on his previous start at Royal Ascot as he broke from stall 14 of 16 that day (3 of the first 4 home came from stalls 5, 7 & 3) and that effort was also plenty better that the bare form suggests (he was only beaten 6.5L in 12th).
Indeed he was also drawn wide on his previous start at Haydock (stall 11 of 12) and he's just not been getting the rub of the green when it comes to the draw on recent starts.
He's a horse that likes to be prominent in his races so unfavourable draws will always be tricky for him and he's better judged on his seasonal debut run at Kempton, where he was able to break from stall 1 and sit handy throughout, recording a career best effort in victory to suggest he's one with more to offer still as a 4yo.
He'll likely be easily lost in the wash off the back of this Northumberland Plate effort, what with all the talk of the monster weight carrying effort by Trueshan (and WOW! that was a mighty mighty effort!!! 💪), but he's the one to take from the race for me… the handicapper also kindly dropped him a pound for the run to OR 97…
.
TRUE COURAGE
2nd of 7, 1m3.5f Handicap, Windsor, 26th June
Windsor was very much playing to the strengths of front-runners on Sunday, with the winners of the 7 races recording the following running styles… made all, chased leader, made all, made all, mid-division, made all, made all… it was quite simply very difficult to claw back those on or very near the front-end.
True Courage sat just off the pace in his race but the winner – Enthused – had an uncontested lead and like plenty others on the day he just wasn't for catching. There was still plenty to like about the run of True Courage, however, and he's catching my eye right now as he's slipping down from the mark's in the 80's that he's been running off since he was pumped in the handicap for winning back to back races last July. His last winning mark was OR 74 but I don't think he'll need to go all the way back to that to be winning again and somewhere near the mark of OR 77 he ran from here would likely be doable.
He's worth looking out for under the following…
Handicaps in June & July | Fields of 10 or less | DSLR 30 or less = 241112 (3/6, 2p – all 3 career wins)
.
KIRILENKO
2nd of 6, 1m Handicap, Windsor, 26th June
Stoute's 3yo filly was another that couldn't quite reel in a front-runner at Windsor, going down by half-a-length on what was her handicap debut. She's a filly that had shown some decent form in her three maiden/novice runs, with the form of all three of her races working out well so far and also suggesting that this opening mark of OR 75 looked relatively lenient.
Stoute is another trainer that has some decent stats with his 3yo's on their second start in a handicap (so Kirilenko's next handicap start), especially under the following conditions…
M Stoute | 3yo's on their second handicap start | June-Sept | 7f-1m2f | DSLR 11-60
34/100 | 34% S/R | +£62.91 BFLSP – W&P 51/100 | 51% S/R – 42% above exp
…and Kirilenko is well worth keeping on the radar off the back of this run as she would likely appear under the above conditions next time out and this run is better than it looks given the track bias she was racing against.
>
---
Cheers – Ben (NTF)
p.s…


NTF readers can still take advantage of a FREE 7-day trial of HorseRaceBase on the following link…
It's usually only a 3-day trial so if you ever wanted to give the site a spin then using the above link is definitely the way to do it.
You only need to enter your email address, no card details are taken, and if it's not for you then you just stop after your free 7-day trial is up, no hassle and you've been able to road test the software at your leisure for 7-days 👍
There are also handy notebook/tracker options in the software so you can follow my own notebook horses and add my notes to the associated horses 📝