22
Sep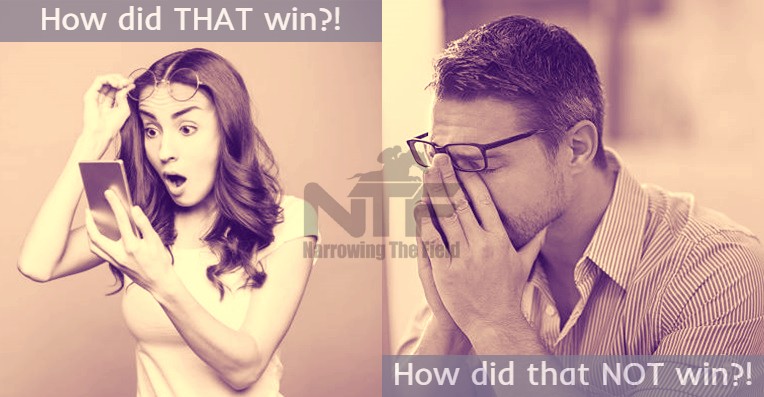 How did THAT win/NOT win? (22nd September 2022)
No major joy with the Kerry National analysis yesterday, Gabby's Cross coming home 5th at least softening the blow with some minor E/W returns. To be fair the winner – Busselton – was one I really shouldn't have missed off the shortlist, I had the age trend as '14/15 aged 6yo-9yo' but a more accurate representation would have been '15/15 aged 9yo or younger', given very few 5yo's had actually lined up in the race. A minor oversight there from myself, I should know better, I hold my hands up to that one… Mistake made – Lesson learned… take it on the chin, file it away for future reference and continue on with the bump and grind of the racing game…
Here's the latest 'How did That win/Not win?' post for your reading pleasure…
.
---
.
22nd September 2022 – How Did That Win/Not Win?
 .
How Did THAT Win?
MARCHING ARMY
(S Bin Suroor) – WON at 22/1 (BFSP 40.00)
1st of 13, 3.25 Newbury, Saturday 17th September
Saeed Bin Suroor obviously doesn't have the firepower he once did and he needs to be a bit more targeted with the horses he does have under his care, but to be fair to him he's making a fine fist of working with what he's got, striking at around the 23% rate and firing above market expectation.
He landed this valuable pot at Newbury on Saturday (31k to the winner) and he does seem to have quite the knack with these sons of IIFRAAJ…
S Bin Suroor | Male offspring of Iffraaj | June – December | NOT seasonal debut
20/49 | 41% S/R | +£69.53 BFLSP – W&P 27/49 | 55% S/R
44% above expectation
There are eight individual winners (from 12 horses) in those stats and the one's he didn't get a win into were quickly enough shifted out of the yard and (mainly) to a National Hunt trainer.
Bin Suroor clearly has a bit of a magic touch with the Iffraaj boys…
.
How Did That NOT Win?!
MASCAT
(J Tizzard) – LOST at EVENS
3rd of 4, 2.45 Newton Abbot, Friday 16th of September
There were probably at least two angles that should have had people striking a line through this one and not touching it with the proverbial bargepole…
First up…
Zoffany offspring over fences
1/66 | 1.5% S/R | -£64.34 BFLSP – W&P 13/66 | 20% S/R
88% below expectation
The one solitary winner came in a three runner race as an odds-on shot, against two rivals who were coming off long breaks…
The second angle that should have alerted punters to this one as being a shortie to avoid is…
Zoffany offspring wearing a Tongue-Tie | Trips longer than 1m4f
10/270 | 3.75% S/R | -£139.19 BFLSP – W&P 69/270 | 26% S/R
61% below expectation
Slightly more nuanced perhaps but still an angle that should have had the warning signs flashing…
It will be interesting to see if they continue over fences with MASCAT… a return to hurdling, should they stay in the National Hunt sphere with him, would look the better option…
(for the record Zoffany Geldings over Hurdles, at C2 level & below, away from Heavy ground and, of course, without a tongue-tie are a much more appealing prospect… 44/289 | 15% S/R | +£967.25 BFLSP – W&P 95/289 | 33% S/R)
.
---
I'll be back same time next week with the next edition of 'How did THAT win/How did that NOT win?'
Ben (NTF)
If you've missed any of the recent free NTF Blog posts then get them all on the main NTF Blog menu page
The latest 'NTF Notebook' post can be found HERE