20
Sep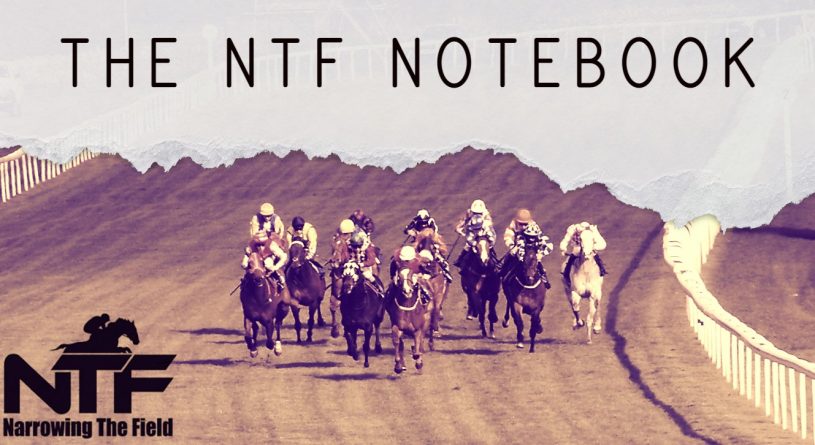 NTF NOTEBOOK: 12th – 18th September
Things seem to be returning to normal today after yesterday's impromptu Bank Holiday… the 'buzz' of the motorway is back, I can hear the kids at the local nursery out playing (mainly because there is a kid there we have nicknamed 'Slipknot Kid'…pretty sure his only form of communication is belting out Slipknot songs 🙉🙉) and on the racing front Willie Mullins is absolutely banging in the winners (six winners at Listowel already… from only 11 runners… and they've only had two days of their six day meeting!?!).
Talking of Listowel… I'm planning on having some Race Trends coverage of their big race of the week – The Guinness Kerry National – here on the free blog for tomorrow. That will either be up late this evening (Tuesday 20th) or early tomorrow (Wednesday 21st). As always I'll send an email to the the free list letting you know when that is ready… if you are not yet on that list and don't want to miss the Kerry National analysis then just drop your name and best email in the form below…
>
I've also got a VERY simple winner finding method for Willie Mullins at the Listowel Festival later on in this post…
That's all to come later on and before that let's have a look at the horses that hit my NTF Notebook from last week's action…
---
NTF NOTEBOOK: 12th September – 18th September
.
THE THIN BLUE LINE
4th of 24, 6f 3yo+ Handicap (Ayr Bronze Cup), Ayr, 16th September
The Thin Blue Line is a horse that likes to get a bit of cover in his races and he just did not get that down the centre of the Ayr 6f strip here in the Bronze Cup, racing with just one other horse in the early stages and then having to run solo for a bit before trying to latch on to the far side horses in the closing stages. Essentially it was far from the ideal scenario for him so his 1L 4th was a huge run, given the circumstances he faced.
I'd also be inclined to think the mark of 77 he ran off here would be right at the ceiling of his handicap limit, given he is 0/15, 4p from marks of OR 77+ compared to 4/17, 6p from marks below OR 77 (he's down 1lb to OR 76 after this run).
He's a battle-hardened 4yo who seems to thrive away from the height of summer (he is 0/17, 3p in the May-Aug period) so he's definitely one I want on my radar over the next couple months and I'd be interested in him under the following…
OR 76 or less (flexible enough on this) | Sept-Apr | C4 level or below = 13617231388122 (4/14, 6p – all 4 career wins)
…he's effective on both Turf and AW.
.
HASTY SAILOR
7th of 10, 1m4f 3yo+ Handicap, Newbury, 16th September
Michael Stoute's 5yo drifted markedly in the 20 or so minutes before the off here, on what was his first run for 107-days. I think it's fair to say he was tenderly handled throughout by Ryan Moore and the couple of light 'taps' he gave him around the furlong pole were nothing more than 'for show'; quite simply the horse was not here to be winning.
That is no major surprise though, with Stoute turf runners in the August to November period returning off breaks of 90+ days and starting at an SP of bigger than 4/1 returning the following figures…
3/74 | 4% S/R | -£37.00 – W&P 21/74 | 28% S/R – 63% below exp
…since 2013 they are 0/24… Stoute quite simply does not win with these types and this never nearer 4L 7th return effort of HASTY SAILOR was no surprise at all.
Connections will have something else in mind for the Fasnet Rock gelding and he's worth keeping on the radar now he's has this pipe-opener under his belt.
.
BERNARDO O'REILLY
3rd of 25, 6f 3yo+ Handicap (Ayr Silver Cup), Ayr, 17th September
Despite meeting with plenty trouble in running Richard Spencer's 8yo managed to pick his way through the congestion and pick off an eye-catching third, posting a figure just a smidge below his career best, all the time finishing with what looked like plenty still in the tank.
He's often found Class 2 company beyond him, with his class splits reading…
C1-C2 level = 0/15, 1p
C3 level & below = 7/27, 6p
…and this effort is probably a good bit better than the bare form suggests (given he was punching above his weight and met with plenty traffic problems).
His current mark of OR 85 (down 2lbs from this run) is one he should comfortably be able to score from and I'll be looking out for him under the following Prime Conditions…
C3 level or less | OR 90 or less | Good-Good to Soft | DSLR 11+ | 6f = 4341283611211151 (7/16, 3p – all 7 career wins)
.
GABRIAL THE DEVIL
3rd of 13, 7f 3yo+ Handicap, Ayr, 17th September
The far side rail wasn't the place to be at Ayr this day, with all the winners coming more down the middle/outside and not hogging the far side rail. Richard Fahey's 7yo broke from the widest stall of all and made his way over to that inside rail as soon as he could, but those early exertions and racing on the less favourable far side (+ the fact 7f just stretches him enough) took their toll in the closing stages and he couldn't hold back the late thrust of two coming on his outside.
Nevertheless it was still a fine effort from the battle-hardened gelding and was a strong indicator that he's currently in rude health and is ready to score again in his favourite months… he is 4/18, 8p in the Sept-Oct period.
He's handicapped to be winning at present off OR 80 and he's well worth looking out for under his Prime Conditions…
C3 or less turf handicaps | 5f-6f | fields of 13 or less | June-Oct | OR 89 or less = 1111124312211 (8/13, 4p – all 8 turf wins)
.
IT'S GOOD TO LAUGH
5th of 15, 1m5f 3yo+ Handicap, Ayr, 17th September
I was relatively keen on the Jennie Candlish 5yo pre-race (he was highlighted in my NTF Members Stats Sheet for Saturday's racing) and although he only just failed to snatch a place it was still a fine effort and also resulted in a career best figure on the Proform Speed Figure scale.
With hindsight he may well have needed this first outing for 77-days against a bunch of mainly race-fit rivals, but that career best speed figure suggests he can't have been far off match-fitness and also that he should have plenty more still to offer going forward.
He's now in his peak months…
Aug-Jan = 5/11, 3p
Mar-July = 0/12, 4p
…and options look fluid for him going forward off this effort, given he had a successful hurdling career last term with three wins from his 5 starts, only finding a Listed and a Grade 2 race a shade beyond his capabilities.
Whether he stays on the flat or goes back over hurdles I'll be keeping him in mind for the following Prime Conditions…
Aug-Jan | C3 or less = 5111121 (5/7, 1p – all 5 career wins)
…neither his Flat mark (OR 89 – down 1lb for this effort) or his Hurdles mark (OR 129) should prove the ceiling of his abilities.
.
EYE KNEE
8th of 9, 1m4f 3yo+ Handicap, Catterick, 17th September
The far side rail is rarely the place to be at Catterick when there is juice underfoot… it's a relatively well known fact that coming wide once entering the straight is the majority call, it's generally the quickest part of the track when there is soft in the going (whereas the opposite side of the track, the standard racing line, is normally where you want to be when the ground is Good or quicker)… why then did EYE KNEE'S jockey Jack Garrity stick to the far rail when entering the home-straight in the lead, a move that resulted in his mount floundering in the ground and trailing home a 10L 9th of 10?!
Either it was a *huge* error on the jockey's part or he was under instructions not to be winning today… I suspect the latter as Jack Garritty's stats on Tim Easterby horses read pretty poorly…
T Easterby/J Garrity = 5/75 | 6.75% S/R – 24% below exp
…dropping further over trips of 6f+ to…
2/57 | 3.5% S/R – 59% below exp
…and I suspect that Garrity wasn't booked with a view to winning on this 4yo…he rarely is… in his defence, one of Eye Knee's previous course wins did see him stick to the far side on Good to Soft when others came this side… but the earlier evidence of the rest of this particular card suggested that was not going to be a successful move on this occasion.
With regards to the horse himself, he is currently on a winnable mark at present and he's worth keeping on the radar for when he rocks up under the following…
C5 or less Turf Hcps | Aug-Sept (to be considered in Oct if other conditions ticked) | OR 65 or less | DSLR 20 or less = 311 (2/3, 1p – both career wins)
…I suspect they may just have something in mind for this one…
.
ALTERNATIVE FACT
5th of 20, 1m1f 3yo+ Handicap, Newmarket, 17th September
This was a hard race to make up ground from out the back, with the first three home producing the following in-running comments… 'made most', 'led centre group & 'tracked leaders'… and it was then 3L+ back to the remainder come the line. ALTERNATIVE FACT sat out the back in this and that was clearly a disadvantage given how the race played out, but the run won't be lost on him as this was his first run for 223-days and he'll have benefited plenty for the outing (he is now 0/6, 0p off breaks of 80+ days and 0/12, 3p off breaks of 37+ days). This was also his first run back for Ed Dunlop (since moving from Alan King, he was initially with Dunlop) and I suspect this was nothing more than a fact-finding/pipe-opening sort of mission.
The 7yo has been winless for a while now but there is no doubt Ed Dunlop has a well-handicapped horse on his hands (high/last win mark of OR 91…ran here off OR 78… down 1lb to OR 77 after this) and Dunlop obviously knows how to place this horse to his best advantage. Connections should be able to find a suitable opening before too long, with the following looking like his Prime Conditions…
Turf 1m-1m2f | July-Nov | OR 91 or less | DSLR 36 or less = 11431 (3/5, 1p – all 3 wins)
…those 3 wins came of Soft ground so a bit of cut underfoot would be an added bonus…
.
---
Cheers – Ben (NTF)
…and remember to check your emails for tomorrow's Listowel Kerry National Trends analysis… I've had some decent results in that race over the seasons (I've also had some forgettable ones… such is the nature of this racing beast 🤕) and hopefully the trends are on point for this year's renewal…
.
Oh… and here is that simple Willie Mullins Listowel Festival angle I mentioned earlier…
Listowel Festival | W Mullins/P Townend | NON-Handicap races | Horses aged 5yo+
22/34 | 65% S/R | +£25.71 BFLSP – W&P 26/34 | 76% S/R – 43% above exp
…it is four from five already this year and TWELVE of the last THIRTEEN qualifiers have WON!!
MAD!! But oh so simple… 😎