20
Sep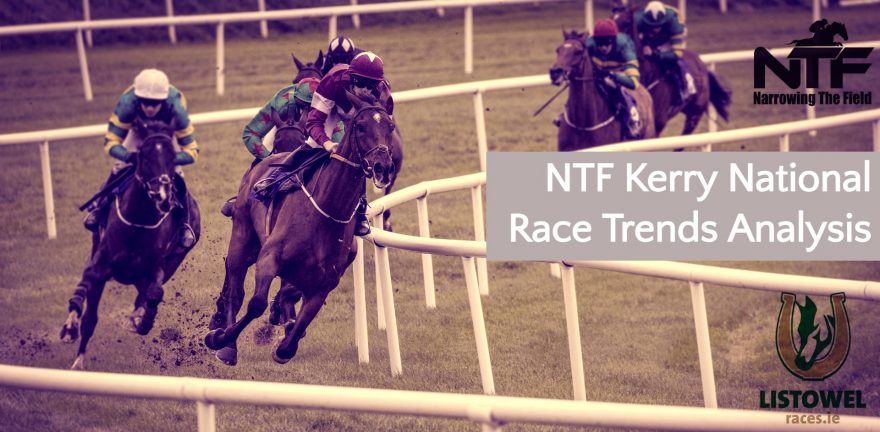 2022 Kerry National: NTF Trends Analysis…
…and once more the Listowel Kerry National rolls round and we are suddenly staring down the barrel of the 2022/23 National Hunt season!!
It's probably just me getting old… but man that was a quick summer?!?! Where the hell has that one gone!? 😮😫
As long time readers will know well, the Kerry National is a race I've covered on the free blog for a good few years now, it's always been the first checkpoint for the season ahead, a chance for me to get the National Hunt side of my brain reawakened and lubed up in preparation for the long hard winter of analysis that is just around the corner…
To be honest I'm a sucker for a National anyway, I need no excuse to dig deep down into a marathon chase, and this race in particular is one I savor, one that I really look forward to getting stuck into.
For anyone who is new to the blog (hello and welcome 😎) the Race Trends approach I utilise is only one part of the full members service and I don't expect to find the winner every time I dig into a race using this method. Enough times to make it pay in the long-term, yes, but to expect it to work every time would be insane and only lead to disappointment.
How you play the Kerry National is, as always, up to yourself, but to help you on your way you can grab the full NTF analysis guide below (if you just want the shortlist and conclusion then it's slightly further down the page)…
---
---
>
If your in a rush and just want to see my Kerry National conclusion…
**
Conclusion…
An intriguing race as always…
HEWICK is obviously an interesting player… He won the Bet365 Gold Cup off OR149 in April and then picked off the Galway Plate off a mark of OR155 in July… he now attempts to land the Kerry National off a mark of OR163… only 1 horse has attempted to win this race off a mark above OR156 in the past 25 renewals and that was DORAN'S PRIDE in 1999 (also off OR163 – he finished 4th of 11)… should HEWICK manage to win from his lofty mark then he's surely a Gold Cup player in waiting… I don't think that is too far a stretch to be saying that…Only 3 horses (from 33 attempts) have managed to win an Irish Handicap Chase off a mark of above OR157 (since 2003) that's how tough the task is for HEWICK… I wish him well…
EL BARRA, who finished third behind HEWICK in the Galway Plate last time out (and gets a 5lb swing in the weights here) hits a couple of the trends/angles in the notes section and I can certainly see him going well… but does he maybe just prefer going Right-Handed? That's a potential (on the limited evidence we have) and would be my concern about him…for all his appeal is clear and I doubt 153 will be the ceiling of his abilities…
The two I will personally be backing, however, are…
GABBYS CROSS (H De Bromhead) won the Blazers Handicap at Galway in comfortable fashion last time out and in the manner of one with still plenty improvement to come (that was only his 6th chase starts and 3rd hcp chase start). 4yo-7yo Horses that come onto the Listowel Festival having won under NH rules at the Galway Festival LTO and have the same jockey in the saddle as the Galway win return some solid figures… 10/17 | 59% S/R | +£15.32 – W&P 12/17 | 71% S/R… GABBYS CROSS fitting those stats here (as does Hewick). Henry De Bromhead also has some fine stats to his name at the Listowel Festival, especially with his 5yo-7yo chasers that had at least 1 previous chase start and 4-9 starts in the last 365 days… 10/26 | 38% S/R | +£67.64 – W&P 15/26 | 58% S/R… GABBYS CROSS again fitting those stats. The horse himself has recorded all 4 of his wins when the following set of conditions have been met… R Blackmore riding | DSLR 29+ = 1514110 (4/7 – all 4 career wins)…and I don't see this step back up to 3-miles posing any major problems (tried it once over hurdles but that was on Soft ground).
CAPE GENTLEMAN (E Mullins) is the other that interests me. He's unexposed after only 6 previous chase starts and this is also only his second handicap chase start, his first coming in the Galway Plate in July, a run he'll have needed as it was his first for 241 days. Under the following conditions… July-Feb | DSLR 75 or less… he has form of… 11131P11 (6/8, 1p)…and he'll have been tuned up nicely for this with two quick spins in August, one on the flat at Killarney and then in a 2m1f Chase at Ballinrobe. This is his first crack at a 3m trip and Emmet Mullins shows some solid stats with his chasers that step up in trip from their last run, especially those aged 5yo-8yo, were DSLR 75 or less and had previously been ridden by today's jockey… 9/20 | 45% S/R | +£62.88 – W&P 12/20 | 60% S/R. CAPE GENTLEMAN has plenty of back class already on his CV, despite only being a 6yo, and he's a very interesting player at double figures for this.
---
Best of luck however you decide to play the Kerry National…
Ben (NTF)
…and if you don't want to miss out on the FREE National Hunt Guides I'll be producing in the run up to the 2022/23 National Hunt season then remember to hook up to the free NTF mailing list below…