3
Oct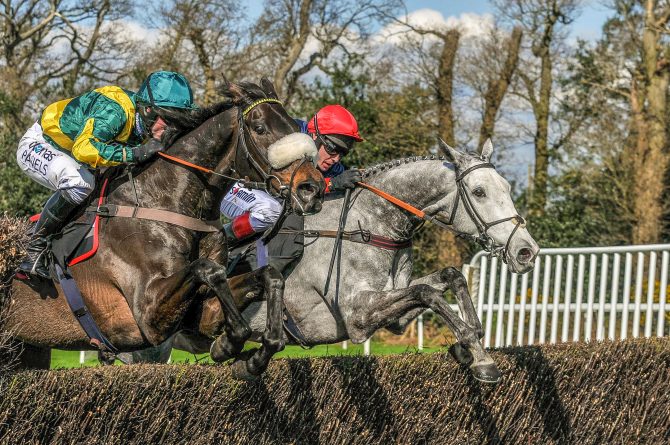 Five well-handicapped National Hunt horses you need on your side for 2019/20…
One of the many benefits of my meticulous approach to updating my private notes for the forthcoming National Hunt season is that I also come across an abundant stock of horses that I would consider to be 'well-handicapped'. In other words, a horse that is sitting on a mark that I think is below the ceiling of his or her true ability/potential.
They may be sitting on their current mark due to a sparse novice campaign last season or they may well have dropped to the mark after a string of below par runs, most likely running on conditions or from a mark that stops them performing to their peak.
In these very early stages of the season it's more likely to be the second season chasers/hurdlers that shimmy on up to the top of my list as they have the most potential and room for manoeuvre, there's a good chance the handicapper hasn't had enough of an opportunity to hammer their marks yet and anchor their winning chances.
Spotting these types can, and will, lead to some juicy profits throughout the season.
Last season ELEGANT ESCAPE was one of the stars of my list, with his two handicap efforts resulting in a second in the Ladbrokes Trophy at Newbury and victory in the grueling Welsh National at Chepstow. He started the season on OR 151 and ended it on OR 160 (having been as high as 162), vindicating his inclusion on the list.
The David Pipe trained RAMSES DE TEILLEE, also on last years list, deserves a mention as well, given that he won the Welsh National Trial at Chepstow, before backing that up with a close second in the Welsh National itself and an even closer second in the Aintree Grand National Trial at Haydock. He saw his rating rise from OR 141 to OR 153, a mark that probably isn't beyond him in all fairness.
Today I want to share with you five horses that I consider having scope to improve on their current marks (well-handicapped in other words) and in the process can hopefully land a handicap or two along the way, before the handicapper catches up with them and anchors them on stopping marks.
Starting with…
COUNT MERIBEL (N Twiston-Davies) 7yo
Current Handicap Mark – OR 146
This Twiston-Davies chaser was a constant entry in my notebook last term, entering it after all four of his starts.
These are those notes…
Notes Horse – 4th Nov 2018 – A pleasing chase debut from the 6yo and he clearly loves this track as he's now 3 from 3 at Carlisle. All 4 of his wins have also come on right-handed tracks and it does seem he's most likely to run to form on RH tracks. Things could change for him now he's over fences but a rough swipe at prime conditions for him would find… 2m3.5f – 2m5.5f | C2 level & below | RH tracks…which gives a form line of 15111 (4/5 – all 4 career wins).
Notes Horse – 16th Nov 2018 – I think he maybe got away with this one to a certain extent. Mark Grant did an exceptional job to stay in the saddle after the horse's mistake at the 2nd last, a mistake I think was potentially caused by him coming into the straight on the wrong leg, due to his preference for Right-Handed tracks. That mistake also backed him up in the pack and caused a chain reaction that probably led to White Moon having no room to jump at the last fence (White Moon fell). That's taking nothing away from Count Meribel as this was a fine gritty and battling display but I do think circumstances allowed him just get away with this one. He's now 121111 (5/6) in the Oct-Nov period but things will get harder for him now and he'll need to improve upon his 0/11 Dec-May record to make an impact at higher levels. I'm also still leaning on him being best right-handed.
Notes Horse – 21st Dec 2018 – Not a graded animal for me (now 0/4, 0p at G1 or G2 level). He's also yet to win outside of the Oct/Nov period (121111 in those months compared to 0/12 in all other months) although I'd be slightly surprised should he not manage a win somewhere out with those months, it's just maybe that Oct/Nov are his absolute prime months and he could end being of interest in the handicap sphere in those 2 months during the 2019/20 season, he could be on a decent mark come then, if he does indeed fail to score again this season.
Notes Horse – 13th March 2019 – Doesn't seem to be a stout stayer (0/3 over 3m0.5f+) or a Graded animal (0/5, 05 at G1 or G2 level). All his wins have also come in October & November and he may be best caught at the start of next season (2019/20 season) in a G3 or less handicap back down in trip. If you look at him under the following… Oct-Nov | NOT G1 or G2 | 2m3.5f-2m5.5f…you get a form line of 11111 (5/5 – all 5 career wins), which obviously brings in things like the BetVictor Gold Cup.
I must add at this point that I've eased a touch on his left/right preference, for all I do think he'll be at his absolute prime going right-handed, and, until further evidence is accumulated, will be considering him when entered to run left-handed.
One of the things that really attracts me to this horse is his stringent prime conditions…
Oct-Nov | NOT G1 or G2 | 2m3.5f-2m5.5f = 11111 (5/5 – all 5 career wins)
…those conditions obviously pointing towards an early season handicap pot somewhere, possibly the Bet Victor Gold Cup at the November Cheltenham meeting. NTD does, however, like to run his horses plenty so there would be a concern that he's blown his handicap mark already by the time that race spins around!
Could his stamina stretch to 3m as he gets older?
Possibly, but for now I'm thinking the mid-range trips are where he'll be at his strongest. His three starts to date over 3m+ have all come at G1 or G2 level so it may have been a class limit rather than a stamina limit that saw him meet with defeat in those contests, hence the reason I'm still open on him staying the longer trips.
In short he's just the kind of horse I love; he's got strong prime conditions which he excels under and he's on a mark I think is below his ceiling.
I'd be hopeful of there being at least a half-decent pot within reach for him.
COUNT MERIBEL's Prime Conditions – Oct-Nov | NOT G1 or G2 | 2m3.5f-2m5.5f (3m+ not discounted)
.
DROVERS LANE (R Curtis) 7yo
Current Handicap Mark – OR 148
Like Count Meribel this one also ran down the field in the RSA Chase. The 21L defeat was no real surprise as not only is he unlikely to be a G1 winner in waiting he also won't have appreciated the Soft underfoot conditions that day.
Check his Going splits…
Good to Soft & quicker = 11171211
Soft & worse = 436458
*I've included his two P2P runs in that as well.
He was possibly a shade unlucky not to go unbeaten on his first four chase starts as he made a shocker of an error 3 from home at Aintree on his second chase start, an error that pretty much finished his chances in that one. He made up for that effort by comfortably winning his next two starts at Market Rasen & Cheltenham, however, before finding Grade 1's at Cheltenham & Punchestown beyond him, albeit both races were on his unfavorable soft ground.
Those two down the field efforts (for all they were far from poor efforts) means he starts the season on an attractive mark and one that should have him competitive for a return to handicap company.
I wouldn't be completely set on prime conditions for the horse yet but a rough swipe at them would give me…
July – Dec | Good to Soft or quicker = 1171211 (5/7, 1p – all 5 career wins)
The only blip on that form line being that Aintree effort where he made a proper b*ll*cks of three from home.
On the trip front I do suspect 3m+ will prove to be his optimum although he clearly does have enough boot over 2m5f trips if it's called for. I suspect and hope, though, that they head for staying trips from here on in…
DROVERS LANE Prime Conditions – 3m+ handicap chases | July – Dec | Good to Soft or quicker = 1171211 (5/7, 1p – all 5 career wins)
.
MR WHIPPED (B Ellison) 6yo
Current Handicap Mark – OR 145
Simply has to be better that OR 145, just has to be…
He picked up an injury after his victory at Haydock in December and wasn't seen again until running in the G1 Mildmay Novices Chase at Aintree, an assignment that was always going to be tough for him given it was only his third chasing start and he was coming off the back of an injury hit 121-day break.
This is what I wrote about him after that Aintree run in my NTF Members 'Weekend Notes' post…
Notes Horse – 5th April 2019 – Not a bad effort at all considering this was only his 3rd chase start and he'd been off for 121 days. Assuming he doesn't run again this season he'll enter next season on a very workable handicap mark (OR 145) and that's surely exploitable by Henderson. The Ladbroke Trophy (Hennessy Gold Cup) springs to mind (he does look like a stayer despite not yet winning in 3 starts over 3m+, he's only 6, his stamina boots maybe don't quite fit him yet) and he does look like a winter horse (13111 Nov-Jan compared to 2P4 Feb-Apr).
I wouldn't be reading too deeply into the Winter/Spring form figures just yet, other than the fact his Nov-Jan form is a positive (his spring form shouldn't yet, however, be classed as a 'negative' period for him).
The ace up this lads sleeve is the fact he's still very much unexposed after only eight career starts and within those limited runs is a defeat of PAISLEY PARK (G2 Ballymore Leamington Novice Hurdle at Warwick – 13-01-18).
Hurdling and chasing form doesn't always relate but with Paisley Park now rated OR 169, even a rough correlation of Mr Whipped's chase mark of OR 145 starts to make you think he could be extremely well-handicapped at present…
MR WHIPPED's Prime Conditions – Handicap Chases | 3m+ | November-January
*Many thanks to Paul Ferguson (of Jumpers To Follow fame) for reminding me the horse had moved from Henderson to Ellison
.
---
The NTF Alternative 20 to follow is now ready!!
---
.
CASH TO ASH (M Walford) 6yo
Current Handicap Mark – OR 107
A little drop down the class levels for the next one, with Mark Walford's six raced maiden popping himself onto the list.
The 6yo ran three times over fences last season and it was the first of those efforts – a 22L 5th of 10 at Hexham on the 9th of November – that has me marking him down as a well-handicapped candidate for the season ahead.
To date that race has produced seven subsequent winners, winning 11 races between them and placing on a further 12 occasions, the 1st, 2nd, 3rd, 4th, 6th & 7th (Cash To Ash being the 5th horse) have all won since, with the front three all climbing markedly in the ratings to OR 132, OR 138 & OR 132 respectively.
As already mentioned CASH TO ASH starts the season on OR 107 and although he's unlikely to be joining the OR 130+ club like some of the others from that Hexham race I can't believe that he won't manage to take advantage of his current mark sooner rather than later.
In generally he's a quick, neat and sound jumper of his fences and he also travels smoothly enough throughout his races, albeit he can be a tad one-paced come the finish.
On the conditions front I'd be open enough with him although I do have a feeling that a real stamina test could be what he's after.
Whatever turns out to be prime conditions for him I'd be disappointed should he not manage to open his chasing account at some stage this season. If the penny really drops for him then he could well pick up a couple of low grade contests before the handicapper cottons on to him.
CASH TO ASH's Prime Conditions – Handicap Chases | Possibly over 3m+ trips
.
KING OF REALMS (I Williams) 7yo
Current Handicap Mark – OR 140
Ian Williams has gone relatively softly softly with this Kings Theatre gelding so far (11 career starts to date – 3 bumper, 4 hurdle & 4 chase) and I reckon connections will see the benefit of that this season, with the 7yo starting the season on the very workable handicap mark of OR 140.
His only poor efforts to date have come on his two Grade two starts (probably not up to that level) and when running down the field in a 23 runner handicap at Cheltenham on his final hurdle start (massive fields may just not be his thing).
Remove those three efforts (and I think they are 'excusable') and you get a form line of 12112231.
I hadn't really noted him with any great intent until his chase debut at Ascot last November, a race he won by a determined 1.25L from the promising Spiders Bite, with ten lengths+ back to the remainder.
The form of that race stands up particularly well, with nine winning performances from the field since (seven individual winners) and seven further placed efforts.
He doesn't look like a Grade 1/2 chaser in waiting but he should have the ability to take a valuable Class 2 handicap, if not a Grade 3 handicap. He certainly looks a good few pounds better than his opening mark for the 2019/20 season (OR 140).
KING OF REALMS' Prime Conditions – Grade 3 or below Handicap Chase | Possibly no larger than 16 runner fields
---
I'm extremely hopeful that these five can pick up handicap pots at some stage during the 2019/20 campaign and prove to be some way better than their current marks in the process.
Ben (NTF)
p.s. the NTF Alternative 20 to follow for the 2019/20 season is now ready!
If you don't have your copy yet grab it on the following page…
4 responses to "Five well-handicapped National Hunt horses you need on your side for 2019/20…"