30
Sep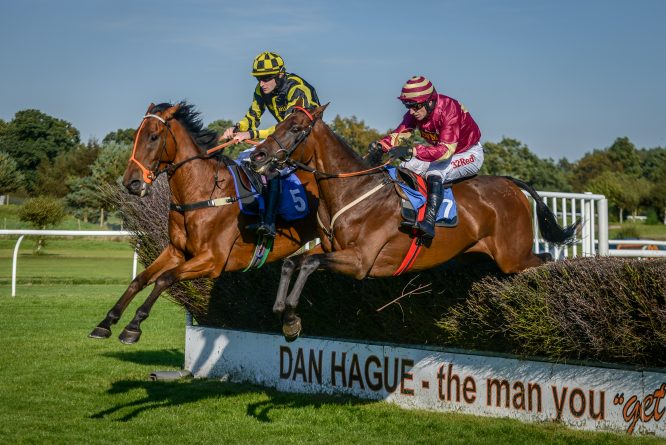 NTF Weekend Notes: Future pointers for your notebook…
Saturday's Market Rasen card was a little bit more like it for us jumping fans.
We National Hunt lovers have been starved of decent jumping action for months now but things are slowly staring to crank up a notch as we edge ever closer towards the good stuff.
I view this Market Rasen card as a pivotal point for the National Hunt game, a time we can truly start to get excited about what is just around the corner for us.
That Market Rasen meeting also signifies the time when my exhaustive note taking kicks back into action for the jumps. It's a gentle intro back into that side of my analysis as I'm generally not interested in all the races on the meeting and I'm not over-burdened by other jumps cards on the day, meaning I have plenty time to replay watch without trying to cram in multiple races.
I'm a constant note taker throughout the season, indeed I've constantly been chipping away at my National Hunt files all summer long, but things obviously step up a fair bit on that score when the chunky weekend action rolls around in the October to April period.
The weekends action is also of major importance for the full NTF Subscription Service.
Every Monday of the NTF season I supply full NTF members with exhaustive and detailed coverage of the weekends racing from my own personal notes for a section of the service called, funnily enough, 'Weekend Notes'.
But what are Weekend Notes?
Weekend Notes are an integral part of the full NTF service, with many NTF members using my information to construct their own bets as we thunder on through the long cold National Hunt winter months. Essentially I'm sharing my own private notes with NTF members from the weekends racing just past, tidied up a bit so that they are easier to understand and digest than my own short-hand notes that no-one could ever figure out!! Seriously, it's like my own language, sometimes I even go old school (to be fair I regularly go old school!) and jot stuff down on scraps of paper, usually found in random places round the house by Mrs NTF!!
It works for me though and that's the main thing. It also works fantastically well for full members, providing a thorough round-up of the weekends action and providing a vast quantity of information, stats, trends, thoughts and pointers for the coming weeks and months of the season ahead, even, in some cases, years ahead (I'm often keeping an eye open for bumper/hurdle runners that should, in time, turn out to be future chasing stars, my own betting is weighted towards the chasing side of the game).
Today I want to share with you my weekend notes from the Market Rasen card that has just entered the form book. They clearly are not anywhere near as deep and extensive as they will be once the season is in full swing, and we have a plentiful supply of NH racing to tuck into, but they will give you an insight of a part of the full NTF service you may not have seen before or, indeed, may not have even been aware existed…
---
NTF Weekend Notes – 28th September
Saturday
1.40 Market Rasen – Class 4 | Mares Novice Hurdle | 2m1.5f | Good | 7 ran
1st – DEPUTY'S OSCAR
Stuart Edmunds runners that start near the head of the market have a solid record at Market Rasen, especially when starting at an SP of less than 4-1…8/15 | 53% S/R | +£9.96 BFLSP…and this 6yo, who fitted that angle snuggly, has clearly improved plenty for her debut effort at Huntingdon last March, a race that has actually worked out very well so far (race has produced 9 subsequent winning performances from 34 runs so far). She could pick up a similar contest off the back of this, if not something a bit better.
4th – EYREN
This one beat a very average bunch very easily on Bumper debut last March, so it was difficult pre-race to fully assess her form, although on the face of this effort it simply is poor form and she's not that good. She'll need to improve her jumping significantly to be winning anything of note over hurdles any time soon.
.
2.15 Market Rasen – Class 2 | Juvenile Hurdle | 2m1.5f | Good | 8 ran
The first juvenile hurdle of any real note in the season and it can be one worth keeping on the radar going forward, not always producing absolute top-class juveniles (although it can, with Katchit having won it previously) but certainly producing horses that are up to winning more races in the season ahead (Barizan, Royal Irish Hussar, Leoncavallo, Cliffs of Dover, Eragon De Chanay… to name but a few, Cracker Factory ran second last year before bolting up by 7L next time out in Listed company).
2nd – ZEB SPIRIT
Looks a big, rangy 3yo and one that will surely have a chance of making into a chaser at some point in the future. The stats, however, possibly tell a slightly different story. He's by Zebedee and so far the Zebedee offspring have the following record under National Hunt rules…5/116 | 4% S/R | -£93.74 BFLPS – W&P 20/116 | 17% S/R – 50% below expectation. The plus side for this youngster is the fact he's one of the rare Zebedee winners in the National Hunt sphere (won on hurdle debut last time out). Early signs are that he'll buck those average stats for the sire albeit they are a slight concern and are worth keeping in mind (for this lad and other Zebedee National Hunt horses).
.
2.50 Market Rasen – Class 4 | Handicap Chase | 2m4f | Good | 8 ran
1st – BEAUTIFUL BEN
All 6 wins have now come on Good ground for this 9yo, when returning within 20 days of his last start and in races worth 7k or less to the winner. When you combine those three conditions you get prime condition form figures of…1161715141 (6/10, 1p – all 6 career wins – prime conditions of Good | DSLR 20 or less | 7k or less to winner). He'd never won from a mark this high so that was a question mark pre-race but it was only his 7th start for Laura Morgan and that makes the improvement explainable.
3rd – VERY FIRST TIME
This 7yo is extremely well-handicapped at present off OR 105 (last and highest win mark is OR 124) but he had been rather dramatically out of form for a number of starts prior to this. This was much more like it from him and you'd be disappointed should he not find his way back to the winners' enclosure before too long, especially once the ground starts softening up. All his wins have come on Soft or Heavy (3/14, 2p on soft/heavy – 0/13, 2p on quicker ground) and I'd be looking out for him under the following…Heavy/Soft | C3 level & below (worth 8k or less) | 10 or less runners | OR 124 or less | DSLR 45 or less…where he has form figures of 11312 (3/5, 1p – all 3 career wins).
4th – DALLAS COWBOY
Far from a prolific winner (only 2 wins from 33 career starts) but Market Rasen does seem to spark him to life (track form of 4413244). Market Rasen or a similarly RH-slightly undulating track are where he's likely to win again (if, of course, he does win again!).
8th – KNOCKNAMONA
Always likely to struggle on Good ground (0/14, 0p on Good/Good to Soft) and he needs plenty juice underfoot to show his best (6/16, 3p on Soft & Heavy). He's worth looking out for under the following… 2m4f+ | HCPS | Soft-Heavy | NOT V Und tracks = 122411111 (6/9, 2p – all 6 career wins)…although I suspect he'll need to drop a couple pounds from OR 109 before getting fully competitive.
.
3.25 Market Rasen – Class 3 | Handicap Chase | 2m 6.5f | Good | 13 ran
1st – LUCKOFTHEDRAW
Now 3111 on seasonal debut (111 if you ignore racecourse debut) and he's very much one that likes a good break between races (1P1114 off breaks of 46 days or more – PP28243 off breaks of 45 days or less). This was only his 7th chase start and there should yet be more to come, given he's only a 6yo.
6th – KING GOLAN
Ignoring the class of the race (this was C3) these would be conditions where he's at his best… Hcp Chase | Good | Blinkers | 2m6f+ | DSLR 30 or less = 11115 (4/5 – all 4 career wins) – possibly at peak in July-Nov (all 4 career wins)…but he's simply not up to landing a Class 3, especially not from OR 115. He ran better than the bare form suggests but I'd be surprised if he was up to winning above Class 4 level.
PU – LEITH HILL LAD
First run for 305 days and he gave himself no chance with the blunder at mid-way. This level (C3+) is probably too hot for him anyway but this run should at least knock the cobwebs off and he could be worth looking out for under the following… RH | C4 level & below = 1151 (3/4 – all 3 career wins)…he's dropping back to a winnable mark.
.
4.00 Market Rasen – Class 1 Listed | Handicap Hurdle | 2m1.5f | x | x ran
1st – SCARLET DRAGON
Alan King hurdlers have a solid recent record at Market Rasen under the following… (since start of 2017) Market Rasen Hurdles | Good or quicker | SP 8-1 or less = 10/22 | 45% S/R | +£22.29 BFLSP – W&P 13/22 | 59% S/R… with this lad fitting that angle snuggly. The 6yo was having only his 6th Hurdle start and there could yet be more to come from him, proving the ground doesn't start to become too testing (he's possibly best on Good to Soft & quicker).
2nd – EARLOFTHECOTSWOLDS
Looks one that will appreciate going chasing sooner rather than later, for all he's a very sound hurdler. He's clearly a bit of a Market Rasen lover (form of 12112 at the track) and he looks like he's still very much a horse on the up. He's got a chaser's frame though and I would expect him to reach greater heights when faced with the larger obstacles.
3rd – GUMBALL
His first start over hurdles since running down the field in the 2018 Gerry Fielden at Newbury and I thought there was plenty to like about the run. His current mark of OR 139 looks extremely workable given he was rated as high as OR 149 as a juvenile and a drop down to a Class 2 handicap wouldn't be a bad idea. He wore a hood here for the first time over hurdles and if you include his flat form he's 1-1-3 with the headgear on and it does seem to give him a little extra.
4th – FLASHING GLANCE
Travelled sweetly enough into the race but he wasn't clean at the last flight and although that probably didn't cost him the win it did probably cost him a place. Not sure he's quite up to this level (0/8, 2p at C2 level+ | 3/13, 4p at C3 level or less) and he'll likely benefit from a small drop in grade.
.
5.10 Market Rasen – Class 5 | Bumper | 2m1.5f | Good | 6 ran
5th – LEGENDE DE MINUIT
Sent of fav for this and seemed well-fancied and although he travelled well enough until the home-straight he just didn't pick up at all and simply plugged on and one pace. He looks a big robust son of Midnight Legend and one that will probably, in time, be suited to fences. Worth noting, however, that's he's already had a wind-op (before ever seeing the racetrack) so you'd want to see him finish out his race much better next time, which, of course, he could, given that he may have just needed this outing to sharpen him up.
---
As part of the full NTF service I also provide two downloadable versions of the 'Weekend Notes'.
One is a PDF version of the notes for anyone who wants to print off the data and read it the old fashioned way (on the bus/train to work, having your breakfast, lunchbreak at work, on the toilet…) and the other is a text version that has been formatted for easy upload to the Proform database.
As most of you are probably aware I am a dedicated Proform user and one of the features of the software is the ability to upload horse notes for a multitude of horses in one file (as opposed to the pain-staking task of manually adding the notes for each individual horse, one at a time). I know a few of my full NTF members also use Proform to store notes against horses so the second file (the text file) is specifically designed for easy upload to the software.
I have included both those files for your downloading pleasure (should you so wish) below…
---
---
Despite the Market Rasen card being relatively low-level it is a great 'warm-up' note taking day for me. The notes will become significantly more in-depth and detailed as we start to enter the real girthy part of the jumps season but this card, at the very least, fires my National Hunt brain back into proper thinking/analyzing/angle-seeking/pattern finding/future winner finding/under-the-radar spotting mode.
It's almost October folks, the good stuff is just around the corner…
Ben (NTF)
p.s.
My 'Alternative to follow list' will be released to members of the FREE NTF list on Wednesday (02-10-19). If you are not already on that list then make sure you get on it today, so you don't miss my '2019/20 NTF alternative 20 to follow' …
…if you hook onto that list today then you'll also get the free 'Don't ignore the obvious' guide…
Ben (NTF)
6 responses to "NTF Weekend Notes: Future pointers for your notebook…"