14
Sep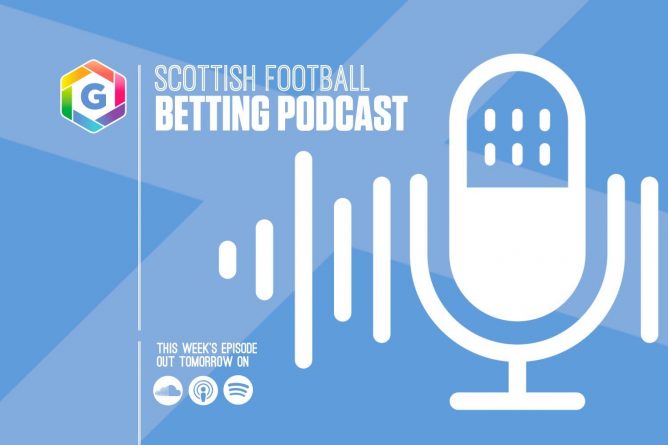 Finding value while the bookies are still havering…
Clearly I'm a racing man first and foremost… 
That's my bread and butter and that's where I focus the majority of my attention…
As many long time readers will be aware, however, I'm also a football fan…
I've watched football pretty much all of my life… my uncle took me to my first game in 1989, Elgin City V Arbroath in the Scottish Cup, my uncle who is still a season ticket holder at Elgin City and has been standing in the same part of the stadium since the 50's… because, as he informs his mates every game 'you know I helped build this part of the stadium!'…
If you ever listened to the PodBlast I do with Tony Mac every Friday you'll also know that I like to have the odd bet on the football… especially the Scottish Leagues… although not always with the greatest of success 🤨
Again… I enjoy Football but racing is my bread and butter…
As such I've been looking for a Scottish Football Betting Service for a long time… a very long time to be honest…
And I'm delighted to say I've FINALLY found one!
A damn good one as well…
Let me introduce you to Scottish Football Betting Analyst and Tipster Greg Browning>>>
Greg has been sharing his tips with the online betting community for well over a decade now and has built a hugely successful and profitable Telegram Channel>>>
He's someone I've been following for while… I could tell from the off that he's what I've been looking for but I always like to make sure my initial impressions are on the money… and thankfully that has absolutely been the case!
Greg is now into his 4th season delivering his service and his focus and insight on Scottish Football continues to pay dividends (someone has to be a betting expert on Scottish Football…right?!)…
His service is also complimented by a fantastic weekly Podcast as he discusses the best betting opportunities from the weekend card (there is a link to the latest podcast episode at the bottom of this post).
Jim Delahunt is a frequent guest of the Podcast, which is a solid link for us racing fans, with Jim Delahunt also being a former amateur jockey and he's currently race day presenter at Ayr Racecourse…
Greg already had a proven track record of delivering consistent monthly profit for his members before I stumbled upon him (I found him on Twitter when I was looking for some Scottish Football info… as you do!) and he's got an outstanding knack of finding early value, particularly in the Scottish Leagues where he very much has an the edge over the bookies (I've always suspected that the early prices on a lot of the Scottish games are just thrown up without much thought, then the bookies just figure it out as the matches get closer!!)…
It's not just Scotland Greg focuses on, however, as he also teams up with ex Scottish Footballer David Weatherston, who now lives in Norway, and provides a weekly Podcast dedicated to finding the best betting opportunities from Norway… yes, NORWAY! And I'll tell you this… he's got a bit of an inside line on the Norwegian stuff… 👌
He's delivered profit season after season for his members and is currently smashing it up already this season… with an impressive +42 units already in the bank.
A lot of his success is based on his ability to find value in leagues and markets that the bookies aren't close to, hence the focus on lower leagues and reserve football… yes, you read that right… RESERVE FOOTBALL! Scottish Reserve football to be exact… and boy do the bookies get those markets wrong!! I'm actually surprised they price those matches up… but they do… they price them up wrong… Greg takes advantage!
It's been a long search from myself but unlike Bono (Irish Rock Star one not Moroccan Goalkeeper one!) I FINALLY found what I was looking for on the Scottish Betting front 😀
And I've poached (with Greg's permission) some of his analysis for this weekend  👇
You can hook up to Greg's service on Telegram here to get all of his analysis>>>
Greg offers a monthly subscription option for £19.99 but if you sign-up via any link on this page you get your first month for half price (£9.99)… you'll be refunded a tenner within 24 hours
AYR UNITED V PARTICK THISTLE
🏆 Scottish Championship
⏰ Friday 15th – 7.45pm
The bookies will be relieved the international break has arrived to give them some respite from the weekly hammering they've been taking the last few months in the Scottish Leagues.
I'm hoping that respite is short lived as Partick Thistle make the trip down to struggling Ayr on Friday night.
After a wobbly start it's been impressive back to back wins for Kris's Doolan's Thistle side (3-1 and 4-1) and they look a solid shout here.
Ayr are struggling badly without their midfield engine room of Dempsey and Murdoch and they have turned to some English youngsters with very little experience to step in.
They were at near full strength last week but didn't lay a glove on Falkirk.
Ayr manager Lee Bullen is coming under a little bit of pressure with just 3 points from their first 4 matches.
With Brian Graham in great scoring form it's hard to overlook Thistle here who are now 5 games unbeaten against Ayr (WWDWW).
Two sides who are going in different directions.
Recommended bet(s):
🔹Partick Thistle to Win
🔹7/5 (Betfair) 1.5 pts
🔹Partick Thistle over 1.5 goals
🔹5/4 (Paddy Power) 1.5 pt
*Note this analysis was produced a few days ago for his members so the prices may not still be available… he likes to get in early before the market catches up
Subscribe to Greg's Football Tips at Gambla HERE>>> 
First month for half price – £9.99 (refunded a tenner within 24 hours)
I also snaffled the following screenshot from his Telegram Members service, this was put up on Sunday/Monday when the games were first priced up…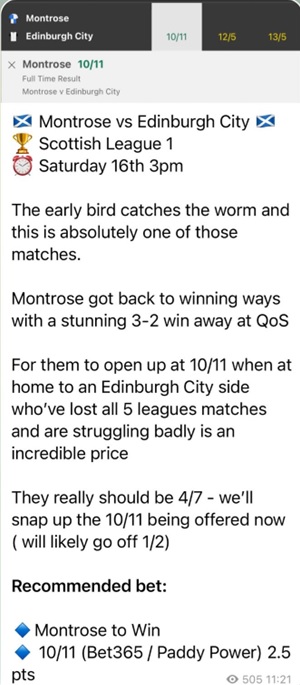 Montrose are now best priced 7/10 and shortening all the time… as I've already mentioned, Greg likes to be fast out of the blocks and he's all about getting the value… Montrose still need to keep their side of the bargain and win, obviously, but Greg and his members snaffled the early value and that's part one of the plan locked and loaded ✅
I've waited a VERY long time to find a Scottish Football betting service that ticked all my boxes… and I'm pleased to say that Greg is just that man 👍
A word of warning about Greg though… he's a St Johnstone fan 🫤 (yes, such people do exist!) so… you know… he's not perfect!!! 😂
Apart from the St Johnstone thing… he's a good guy… I've spoken to him plenty over the past few months… he's loaded with Scottish (and Norwegian) football knowledge… he's got eyes and ears all over the place keeping him updated… and I probably should have listened to him a bit more as then I wouldn't be trailing Tony Mac in my Top, Middle & Bottom challenge on the PodBlast 🤦
If you want to boost your Scottish Football betting (and I'm telling you the bookies are, as the Proclaimers put it, 'havering' when it comes to pricing up the matches) then Greg is your man 👇
Subscribe to Greg's Football Tips at Gambla HERE>>>
Remember I've managed to wangle a half-price 1st month offer if you sign-up via one of the links on here… £9.99 instead of the usual £19.99… he's not all bad for a St Johnstone fan!
You'll need a free Telegram account to access the analysis/tips, but that's easy enough to set up 👍
Cheers – Ben (NTF)
…and here is the latest episode of Greg's Podcast…
4 responses to "Finding value while the bookies are still havering…"