25
Aug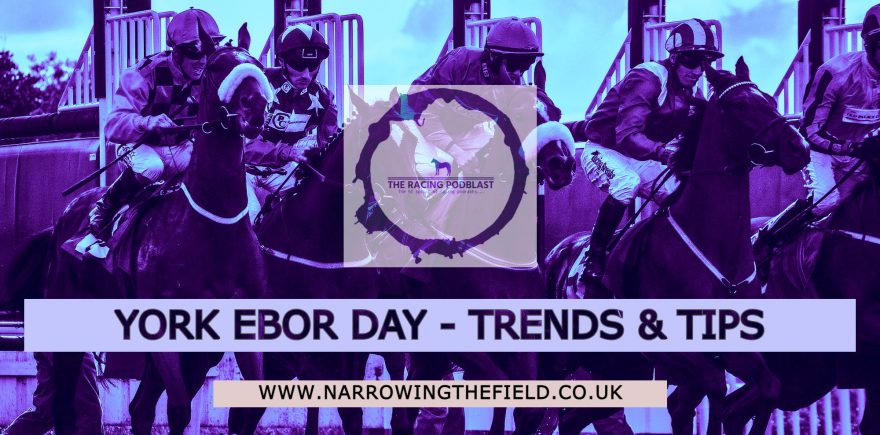 2023 York Ebor Day Tips & Analysis
The 2023 York Ebor Handicap… £300,000 to the winner… oof! 
Not too shabby…
And the Ebor is one of three races that Tony Mac and I cover in the latest episode of…
You can listen to this week's York Ebor day analysis via the player below (can Tony follow up on his outstanding opening week Top, Middle and Bottom football trixie return of +£27.99?!?) and there are also some Race Trends for the Ebor Handicap for you to factor in to your own analysis a little further down this post…
Race Trends for the 2023 York Ebor Handicap…
15/15 no more than 5 starts in current season
15/15 DSLR 19+
15/15 beaten no more than 12L LTO
15/15 no more than 3 runs without at least placing
15/15 0-3 starts in last 90 days
14/15 drawn in Q2-Q4
14/15 last win came over 1m4f-2m at C1-C3 level
.
The draw trend mentioned above (14/15 drawn in Q2-Q4) is very interesting and I do cover that in plenty depth in the PodBlast itself… despite the staying distance the cover in the Ebor the draw has had quite a big say in the outcome of the race over the years…
You can follow our weekly PodBlast over on the main Racing PodBlast page here or you can follow it via whatever platform you usually listen to your Podcasts, such as…
The Racing PodBlast on Spotify>>>
The Racing PodBlast on Amazon Music>>>
And if you missed the 2023 York Ebor post I put up earlier this week you can get that on the following link…
York Ebor Festival 2023: Trends & Stats>>>
Cheers and best of luck for the last 2 days of the York Ebor Festival…
Ben (NTF)
…and talking of York… here's a banger from their finest musical export… SHED SEVEN…
2 responses to "2023 York Ebor Day Tips & Analysis"