29
Sep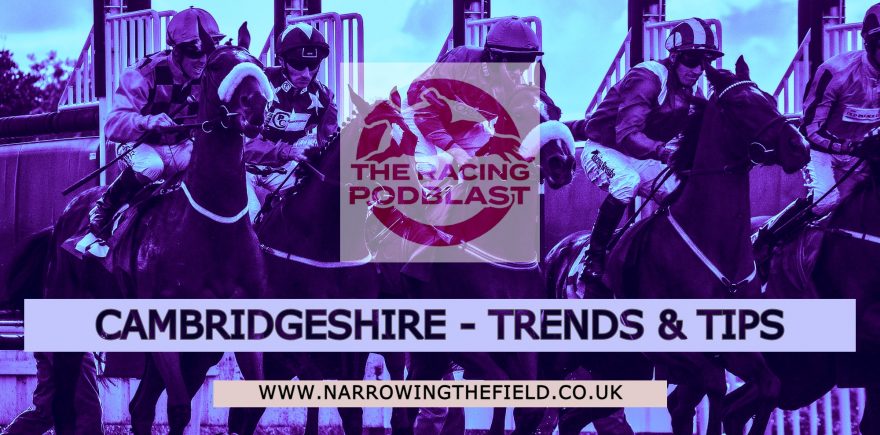 2023 Cambridgeshire Day Trends, Tips & Analysis
This weekend marks the end point of my 2023 NTF Summer Service…
And what better way to round things out than trying to pick apart the 35-runner Cambridgeshire Handicap from Newmarket 😵‍💫🥴
The Cambridgeshire is also one of three races that Tony Mac and I cover in the latest episode of…
You can listen to this week's PodBlast via the player below (we dot around the country this week, covering handicaps from Newmarket, Haydock and Ripon) and there are also some Race Trends for the Cambridgeshire Handicap for you to factor in to your own analysis a little further down this post…
Race Trends for the 2023 Cambridgeshire Handicap…
10/10 aged 3yo-6yo
10/10 previously won at least at C4 level but not above C2 level
10/10 no more than 23 career starts
10/10 1-16 handicap starts
10/10 1-5 previous career wins
10/10 no more than 4 handicap wins
10/10 DSLR 7-56
10/10 4-11 starts in last 365-days
10/10 ran over 7f-1m2f LTO
10/10 running off a mark no more than 3lbs lower & 6lbs higher than their peak rating
.
You can follow the PodBlast over on the main Racing PodBlast page here or you can follow it via whatever platform you usually listen to your Podcasts, such as…
The Racing PodBlast on Spotify>>>
The Racing PodBlast on Amazon Music>>>
Best of luck with your Cambridgeshire punts… if you happen to land on the winner there's a good chance you'll be handsomely rewarded (the last 3 winners have started at 25/1, 40/1 and 40/1!)…
FREE On Course Profits magazine: The Ultimate Guide to UK Horse Racing
I'm sure plenty of you have heard of the guys at On Course Profits (OCP) and have been making use of their free monthly online magazine that's packed with Analysis, Trends, Tips, Systems… and plenty more…
I've started writing for them again in the past few months (I used to be a regular contributor but stepped away from it for a couple of years as other areas of my life needed my time) and their latest issue is now available on the following link…
Grab the latest On Course Profits Magazine here>>>
This is what you get from the OCP magazine…
🏇 Expert Analysis: The magazine features in-depth analyses, race predictions, and commentary from some of the UK's top horse racing experts. Benefit from their years of experience and keen insights to better understand the nuances of racing.
📊 Cutting-Edge Research: Dive deep into up-to-date statistics, trends, and data-driven reports that give you the edge in making informed decisions.
🥇 Proven Betting Systems: Discover the secret strategies and betting systems employed by seasoned punters and industry professionals. Get step-by-step guides to help you build or refine your own approach.
📖 Historical Perspectives: Experience the rich history of UK horse racing with exclusive articles, interviews, and retrospectives that pay homage to legendary horses, jockeys, and moments that have shaped the sport.
The OCP magazine is enjoyed by thousands of racing fans and if you are not already receiving your own free copy then make sure you get that fixed ASAP…
Grab the latest On Course Profits Magazine here>>>
Cheers – Ben (NTF)
…and if you want to read more from myself then make sure you visit the free NTF Blog page here>>>