22
Aug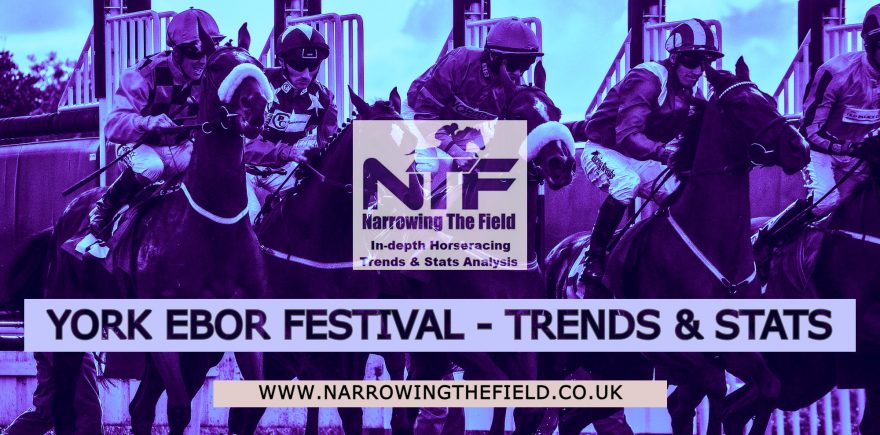 York Ebor Festival 2023: Trends & Stats…
The Flat Festivals are coming at us thick and fast right now!
Seems like only yesterday when Glorious Goodwood slid itself into the form books and now we are staring down the barrel of the 2023 York Ebor Festival!!
I'm deep in the trends and stats for the four day meeting as I'm covering a chunk of the races for full NTF members… so I'll keep this post short n sweet…
.
2023 York Ebor Festival: Trends & Stats…
This is always a good meeting to dig into the Race Trends for and here are the trends for two of the races I'm covering at York this week….
Wednesday – 4:10 SkyBet Stayers Handicap (Class 2)
Race has been run as a Class 2 Handicap for the last 11 renewals so I used those renewals to compile the following trends…
11/11 0-2 previous starts at track
11/11 no more than 4 runs without at least placing
10/11 27 or less career starts
10/11 19 or less handicap starts
10/11 1-5 starts in season
Trends Shortlist…
AZTEC EMPIRE – GRAPPA NONINO – HALIPHON – MOSTLY SUNNY
.
Thursday – 3:00 Clipper Handicap (Class 2)
15/15 aged 3yo – 6yo
15/15 previously won at least at C3 level but not above C2 level
15/15 racing off a mark between 1lb & 8lb higher than their last win
15/15 previously won over at least 7f but no further than 1m0.5f
15/15 last win came over 7f-1m at C2-C3 level
14/15 had 6-15 previous handicap starts
14/15 8-23 previous career starts
Trends Shortlist…
BLUE FOR YOU – THE GATEKEEPER – POINT LYNAS – OUTBREAK
.
Overall York Ebor Festival Angle…
I'm always digging deep into the stats side of things when comes to the big festivals and I noticed the following angle that is worth bearing in mind for the Ebor Meeting this week…
(since 2014) York Ebor Festival | Horses Aged 5yo, 6yo or 7yo | Won 1 of their last 2 starts | Previously WON at the Ebor Festival | Days Since Last Run 11+
10/17 | 59% S/R | +£27.08 BFLSP – W&P 15/17 | 88% S/R (E/W returns +£38.24)
100% above expectation
…a neat little angle that pinpoints previous York Ebor Festival winners that come into the meeting with recent winning form on their CV…
Keep it in mind when your face is buried deep in the form book over the next few days…
And make sure to check in with the next episode of 'The Racing PodBlast' this Friday, as Tony Mac and I will be putting some of York's Saturday action under our usual short n snappy podblasting coverage…
To make sure you don't miss that you can bookmark 'The Racing PodBlast' on whatever platform you usually listen to your podcasts on or you can hook up to the free NTF mailing list HERE and pick up the notifications I send out when the latest episode is uploaded and ready for your listening pleasure 🎧
You can also get some great free racing guides when you sign-up to the FREE NTF list…
.
Away from York…
FREE On Course Profits Magazine…
After a few years sabbatical (real life getting in the away in other words!) I've started writing a monthly article for the guys at On Course Profits (OCP) once again…
Issue 106 (yes, ONE HUNDRED AND SIX!) is released on Wednesday the 23rd of August and you can pick that up for free on the following link…
50+ pages of systems and research to help you find more winners 👍
Cheers – Ben (NTF)
2 responses to "York Ebor Festival 2023: Trends & Stats…"