12
Aug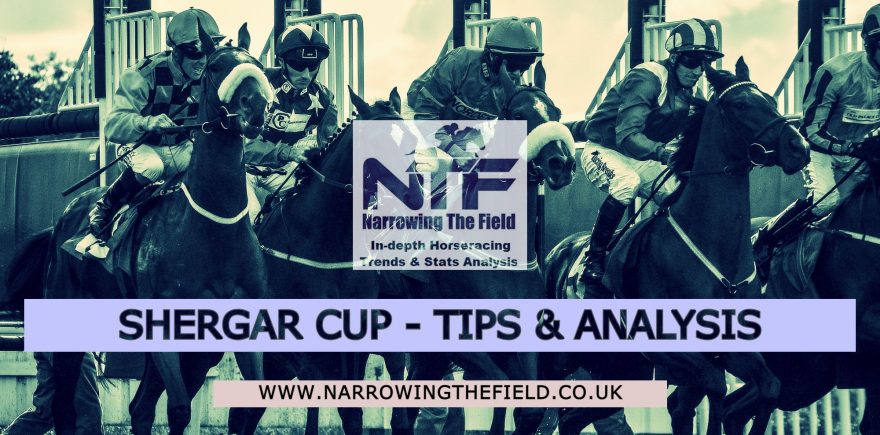 2023 Shergar Cup Tips & Analysis
The Shergar Cup isn't everyone's cup of tea… I think we are all aware of that fact by now 😐
It's actually taken me a few years to see through the fluff and the pizzazz and settle on the fact that the meeting does give us punters some decent betting opportunities…
✅ A card full of handicaps 
✅ Guaranteed 10 runners in each race (great for E/W betting)
✅ Only been run on worse than Good to Soft once in 21 years (and only on Good to Soft 5-times) so generally not run on unseasonable ground
✅ Generally attracts plenty of horse we are all familiar with
…so if we park the jockey side of the day (obviously the jockey plays a MAJOR part in racing… but you get me) then in theory there is plenty to like about Ascot's Shergar Cup format on the punting side…
And… Ascot is where Tony Mac and I head for the latest edition of 'The Racing Podblast', taking in three races from the meeting for our usual trends, tips and pointers approach…
⭕ 210 – Shergar Cup Stayers
⭕ 245 – Shergar Cup Challenge
⭕ 320 – Shergar Cup Mile
…and as well as our Ascot coverage, the latest PodBlast episode brings the return of our ever popular football segment…
TOP, MIDDLE & BOTTOM ⚽⚽⚽
Listen to the latest episode by clicking one of the links above or by hitting the play button on the player below… 👇
In the PodBlast I also fire up some trends for the 3.20 race… you can see those trends below…
17 of the 20 winners of the Shergar Cup Mile passed the following 4 trends…
📊 Aged 4 or 5
📊 No more than 5 starts without a win or a place
📊 Ran over 1m – 1m 2.5f last time out
📊 Were returning off a break of no more than 45 days
…which does give a workable shortlist this year.
This weekend of racing isn't exactly one punters are overly excited about 🤨 but try and ignore all the bumf that goes along with it and just try and see it as… a full card of handicaps, each containing 10-runners, giving us some excellent each-way betting opportunities 👍
And if you REALLY don't want to play the racing this weekend then check out the following…
My favourite site for picking up detailed Football Stats (and bets)…
Yep, it's that time of the year again… the start of the football season! ⚽
Like plenty of you I tend to have the odd dabble in the big games in England…
…but it's not my area of expertise…
…far from it!
I'm more of a lower league Scottish man…
So, when it comes to betting in the main football leagues I'm not adverse to reaching out and seeking the help of others that make it their business to profit from the many betting opportunities available on the football markets…
There is a football service that I've been using for a number of years now… and this isn't the first time I've highlighted them either… because I just love their statistical approach… I love the way their brain works and I also love the ability to dig into the stats myself via their members website (in fact that's the bit I love the most!)…
The service in question is the ACROSS THE LEAGUES service…
…and they are currently running an EARLY-BIRD DISCOUNT OFFER, just in time for the start of the Premier League this weekend…
They provide bet selections, advice and in depth stats via email… but you also get access to their members area… and that's where the fun REALLY begins!
Well… if you like having a dabble into the stats and sourcing your own bets that is (to go along with their own detailed advice and bets)…
Their members website allows you to dig deep (like REALLY DEEP!) into 17 Leagues across Europe and the UK… so you can absolutely go after some of the less focused on leagues and pick off some tasty bets of your own…
If that sounds like your thing then slide along here and see what they have to offer>>>
That's all from me for now… enjoy your weekend and happy punting (whatever you decide to have a dabble in!)…
Ben (NTF)