19
Feb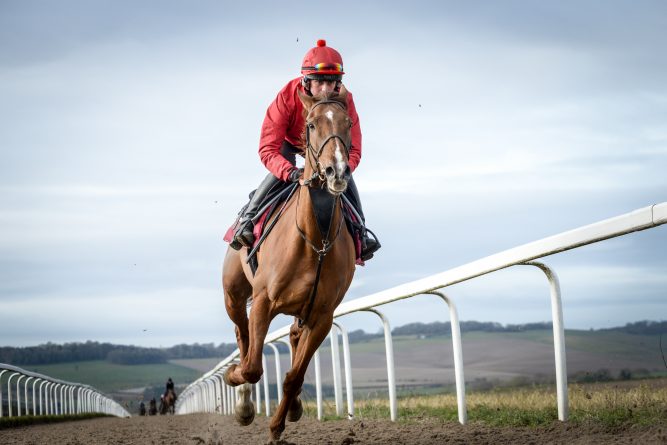 What we learned from the weekend: 15th, 16th & 17th of February…
.
WWLFTW returns after the unexpected equine flu hiatus and just in time I'd say, with only THREE WEEKS to go until the 2019 Cheltenham Festival!! 
Not sure where the first seven weeks of 2019 disappeared to but one thing is for certain, it's been a bloody bumpy ride!!
Cold snaps, fast ground, flu outbreaks, extra flu shots needed, interrupted festival preps left, right and centre!! Not been a quiet seven weeks that's for sure!
Here's what caught my eye from the most recent round of weekend action…
What we learned from the weekend: 15th, 16th & 17th of February…
1. CLAN DES OBEAUX confirmed himself as a serious Cheltenham Gold Cup contender…
…or did he?
You can't fault his performance in the re-scheduled Denman Chase on Saturday at Ascot but in fairness he was only really winning in the manner he should have been, given his superiority over the others. He's clearly an extremely talented chaser and something has really clicked with him this season, the master that is Paul Nicholls has obviously found the key to him and the 7yo is now really starting to fulfill his potential.
Personally I'm a big supporter of the horse and I'm always a fan of the King George/Savills Chase form when it comes to the Gold Cup in March, it's regularly been a solid pointer for chasing's blue riband event.
The Denman Chase has also been a solid pointer/warm-up event for Gold Cup champions and with Clan Des Obeaux having both races comfortably in his back pocket this season it's not hard to make a case for him capturing the big one next month.
My issue, however, is that the Denman Chase was re-scheduled this season, moving it a week closer to the Gold Cup and as such moving Clan Des Obeaux out of the prime DSLR (Days Since Last Run) trend that ALL of the last 21 Gold Cup winners have passed.
Consider this…
If you look at the last 21 renewals of the Gold Cup then you see that 79 horses have lined up to have a crack at the Gold Cup off a break of 32 days or less and ALL 79 have been beaten, a list that includes Kauto Star in 2008 (when going for his second Gold Cup, after having run in the Ascot Chase as his warm-up) and Long Run in 2012 (also when going for his second Gold Cup, after having run in the re-scheduled Denman Chase as his warm-up), both started as favs for those Gold Cups…
The Gold Cup is no walk in the park, you need to be at your optimum to land the race and there are simply no hiding places round the demanding 3m2.5f trip.
Is 27 days (the DSLR period that Clan Des Obeaux will have between the Denman Chase and the Gold Cup) a long enough recovery period for one of the most demanding races on the calendar?
Recent history suggests it's not ideal…
On the flip side to that I guess we can argue that this has not been, for various reasons, a standard run-up period to the Festival and yes, there may be trends being busted here and there over the four days.
It should also be pointed out that the DSLR stat is the only Gold Cup race trend he falls down on (on my trends anyway).
Nevertheless it's tasty enough stat and if you are looking for any chinks in his armour, that may just be it…
Can Clan Des Obeaux overturn that DSLR stat and land the Gold Cup?
.
2. AL DANCER forced himself to the head of the Supreme market with an impressive victory in the Betfair Hurdle…
…and there is no doubting that he's a horse on the up after his 3.75L saunter in the re-arranged Betfair Hurdle.
But is he the correct favourite for the Supreme?
Especially when you consider the following trend…
The last 49 horses to line up in the Supreme Novices' Hurdle off the back of running in a Handicap have ALL BEEN BEATEN.
0/49 | 0% S/R | -£49.00 LSP – W&P 7/49 | 14% S/R
That stretches back to the last 21 renewals.
It's the same in the Ballymore Novices' Hurdle as well…
0/41 | 0% S/R | -£41.00 LSP – W&P 2/41 | 5% S/R
In fact if you look at ALL Grade 1 hurdle races at the Cheltenham Festival (since 2000) and consider those horses that ran in Handicap contests on their last start then you get the following…
2/198 | 1% S/R – 75% below expectation
(anyone guess those two winners without using a database? Clue:Winners came in 2016 & 2004)
The facts are that coming into a Cheltenham Festival Grade 1 off the back of a Handicap start has not been a fruitful route, even more so in the novice divisions.
AL DANCER has taken such a route and he's sitting as 7/2 fav for the Supreme… 🤔🤔🤔
Add in the fact that Fakir D'Oudairies is sitting as second fav and only one 4yo has won the race since 1973 (and none in the past 18 years, albeit not that many have tried) then the Supreme does suddenly start to look pretty open…
Does AL DANCER have the tools to banish that last time out Handicap stat?
.
3. KALASHNIKOV again failed to fire at the top level…
I have previously mentioned, in various locations, that I was becoming concerned by the fact that Amy Murphy's stable-star had been beaten every time he'd run at G1 & G2 level, especially when you considered his unbeaten form line of 6 from 6 at G3 level & below.
Given that he is now 0/4 at the top 2 levels I think it's fair to say that there are just signs that he is maybe a shade below the very top of the tree.
He was relatively easily brushed aside on Friday in the re-arranged Kingmaker Chase (albeit by what looks like an extremely talented horse in Glen Forsa) and I feel his only real hope of making any sort of impact at G1 or G2 level is to step him up in trip to 2m4f/5f distances, to see if that allows him to fulfill his early promise.
Ultimately, however, I'm begin to worry that he just isn't going to make into a full on graded chaser, although he could, if he keeps coming up short in graded races for the remainder of the season, be of interest for something like the BetVictor Gold Cup (handicap chase) next season.
If he continues to put in similar performances to his Kingmaker Chase effort and his Wayward Lad Chase run then he could well start next season on a mark in the mid-140's and that would, to some degree, make him of interest in handicaps.
As for capturing a Graded Chase before this season is out…I'd be dubious…
Can Kalashnikov save his season with a spring festival victory?
Ben (NTF)
*Majority of stats sourced from the excellent Proform professional database
26 responses to "What we learned from the weekend: 15th, 16th & 17th of February…"