26
Feb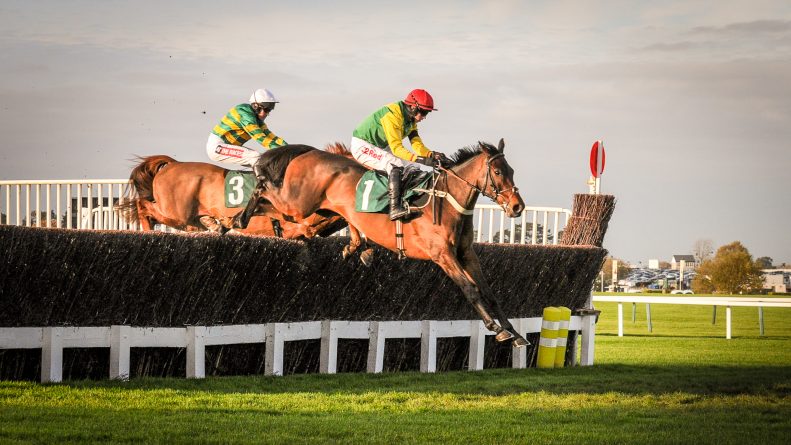 What we learned from the weekend: 22nd, 23rd & 24th of February…
.
Two weeks to go until the mighty Cheltenham roar my racing friends!
Two measly weeks…
I'll be switching my own focus to all things festival related after this post, I mean it's so close we can almost touch it, it would be rude not to, but there's still time to sneak in one last 'What we learned from the weekend' post before we are totally consumed, chewed up and spat back out by all things Cheltenham related.
So buckle up for what is likely to be the last 'What we learned from the weekend' post of the 2018/19 season (I'll still be posting, it'll just be spring festivals related instead 😎)…
What we learned from the weekend: 22nd, 23rd & 24th of February…
1. The ANGELS BREATH bubble sprung a bit of a leak…
…although that's maybe a tad unfair on the horse.
His run in the Dovecote at Kempton on Saturday was only his second start (under rules), his first for 64 days and he was conceding weight to all six of his opponents. With that in mind I thought he jumped and traveled sweetly enough throughout the race and at the end of the day he maybe just needed the run/experience.
In the end he was only beaten by a progressive Paul Nicholls youngster and it was a considerable margin back to the 3rd horse (18L); it was probably a much better effort than it looked and it would be no surprise to see him bounce back at one of the spring festivals.
Whether he's got the tools (at present) to bounce back at this years Cheltenham Festival, I'm not yet 100% convinced, and it's worth keeping in mind the record of last time out beaten favourites in the novice hurdle Cheltenham festival events.
If we look at the Novice Hurdle races at the Cheltenham Festival (since 2003) as a collective we see that last time out beaten favourites return the following figures…
4/148 | 3% S/R | -£100.50 LSP – 53% below expectation
Not great, it must be said.
If we narrow it down to the two races he's holds entries for – the Supreme and the Neptune – and expand it to the last 21 renewals, things don't get any better…
Supreme Novices Hurdle
18/21 winners WON last time out
Beaten favs (last time out) are 2/64 | 3% S/R – 46% below expectation
Neptune Novices Hurdle
16/21 winners WON last time out
Beaten favs (last time out) are 1/41 | 2.5% S/R – 55% below expectation
None of the above means he can't or won't win this year but the stats are hardly positive for beaten favs in the novice hurdle contests…
Can Angels Breath bounce back and grab a slice of festival glory?
.
2. Alan King seems to have a bit of the Saturday blues…
In terms of the season as a whole Alan King has his string ticking alone soundly enough.
He's already surpassed last seasons tally (58 in total last season, currently has 70 winners on the board this year) and in general things seem to be going well.
I have, however, noticed a bit of a weekend irregularity with his team, or rather a Saturday irregularity.
This weekend past he saddled the 888Sport Chase fav Talk Is Cheap but the 7yo never realistically looked a threat (finished 5th) and simply added another loser to King's growing list of Saturday disappointments.
Check out his stats with his Saturday runners since the start of October…
3/89 | 3.5% S/R | -£59.75 LSP – 80% below expectation
80% below expectation! Oof!
If you compare that to the likes of the big guns…
Nicholls Saturday runners – 38/160 | 24% S/R | +£30.89 LSP – 16% above expectation
Henderson Saturday runners – 29/95 | 30.5% S/R | +£13.76 LSP – 1% above expectation
…you start to see just how far away he is from having a strong Saturday team.
In fact if you look at King's Saturday runners since the start of December things look even worse…
1/67 | 1.5% S/R | -£64.75 – 91% below expectation
It's not good…
He maybe just doesn't have the firepower at present to compete on the big days but even if that is the case I'd still expect a trainer of King's ability and stature to be making more of a splash on the big racing day of the week.
Be wary of those Saturday King runners…
.
3. Bags got back in the Groove in the Pendil…
Things had been popping alone just fine for Harry Fry's 8yo until he found the Kauto Star Chase at Kempton way too hot for him, ending up a well beaten 5th of 7.
He was in calmer waters on Saturday, however, and manged to stave of a resilient challenge from Castafiore to land the Grade 2 Pendil Novices' Chase.
That took his chasing record to 4 wins from 6 and his overall record to 9 wins from 18, not too shabby it has to be said.
Saturday's race did, however, seem to be absolute prime conditions for him…
Race worth 21k or less | Good-Good to Soft ground
Where he has a form line of…
1111211151212 (9/13, 3p – all 9 career wins)
Out with those conditions he is…50822
Stats that are beginning to suggest that he's just vulnerable in the more valuable and competitive contests on the calendar.
Don't get me wrong, I like the horse, but I'd be wary about backing him against better opposition in valuable races…
Is Bags Groove really up to landing a valuable pot at a Spring Festival?
.
Free Cheltenham Festival Guide…
Hopefully all of you that are currently on the free list manged to download the first of my free Cheltenham Festivals guides that I released last week…
>>>Ten essential Cheltenham Festival Stats you NEED to know…
If you are not on the free list and want the guide then click the above link for instant access…
Ben (NTF)
*Majority of stats sourced from the excellent Proform Professional database
3 responses to "What we learned from the weekend: 22nd, 23rd & 24th of February…"