12
Jan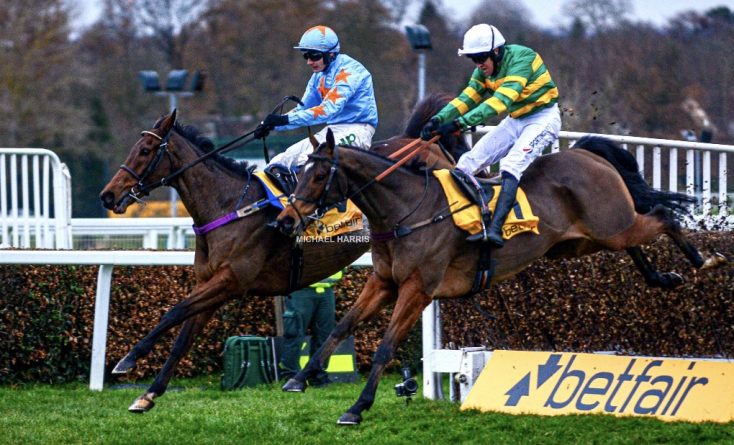 What we learned from the weekend: 9th & 10th January…
The weather seems to have eased off…the rumours circulating on social media about elite sport being cancelled for a few weeks have proven to be false…are we turning a corner at last?!? Probably not…but we can all dream…🤗
What I can tell you for sure is that the regular NTF free blog 'What We Learned From The Weekend' is now back in full swing!
So let's crack on…
What we learned from the weekend: 9th & 10th January…
1. ADAGIO sets the tempo for the UK juveniles…
The rearranged Grade 1 Finale Juvenile Hurdle was staged at Chepstow on Saturday and David Pipe's German bred 4yo ADAGIO captured the honours in impressive fashion, running down red-hot fav Nassalam at the last and pulling away to win by a comfortable 2.5L, with a yawning 20L+ back to the remainder of the field.
The race has a fine history of producing serious animals, with the likes of ALLMANKIND, DEFI DU SEUIL and BRISTOL DE MAI taking the honours in recent seasons. Time will tell if Adagio is up to that kind of level but the early signs are certainly promising.
Whilst the victory was impressive, it was the following David Pipe Last Time Out Winner angle I have plugged into my Proform database that mostly caught my attention…
David Pipe | Non-Hcp Hurdle/Bumper | WON a Non-Hcp Hurdle/Bumper LTO | 4yo-10yo | SP 8-1 or less
…which returns the following impressive set of figures…
83/178 | 47% S/R | +£60.28 BFLSP – W&P 125/178 | 70% S/R
24% above expectation
Pipe certainly knows how to place his last time out winners (under the above circumstances) to the best effect.
Before I leave the Adagio subject, however, I do have one small word of warning…and if you've followed me for a few years you may have already spotted where I'm heading with this…Adagio is a GERMAN bred runner! 😵
German bred hurdlers at the Cheltenham Festival since 1998 have returned the following…
2/134 | 1.5% S/R | -£104.50 LSP – W&P 20/134 | 15% S/R
68% below expectation
Admittedly those two winners have come in the past four years, so maybe there is a change coming (maybe…), but those winners were both in handicaps, so if you look only at German bred hurdlers in non-handicaps at the Cheltenham Festival you get the following…
0/59 |0% S/R | -£59.00 LSP – W&P 8/59 | 14% S/R
As always, however, it's only one stat and that alone doesn't scream 'he can't win the Triumph Hurdle!', it's merely something to factor into the wider picture…
Can ADAGIO bust the German stats at the Festival?
.
2. Paul Nicholls continues to scoop up the Novice Hurdles at Wincanton…
I think it's safe to say that Paul Nicholls had an exceptional weekend at the races!! Firing in eight winners across Saturday and Sunday, with seven of those winners coming on Saturday. He clearly wants to get the title wrapped up incase we go into full lockdown mode again!!
Two of those winners came at Wincanton and it's no secret the champion trainer has an exceptional record at his local track.
There are any number of angles you could dive into when it comes to Nicholls at Wincanton but it's his record in Novice Hurdles at the track that caught my eye on Saturday…
64/139 | 46% S/R | +£34.98 BFLSP – W&P 97/139 | 70% S/R
15% above expectation (since 2012)
…the angle improves further if you only consider races run over trips of 2m3.5f+…
41/76 | 54% S/R | +£49.26 BFLSP – W&P 62/76 | 82% S/R
38% above expectation (since 2012)
Nicholls had one qualifier on the angle on Saturday in the shape of FLASH COLLONGES, who duly romped home in commanding fashion by 8.5L. The 6yo looks your typical Nicholls type and there's a good chance the gelding will make into an even better chaser when he faces the larger obstacles next season.
Don't ignore those Nicholls Novice Hurdlers at Wincanton…
.
3. PROTEKTORAT once again fluffed his lines at Graded level…
PROTEKTORAT was send off as a heavy 1/2 fav for the rescheduled Dipper Chase at Wincanton on Saturday but once again he failed to make the breakthrough at Graded level, meaning his Class splits now read…
Form at Graded level = 57320
Form at Listed level or less = 22U112
That could still change now he is chasing, and he has been firing in significantly stronger ratings over fences than he did over hurdles, but there is a class limit starting to show quite strongly in his form figures and I would just be starting to question if he is a full on Graded player.
He's a good horse, probably a very good horse, I'm just not sure he'll prove up to the very top levels…
In his defence he may have just been bumping into a very good opponent who was racing in what have proven to be his prime months. That opponent being the Alan King trained MESSIRE DES OBEAUX.
Alan King's 9yo is now 2 from 2 over fences and he now has the following monthly splits to his wider form…
November – January form = 11111 (5/5)
February – October form = 372334 (0/6)
Like Protektorat those figures could be subject to change now he's chasing but what is abundantly clear is the fact he loves racing during the deep winter months of Nov-Dec.
Despite the small 3-runner field I do think the race could turn out to be a hot piece of form, with third-placed LIEUTENANT ROCO a potentially interesting type for when they go handicapping.
Keep that Dipper Chase form in mind going forward…
---
Let's hope we get a clear run of things on the weather front over the next few weeks, we need something to keep us sane during these never ending restrictions and lockdowns…😣
Before I go, remember to check out the latest article from All-Weather expert David Punshon, who puts the All-Weather Fast Track Qualifier from Newcastle (5.00pm) under the spotlight today.
Cheers – Ben (NTF)
13 responses to "What we learned from the weekend: 9th & 10th January…"