12
Nov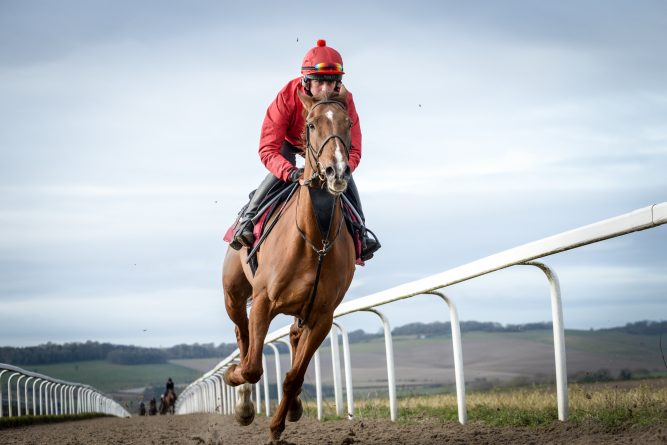 What we learned from the weekend: 8th, 9th & 10th November…
An interesting weekend just past, albeit maybe a wee bit quieter than what is poking over the horizon for us, but nevertheless there is always something for us to learn and pick the bones out of…
One of the main talking points was the 'underwhelming' return to the track of SANTINI, who scrambled home in the Future Stars Intermediate Chase at Sandown.
Should we have expected more from one of the leading Gold Cup fancies?
Possibly, yes. However, is he simply more comfortable going the other way round (left-handed)?
Sunday's effort and his 3rd in the Kauto Star Novices' Chase (his only two runs on RH tracks) are the two starts he's looked least comfortable in, both performances could well be described as 'laboured'. For me he'll be better judged on his next effort, preferably on a LH track, where I'd expect to see the 'real' Santini. Hopefully the kid gloves are taken off him this season as well… 🤨
But what else did we learn this weekend…
What we learned from the weekend: 8th, 9th & 10th November…
1. Paul Nicholls once again reminded us why he is the master of Wincanton…
GIVE ME A COPPER's victory in the Badger Ales trophy represented a tenth win in the race for Paul Nicholls, including the last three. That's domination at play right there.
There was always the potential Give Me A copper was going to prove to be well-handicapped enough to pick off a decent pot at some stage, given his stop-start career to date, and Nicholls clearly had him ready to run for his life on Saturday, he's obviously a horse that doesn't stand that much racing.
Whilst Nicholls has dominated that particular contest, his record in general in Handicap Chases at Wincanton in November is something we all need to keep on the radar, particularly when meeting the following criteria…
P Nicholls | Wincanton Handicap Chases | November | Horse with 1-11 Handicap Chase starts | SP 12-1 or less
…where he is now…
18/44 | 41% S/R | +£68.34 BFLSP – W&P 28/44 | 64% S/R
101% above expectation (since 2003)
Nicholls also had a Bumper winner on the card – CONFIRMATION BIAS – and that's another area he likes to dominate at Wincanton, particularly under the following conditions…
P Nicholls | Wincanton Bumpers | Good-G/S-Soft | Males only | SP 9/2 or less
…where his stats now read…
22/56 | 39% S/R | +£20.31 BFLSP – W&P 39/56 | 70% S/R
28% above expectation (since 2003)
As always…
Don't EVER let anyone tell you that you can't make profit backing Paul Nicholls runners!
2. Anthony Honeyball unleashed a beast at Fontwell…
We'll be hard-pushed to see a more visually impressive bumper debut this season than that of KID COMMANDO at Fontwell last Friday.
The 5yo son of Robin Des Champs made all the running over the 2m1.5f trip and slaughtered his opposition by a widening 18L come the line. What he beat is obviously hard to tell at the minute but even a cursory glance at the figures tells you he's potentially very good.
Kid Commando recorded a Proform Speed Figure (PSF) of 70 and an RPR rating of 120 when scooting to victory on debut.
Here's what the last five Champion Bumper winners recorded on debut…
ENVOI ALLEN: PSF 68 | RPR 119
RELEGATE: PSF 70 | RPR 90
FAYONAGH: PSF 53 | RPR 81
BALLYANDY: PSF 63 | RPR 102
MOON RACER: PSF 46 | RPR 118
If we look at CUE CARD (who was a Champion Bumper winner who scored on debut at Fontwell) we see PSF 42 | RPR 110.
Now clearly a horse can improve significantly after their debut effort so comparing figures are not always beneficial but it does, at the very least, give a rough indication of the kind of horse Anthony Honeyball could have on his hands
The Champion Bumper is still a long way off though, what is more interesting for me is the record of Honeyball with his fancied bumper runners at Fontwell…
AJ Honeyball | Fontwell Bumper | NOT Heavy | SP 9-2 or less
…where he is now…
11/19 | 58% S/R | +£23.75 BFLSP – W&P 18/19 | 95% S/R
90% above expectation
The fact only one of these types have failed to place says plenty and when a Honeyball bumper runner sits near the head of the market at Fontwell we need to be sitting up and taking note.
Don't ignore a Honeyball Bumper fancy…
3. Keith Dalgleish is also making a splash with his bumper runners…
Keith Dalgleish is easily turning into one of the best dual-purpose trainers on the block and he's started putting his flat expertise to good use in the bumper ranks.
On Saturday his LET ME BE landed the closing bumper on the Aintree card by 5-lengths and added another victory to the following Dalgleish bumper angle…
K Dalgleish in bumpers | Sept-March | SP less than 7/1
…where his runners are now…
18/43 | 42% S/R | +£25.52 BFLSP – W&P 33/43 | 77% S/R
39% above expectation
Brian Hughes was on-board Let Me Be on Saturday and if you only look at his rides in the above angle the strike-rate improves to an even more impressive 50%.
Keep a look out for those Dalgleish Bumper runners, especially once the main part of the flat season is over…
Put NTF to the test at Cheltenham's BetVictor Open meeting…
My attentions will be fully focused on the Cheltenham action this weekend. Three days of high intensity jumping shenanigans from the home of the National Hunt game gives me plenty of racing to get stuck into from my Race Trends approach.
My figures regularly hold up well at Prestbury Park and I've already started delving into the major races over the three days.
And this is YOUR chance to jump on-board and give the NTF service a full road test at one of the most high-profile meetings on the National Hunt calendar.
I know from the feedback I have received that plenty of you are interested in being part of the full NTF service but are just not quite sure of the exact ins and outs of the service.
Well this is your chance to get inside the members area for one full week! I'm opening up the doors to 50 of you (on a first come first served basis) so that you can see EXACTLY how the service operates and road test it to see if what I offer is what you need to enhance your experience of the 2019/20 National Hunt season.
I'll be mailing out with full details on this tomorrow (Wednesday) and doors will only be open for two days (Wednesday 13th & Thursday 14th) so don't dilly dally if you are looking to get on board for the trial, it's a busy weekend ahead and I won't be holding places once the doors close.
To make sure you don't miss out on the links to sign-up for trial week, get yourself on the NTF free list HERE.
Ben (NTF)
*Stats sourced from the excellent Proform Professional database

10 responses to "What we learned from the weekend: 8th, 9th & 10th November…"