11
Dec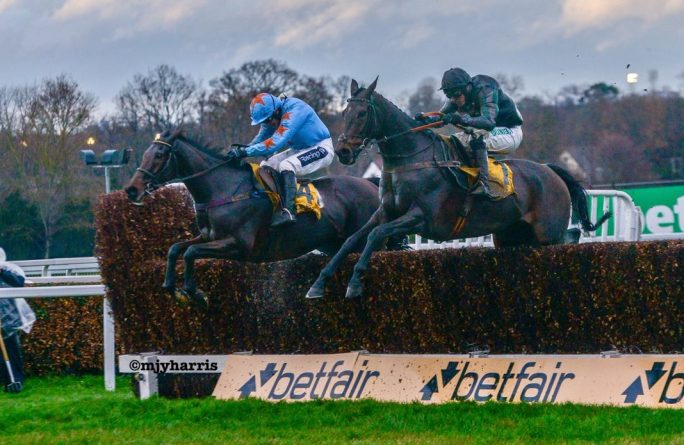 What we learned from the weekend: 7th, 8th & 9th December…
.
Altior…
Will anyone ever get the better of him when there are obstacles in the way?
Five from five over hurdles – ten from ten over fences…
He simply continues to look and prove unstoppable, the Tingle Creek at the weekend being his seventh Grade 1 victory of a so far glittering career.
The scary thing for his opponents was that he didn't even have to run to a career best to win on Saturday. Un De Sceaux in second equalled his career best (on RPR figures) yet could only get to within 4 lengths of Altior.
He's a special horse, no doubt about it.
Aside from the beast that is Altior there was plenty else going on over the last weekend for me to delve into, so lets not hang about, lets crack on with the latest edition of…
What we learned from the weekend: 7th, 8th & 9th December…
1. The Pipe first time wind-opers continue to draw a blank…
…but there are glimmers of hope in there, it's not all doom and gloom!
And before I start on this one it's probably best I point out I'm not trying to put a downer on team Pipe in these posts, it's simply just that the stats are standing out at me week upon week, it's nothing personal, I promise 😎
Anyway…
Pipe runners on their first start after a wind-op are now running at…
0/33 | 0% S/R | -£33.00 BFLSP – W&P 7/33 | 21% S/R
No trainer's runners are losing punters more on this angle, that's a fact.
However, on Saturday there was a very noteworthy performance by one of his running for the first time off a wind-op and that was national fences specialist VIEUX LION ROUGE, who finished with a fair old rattle in the Becher Chase to grab second on the long run after the last, a finish from the horse that fully suggested the wind-op HAD worked a treat for him.
He clearly loves those National fences given that he's completed on all 6 starts over them and he is now back down to his last winning mark (OR 146) so that's something else to keep in mind. Whether he'll ever have a Grand National in him seems unlikely as he just doesn't seem to stay those 4m+ trips (0/4, 0p over such trips) and he is also 0/8, 0p in the March/April period.
He's not all that easy to pin down to prime conditions but I'd be looking at something along the lines of the following…
May-Feb | 3m4.5f or less | OR 146 & below | T Scudamore riding
…which gives a form line of…
2112U1113111111 (11/15, 3p – all 11 career wins AND placed efforts)
OK, maybe he is easy enough to pin down to prime conditions!
Taking into to consideration the abysmal first time wind-op stats for Pipe and then considering the fact that VLR ran his second best RPR figure on Saturday, it's not hard to come to the conclusion that this wind-op may be one of the more successful ones to have taken place at Pond House…
The Lion can roar again…
.
2. Apple's Shakira was yet another of last year's juveniles to mis-fire…
Were last year's juvenile crop just not that good?
That is a question I'm seriously pondering at the minute.
The latest to splutter to a stop, in what is starting to becoming a long line, was the Nicky Henderson trained APPLE'S SHAKIRA.
The 4yo started as 5/2 fav for the Listed December handicap hurdle at Sandown on Saturday but she never realistically looked a threat at any stage and she was pulled up before 2 out.
Now don't get me wrong, that was no penalty kick or anything for her on Saturday, she was carrying top-weight in open handicap company on seasonal debut in heavy ground on a testing track…but nevertheless it was still an outstandingly poor effort from the filly.
But she isn't the first of last year's juvenile crop to come unstuck this term and she sure as hell won't be the last.
It's specifically the youngsters trained this side of the Irish Sea that I'd be most worried about, the Irish juveniles actually seem to be a decent enough bunch.
If we look at the Triumph Hurdle from last season we see that the Irish runners have performed well enough on subsequent starts and for now I'd be willing to give them pass marks until proven otherwise. Plenty will have run again against their juvenile counterparts after that race as well so the pure form of that contest (the Triumph) isn't quite as good an indicator as other juvenile races.
If we take the Aintree version of the Triumph Hurdle, the Doom Bar Anniversary 4-Y-O Juvenile Hurdle, then things start to look a bit different.
This is how the 10 runners in that race have performed as a group since then…
1/23 | 4% S/R | -21.60 LSP – W&P 2/23 | 8.5% S/R
The one win coming from Gumball in a weak class 4 Ludlow Novice contest
If you concentrate solely on this season's runs (UK runs only, not Ireland) and look at those juveniles that ran at Grade 1 level last season, then you get the following…
1/26 | 4% S/R | -£24.50 LSP – W&P 6/26 | 23% S/R
The one win coming from Style De Garde in a 3 runner beginners chase at Hereford
It's still very early days, of course, but those early signs are not great, even more so when you consider the fact that 17 of the 26 started at a single figure SP.
It's been an average start for last season's juvenile brigade, which is a worry, considering the Grade 1 juvenile crop from last season consisted of exciting youngsters such as We have A Dream, Apple's Shakira and Redicean.
Be wary of those last years juvenile crop until signs of improvement appear…
.
3. Bridget Andrews is pulling together some tasty mini-angles for team Skelton…
Dan Skelton has been absolutely firing in the winners this season.
Sure he's hit a small bump in the road at the minute, compared to the speed he started the season, but the winners are still coming in and he is the one to catch this season.
He's a long way clear of the rest with regards to number of winners (125 so far, Henderson next on 74 and then King with 53) and he's also top of the pile on the total earnings front (which is what the title is decided upon).
His brother Harry rides most of the yards horses, naturally, but it's the yards conditional jockey Bridget Andrews that has been catching my eye this term, especially under the following conditions…
B Andrews/D Skelton | Class 4-6 races | Chepstow | Horses aged 4yo-7yo
6/17 | 35% S/R | +£34.77 BFLSP – W&P 9/17 | 53% S/R
———————————————————————–
B Andrews/D Skelton | Horse's first start for Skelton (moved from another yard) | Class 4-6 races | Horses aged 5yo-8yo | Horses with no more than 10 career starts
6/9 | 67% S/R | +£13.75 BFLSP – W&P 8/9 | 89% S/R
———————————————————————–
B Andrews/D Skelton | Class 4-6 Chase & Hurdle races | Horse with 0-1 start in National Hunt race type | Horse dropping in class from last run
6/15 | 40% S/R | +£27.46 BFLSP – W&P 9/15 | 60% S/R
Now that's not a huge amount of numbers to work with there but they are the foundations for some potentially solid mini-angles and are quite possibly well worth keeping on the radar. A lot of the attention seems to be on the Harry/Dan partnership but the Dan/Bridget partnership does a fine job ticking along in the background as well.
Under specific circumstances, and it's those lower class races that seem to be the 'key', Bridget Andrews is doing an excellent job for team Skelton.
Don't ignore Bridget Andrews whilst team Skelton is firing in the winners…
NTF Xmas Gift…
Tis the season to be jolly and all that…
Not much of a Christmas fan in all fairness but to stop myself being a complete grinch I'm currently pulling together an awesome free guide for all members of the FREE NTF list.
It will be ready the back end of next week so keep an eye on your inboxes for that.
If you are not already on the free NTF list then simply stick your name and email in the box below to make sure you also receive the free Xmas gift (and the other free NTF guides that are currently available)…
[optin_box style="12″ alignment="center" opm_integration="N" email_field="email" email_default="Enter your email address" email_order="0″ integration_type="aweber" double_optin="Y" gdpr_consent="disabled" consent_1_enabled="no" consent_2_enabled="no" consent_notes_field="missing_integration_type" thank_you_page="https://www.narrowingthefield.co.uk/thank-you/" list="1970061″ name_field="name" name_default="Enter your first name" name_order="0″ name_required="Y" opm_packages=""][optin_box_field name="headline"]Don't miss your free NTF Xmas Guide![/optin_box_field][optin_box_field name="paragraph"]PHA+VHJlbmRzLCBzdGF0cywgbWluaS1hbmdsZXMgYW5kIG11Y2gsIG11Y2ggbW9yZS4uLjwvcD4K[/optin_box_field][optin_box_field name="privacy"]I value your privacy and would never spam you[/optin_box_field][optin_box_field name="consent_1_label"][/optin_box_field][optin_box_field name="consent_2_label"][/optin_box_field][optin_box_field name="top_color"]undefined[/optin_box_field][optin_box_button type="0″ button_below="Y"]Grab your free racing guides![/optin_box_button] [/optin_box]
Cheers – Ben (NTF)
p.s. There will be no 'What We Learned From The Weekend' post next week.
p.p.s The awesome Altior/Un De Seaux pic was taken by my racing pal Micheal Harris. You can follow him on twitter – @mjyharris – and if you are any sort of racing fan you should definitely be following him, he is an outstanding equine photographer.
6 responses to "What we learned from the weekend: 7th, 8th & 9th December…"