15
Jan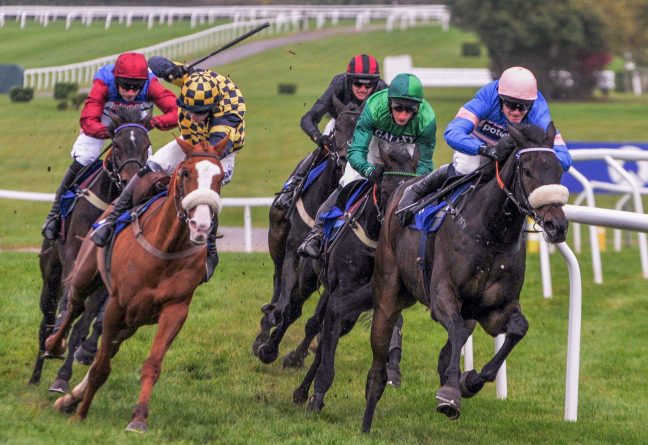 What we learned from the weekend: 11th, 12th & 13th January…
The first 'real' week after the New Year/Christmas jazz is often a bit of a slow and painful grind, a bit of a 'back to reality' churn-fest, as people trundle back into the real world, back to work, back to school, back to…well…life…zzzzzzzzzz
In all honesty the racing game is a bit patchy at the minute as well, having just eased off a little in the way of class, except maybe for the little warrior that is TOP NOTCH at Kempton on Saturday, you can set your watch by that lad (under certain circumstances, more of which below…). Despite the minor class dip, however, there is always something for us to get stuck into, something for us to notebook from the action, and here's my take on what has just entered the form book in the first installment in 2019 of my weekly 'What we learned from the weekend'…
What we learned from the weekend: 11th, 12th & 13th January…
1. Give Top Notch his prime conditions and he is unbeatable…
…and he most certainly had prime conditions at Kempton on Saturday.
They are not even complicated conditions either. The 'wee man' simply needs the following conditions to get the job done…
7 or less runners | November-February | DSLR 11-60
When he meets with those conditions he has the following form line to his name…
1-1-1-1-1-1-1-1-1 (9/9)
With that in mind it's perhaps surprising that he was battling for favoritism for much of the day with Charbel, a horse who is 'only' 2/14 at Class 1 level (compared to the 5/13 record Top Notch holds).
Top Notch is more than capable out with those conditions but for absolutely nailed on, rock hard prime conditions it's the above three boxes I'd want ticked.
His size probably just holds him back from making into a solid Grade 1 performer (only 1/8 at G1 level) and his record in the smaller fields suggest he does prefer to have less runners crowding him, but I certainly wouldn't discount him at the top level if he finds himself faced with his prime conditions. Something he may meet with in the Irish Gold Cup at Leopardstown next month, a race where he does hold an entry and may well be his next assignment.
It falls within his favoured months, he will be returning within his preferred rest period window, it's just a case of how many opponents turn up against him.
Historically the stats suggest he may find the field size to his liking as 15 of the last 20 renewals have seen 7 or less runners, albeit recent history suggest it's a race that is now attracting a girthier field, with 3 of the last 4 renewals having 8 or more runners.
Whether or not he races with prime conditions on his side I still think the 3m option is well worth exploring. He's only raced over the trip once in his career and that was on seasonal debut this term in the Long Walk Hurdle at Ascot, a race where he would almost certainly have need the run. With that in mind his 5.75L third was a pretty serious effort and gave plenty of signs that the trip is well within range for him.
It's also worth noting that he is 4-1-1-1-1-3 over 2m5f+ trips and his two best RPR figures were recorded within that form string, again indicating that he does have stamina to burn.
He's one of those lovable little tykes that us jumping die-hard's really take too (very much a Katchit type character I feel) and for me he's even more attractive as when he gets his prime conditions he runs like absolute clockwork! I'd be interested in him taking up that Irish Gold Cup option, even more so if he gets to battle away against 6 or fewer opponents…
A small field isn't always a bad thing…
.
**Special Offer**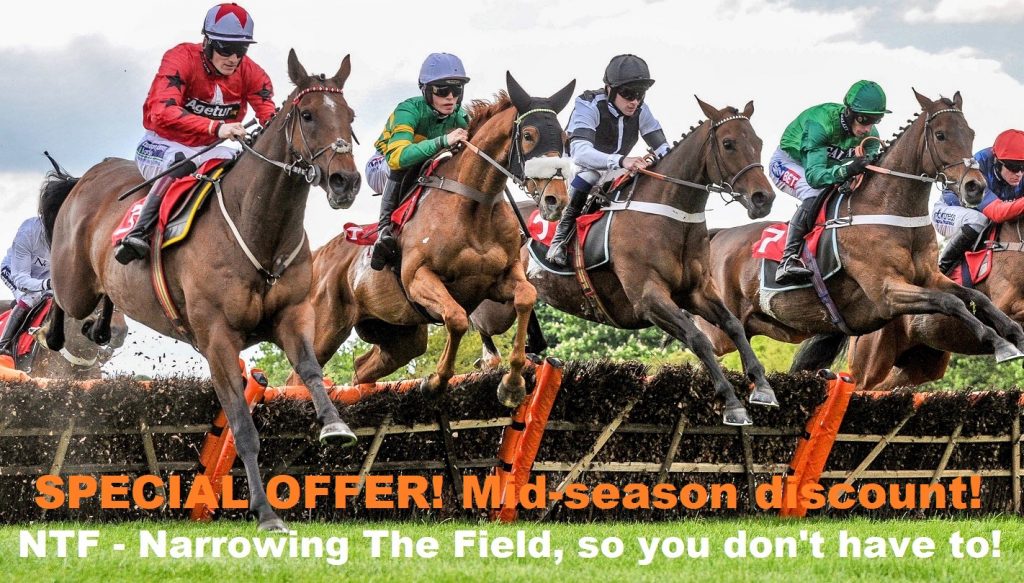 **Special Offer**
.
2. Josses Hill disappointed…again!
After departing 5 from home at Kempton on Saturday the 11yo is now on a losing run of 13.
That's not just 13 defeats either, it's 13 races without even placing.
Things have not gone well for the Alan Spence owned gelding since last tasting the sweet aroma of success in the 2016 Peterborough Chase.
There could, however, be a very simple solution to his 'problems'…
REMOVE HIS DAMN HEADGEAR!
Here are the splits for Josses Hill with and without headgear…
Without headgear = 7/16, 5p
With headgear = 0/13, 0p
I'm not really sure why headgear was applied in the first place?
It was first tried when he ran in the 2016 Ryanair Chase, where it seemed to have little to no impact on him (22L 8th). They then removed it and he duly won his next two starts before finishing a 7L 5th behind Thistlecrack in the 2016 King George.
Since that run he's worn headgear on all 12 starts, finishing unplaced in all twelve?!
So here is my solution…
Remove the headgear…drop him in trip (go back to 2m – 2m5f trips)…avoid Grade 1's…
Give him those three conditions (2m-2m5f| G2 level & below | NO Headgear) and you find he has a form string of the following…
1-1-1-2-1-2-1-1-1-2 (7/10, 2p – all 7 wins)
NEVER out of the first two and ALL seven of his career wins have come using just those three simple conditions.
If the headgear has soured him to the game then, well, nothing will work, but there has been promise on his two starts this season, and he did get a wind-op in the summer, so there does appear to be life in the old boy yet, they just need to tweak his conditions a tad, starting with that damn headgear!
Take the headgear off and watch Josses fly!!
.
3. Twiston-Davies seems to be prepping Ballykan for a spring/summer target…
Josses Hill wasn't the only one catching my eye in that Unibet Handicap Chase at Kempton on Saturday…
The Nigel Twiston-Davies trained Ballykan was relatively well-backed (started at 5-1) but could only manage a 33L 4th. Based on his overall profile, however, the effort was hardly a surprise as he never really finds his form until at least March.
Check out his monthly splits…
October – February form = 0/13
March – September form = 6/16
I'm assuming NTD knows where the horse's prime months are (well, you'd hope so!), given he's raced him lightly so far this season (only 2nd start of season on Saturday).
He's dropping down the weights to a very workable mark (ran off OR 133 on Saturday and will probably go down again) and he's very much one to keep on the radar for the when he meets with the following conditions …
C2 level & below | 10 or less runners | OR 137 & below |March – September
…where he has a form string of… 1-1-R-1-1-1-1-2 (6/8, 1p – All 6 wins)
It's worth keeping Ballykan firmly on your radar…
When the sun is shining Bally definitely Kan!
Ben (NTF)
p.s. With the 2019 Cheltenham Festival hard on the horizon I'll be looking to get some FREE Cheltenham Festival guides out in the coming weeks, so make sure you are on the free NTF mailing list by heading HERE
7 responses to "What we learned from the weekend: 11th, 12th & 13th January…"