6
Nov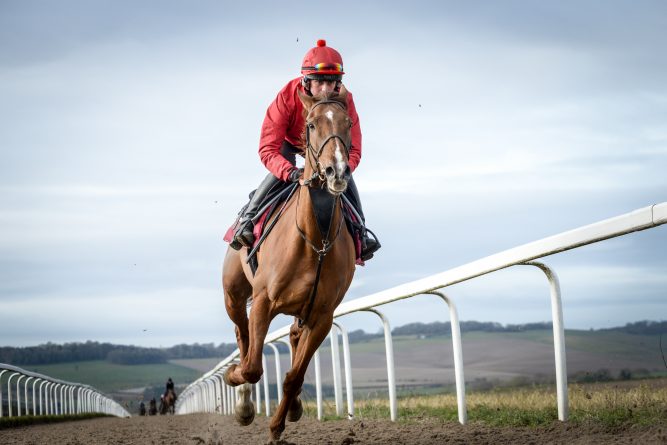 What we learned from the weekend: 3rd & 4th November…
.
I think it's safe to say we are now very much locked and loaded in full National Hunt mode until spring 2019! We are securely strapped in and fully committed to the ride!
The Charlie Hall Chase is the last chance for you to jump ship and stop the addiction before it consumes you and takes a proper hold for the next six months, but I'm guessing, since you are reading this, you have already reached full addict mode and are scrambling around looking for your next fix!
Don't worry though, you're in fantastic company here, we've all been National Hunt addicts for longer than our jumping addled brains care to remember, so breathe easy, soak it in and load up on your next dose, life's too short not to…
What we learned from the weekend: 3rd & 4th of November…
1. Definitly Red continued to show what a remarkably consistent horse he is…
Well…when he gets his prime conditions that is.
And in Saturday's Charlie Hall Chase he definitely had those prime conditions.
The things with him is that those prime conditions are not that complicated, he simply needs the following to run to his best…
Grade 2 level & below | Fields of 11 or less
…which returns the rather remarkable form line of…
111311311221112111 (13/18, 5p – all 13 career wins)
Never failed to even place when meeting with those two very simple conditions.
It begs the question as to why he was trading as third fav of four on Saturday!
Just bizarre…
To back that up his form line out with those two parameters reads as follows…
U6P7PUF2 (0/8, 1p)
…failing to even complete on five of those eight starts!
He's unlikely to win a Grade 1 as he's one of those that falls just short of being a very top level performer, but he's always going to be a player in races such as the Charlie Hall, the Many Clouds Chase (Aintree) and the Cotswold Chase (Cheltenham trials day) and if the market keeps underestimating his chances then, well, shrewd punters will keep cashing in on the consistent 9yo…
Bank on Red when conditions favour him…
.
2. A wind-op for a David Pipe runner is (currently) not a good thing…
I don't know where he's sending his horses to get their wind-ops but he should be asking for his money back!
Like the Paul Nicholls wind-op stats from last week it is still very early days to be drawing any hardened conclusions from the numbers, but so far you rather be watching than backing a Pipe horse having it's first start after a wind-op.
These are the figures…
0/24 | 0% S/R | -£24.00 BFLSP – W&P 4/24 | 17% S/R
11 of those 24 have started at single figures (so it's not been 24 outsiders) and perhaps more worrying is the fact that 6 of the 24 have finished their race pulled-up.
The latest of those being the well-fancied DAUPHINE EREINE, who started as 9/2 second fav in the Cumberland Handicap Chase at Carlisle on Sunday. She never looked a threat in the race and ended up being pulled-up before three from home.
Only one trainer has sent more of his horses for a wind-op than Pipe (Dan Skelton, with a mammoth 62 of his string) so he does seem keen to tinker with their breathing, unfortunately it's just not doing the job it should be.
In fairness there is a smidgen of improvement when they have their second start after a wind-op – 3/15, 2p – but even at this early stage of the wind-op numbers game the Pipe figures are looking rather ominous…
Be careful when backing those first time wind-op runners from Pond House…
.
3. Nicky Richards continues to quietly dominate the northern bumper scene…
No fuss. No pizzazz. Just quietly getting on with the job of firing in winners in northern bumpers.
And by the north I mean the racetracks in Scotland, North-East & North-West England and Yorkshire
Of the trainers with 30+ bumper runners in the north no trainer has a better strike-rate than Nicky Richards (30% S/R) and only one trainer – Donald McCain – has saddled more winners (44 to Richards 33, but McCain has almost had double the amount of runners – 208 to Richards 111).
Richards overall record in northern bumpers since 2012 reads as follows…
33/111 | 30% S/R | +£71.67 BFLSP – W&P 64/111 | 58% S/R
21% above expectation
The latest Richards bumper horse to grace the winners enclosure was the deeply impressive RIBBLE VALLEY, who romped to a 7L victory in the closing bumper at Ayr on Saturday.
Not only did the 5yo enter my notebook as one with a serious future ahead of him, he was also a snug qualifier on a Richards angle I've been tracking.
This is that angle…
Nicky Richards Bumper runners | Northern racetracks | Class 5 & Class 6 | SP 9-1 or less
Which returns the following since 2012…
31/87 | 36% S/R | +74.46 BFLSP – W&P 55/87 | 63% S/R
28% above expectation
It's been profitable each year since 2012 and shows no sign of slowing up.
No Fuss…
No Pizzazz…
Just ticking along and pulling in profits…
Ignore those Richards north bumper runners at your pearl…
Doors to NTF 2018/19 closing this week…
If you want to be part of the full NTF service for the 2018/19 season then this will be your last chance.
With the National Hunt game now in absolute full swing I quite simply need to concentrate as much of my attention on the analysis side of things as I humanely can.
With that in mind I'll be shutting the doors at some stage this week, almost certainly before the weekend.
To make sure you don't miss your slot on the service head along to the following page…
I'll level with you now… if you want a quick fix and the promise of untold riches and early retirement…then NTF will definitely NOT be the service for you.
If, however, you like a bit more from your racing service, plenty of analysis, thoughts, stats, trends and pointers that you can chew over in your own time, then NTF might just be what you're after…
I look forward to seeing you in the NTF members area as I continue to slice through the major races using my tried and tested Race Trends analysis.
Cheers – Ben (NTF)
Trainer stats have been sourced from the excellent Proform Professional database
10 responses to "What we learned from the weekend: 3rd & 4th November…"