30
Oct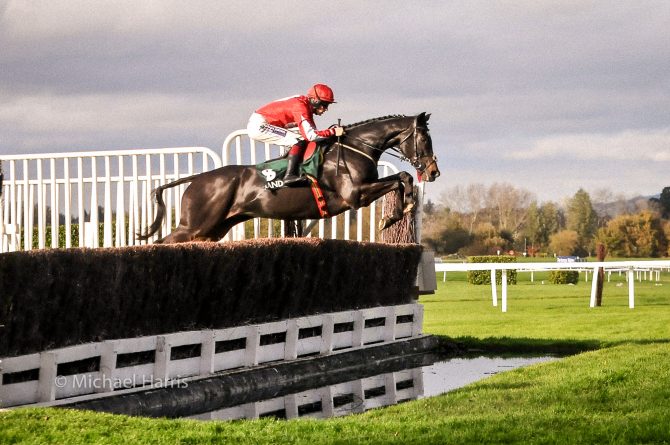 What we learned from the weekend: 26th, 27th & 28th October…
OK. Hands up if, like me, you are now in full attack mode for the 2018/19 National Hunt season?!
Hell yeah! I'm over the first in flying fashion and have my ears pricked looking for the first open ditch now that weekend is in the form book!
If a weekend that brought us the Cheltenham Showcase and Aintree's Old Roan Chase meetings doesn't get you up and out of bed in the morning, ready to gun for the day off the front end like the b@st*rd lovechild of Denman and Dessie, then, well, get some help!!
These are the days National Hunt loving friends, these are the bloody days!
You just can't beat meetings like that… but the thing is, we will be beating them!! Every single weekend between now and as far as the eye can see will be smacking us full in the chops with top quality jumping action.
You can taste it in the air now (go on give it a lick), the big guns are just about to be released, ready to strut their stuff over the sticks for our punting pleasure.
I mean just look at the big names entered up for this weekend coming…
SAMCRO, DORTMUND PARK, KILBRICKEN STORM, SPLASH OF GINGE, APPLE'S SHAKIRA, BRISTOL DE MAI, BLACK CORTON, DON POLI, OUTLANDER, THISTLECRACK, WHOLESTONE, MINELLA ROCCO, DOUBLE SHUFFLE, BALKO DES FLOS, THE STORYTELLER, CONEYGREE (with or without his cotton wool), CLAN DES OBEAUX…
Jeezo! I'm drooling here! Let me at 'em!!
But let's just hang fire for a little bit, take a small step backwards, we first need to wrap up the action that's just slid comfortably into the form book…
.
What we learned from the weekend: 26th, 27th & 28th October…
1. Paul Nicholls first time wind-op runners continue to do the business…
It's still relatively early days on the wind-op data front but even in these early stages some patterns are beginning to come to light.
Paul Nicholls horses 'improving' for a breathing op is one of the most obvious patterns currently on show.
These are the current stats from the master of Ditcheat with his horses on their first run since undergoing a wind-op…
7/18 | 39% S/R | +£23.69 BFLSP – W&P 9/18 | 50% S/R
131% above expectation
You can improve those figures if you look at only his runners aged 6yo or less…
7/14 | 50% S/R | +£27.69 BFLSP – W&P 8/14 | 57% S/R
197% above expectation
To put his numbers into a little bit of perspective (as much as we can in these early days) only his former assistant Dan Skelton has saddled more winners first time up off a wind-op (13) but he has sent significantly more of his squad (58) for the corrective surgery. Skelton's string are also not profitable to follow on first run after a wind-op (as a whole anyway, top 2 in the betting gives you a chance of profiting from them).
The latest Nicholls charge to benefit from a wind-op was FRODON, who fired in an exemplary round of jumping to land the Old Roan Chase at Aintree on Sunday.
It probably wasn't just the wind-op that put the horse in the winners enclosure but the (limited) stats suggest it certainly helped.
I covered the race for full NTF members and from my research the horse was lining up under prime conditions, those conditions being…
2m4f – 2m5f | G2 level & below | OR below 160 | field of 16 or less
…where the 6yo now holds a form line of…
1-1-3-3-1-1-1-1-1 (7/9, 1p)
Not too shabby, I'm sure you'll agree.
(p.s. you can see that Old Roan Chase analysis HERE)
Life will probably become harder for Frodon again after this win as you expect he'll be pumped up the handicap to a low 160's mark again, making him trickier to place, but there was a lot to like about his Old Roan victory and he continues to be a consistent horse when he gets his conditions.
Keep an eye out for those Paul Nicholls first time wind-op runners…
.
2. Keith Dalgleish has his string in fine fettle at present…
He only had four runners over the weekend in the National Hunt sphere, returning form figures of 1-0-0-1, but if you pull in his flat runners from the weekend then the Carluke based trainer returned the following form string…
1-0-0-1-1-2-1-4 (4/8)
If you expand his National Hunt figures for the whole of October you'll see just how bouncing his jumpers are at present…
6/15 | 40% S/R | +£4.20 BFLSP – W&P 7/15 | 47% S/R
52% above expectation
If you concentrate on his runners that have been fancied – SP of 5-1 or less – you get the following…
6/9 | 67% S/R | +£10.20 BFLSP
This got me digging into his stats a bit, as such things often do, and I revisited an angle of his I've been keeping in my peripheral vision for a little while, that's his record with last time out winners (One Night In Milan was one such runner over the weekend), particularly when they meet the following criteria…
Keith Dalgleish | National Hunt | Last Time Out Winners | Class 3 or below | SP 9/2 or less
…which has returned the following since 2014…
20/34 | 59% S/R | +£21.95 BFLSP – W&P 24/34 | 71% S/R
41% above expectation
That's solid and shows he's got a keen eye for placing his last time out winners appropriately.
I wouldn't necessarily class Dalgleish as an 'under-the-radar' trainer but he is one that quietly gets on with his business, and at present business is good for the former jockey.
Keep those last time out Dalgleish winners in mind…
.
3. Lil Rockerfeller showed why he's the grittiest horse on the block…
…whilst at the same time showing why it's rarely a good idea to send a top class hurdler novice chasing after spending 2 or more seasons over timber.
Sure, he won 'cosy' enough in the end when tackling the Class 2 Novices' Chase at Prestbury Park on Friday (26th) but I don't think I'm unfair in saying that he was probably the worst jumper in the field. The shape he made at his obstacles did not make for pleasant viewing and it was only his sheer class, guts and determination that kept him in the game and able to gun it up the hill to the winning line to victory.
He was ponderous, tentative and slow at his fences and I genuinely feel these types struggle to change their technique after so many years jumping hurdles. There are always exceptions but on the evidence of his first two chase starts I don't think he will be one of them. Doesn't mean he won't or can't win more chases but he will surely be found out by the better novices when they come out of summer hibernation.
On the stats front it's a hard one to quantify.
How many are too many hurdle starts? What level does the jumping technique start to find you out the most? Are certain tracks easier to disguise your frailties?
The following, I feel, gives a decent enough gauge of what I mean when I say it's very hard for a seasoned hurdler to make a serious impact at the top level over fences…
(Since 2010) Grade 1 Novice Chases | Horses with 12 or more Hurdle starts to their name
5/104 | 5% S/R | -£75.49 BFLSP – W&P 20/104 | 19% S/R
44% below expectation
I can't say that's damming evidence but it is, as I said, a decent gauge that it's difficult for a top class hurdler, or at least a horse that has a decent number of hurdle runs under it's belt, to make an impact at the top level over fences.
If I just shift the hurdle runs up a notch, to 15 or more starts, then we get the following…
1/41 | 2% S/R | -£39.73 BFLSP – W&P 10/41 | 24% S/R
73% below expectation 
Lil Rockerfeller has had 28 hurdle starts before embarking upon his chasing career…
(by the way can anyone guess who the one winner in those last set of figures is? Without using a database though, then it isn't a guess!)
I hope I'm wrong and I hope Lil Rockerfeller proves to be an exception, but based on his jumping technique so far I fear I'm right…
Be wary of those hardened hurdler that suddenly embark upon a chasing career…
.
Doors to NTF 2018/19 closing soon…
With the Charlie Hall Chase about to romp into view this weekend that also means the doors to the full NTF service will be slamming shut shortly.
There is already a chunk load of info in the members area, with Weekend Notes from recent weekends available and a UTR Squad that is growing in size each week, along with the race guides side of things, obviously…
There are also the first qualifiers on the 'Unexposed Handicap Chasers' angle running today (highlighted in NTF Members Area).
To make sure you don't miss your slot on the service head along to the following page…
I look forward to seeing you in the NTF members area as I continue to slice through the major races using my tried and tested Race Trends analysis.
Ben (NTF)
*Stats have been sourced from the excellent Proform Professional database

16 responses to "What we learned from the weekend: 26th, 27th & 28th October…"