3
Dec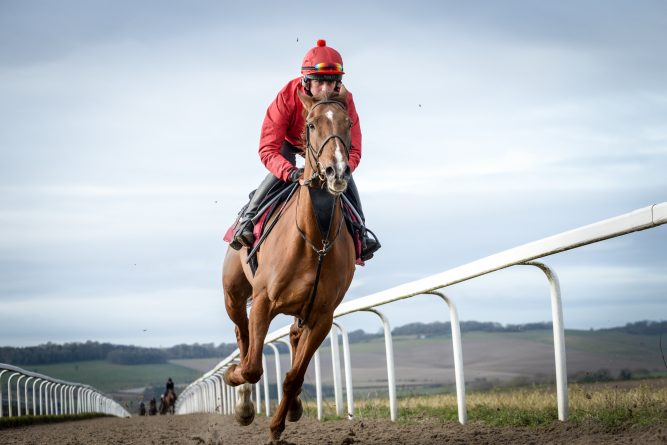 What we learned from the weekend: 29th, 30th November & 1st December…
Jeez that was one hell of a days racing at Fairyhouse on Sunday!!
ENVOI ALLEN…FAKIR D'OUDAIRIES (Samcro)…HONEYSUCKLE…
All three (four?) could easily pick up further Grade 1's on their way to scoofing up the top prizes at the three Spring Festivals. Serious weapons, as they say these days…
We also had the return of PAISLEY PARK (still improving?) and the unfortunate injury to BUVEUR D'AIR (possibly out for the season 😔).
Add the Ladbroke Trophy into the mix…and that was one hell of a weekend of National Hunt racing for us jumping fans to drool over! 🤤
What else, however, did the weekend just past bring to the table for us…
What we learned from the weekend: 29th, 30th November & 1st December…
1. Nicky Henderson used Newbury to unleash another exciting prospect…
Well, to be fair, the horse in question had already been 'unleashed' earlier in the month at Newbury in a bumper, but Henderson decided to waste no more time in that sphere and promptly stuck the youngster over hurdles for his second start of the campaign.
The horse in question? Well that was the impressive SON OF CAMAS, who won what is likely to prove to be a hot Maiden Hurdle contest on Friday.
Henderson has an impressive record in such contests and the horse was a qualifier on the following angle…
N Henderson | C2-C4 Non-Handicap Newbury Hurdles | Males only | SP 10/1 or less
…where the trainer now has stats of…
52/116 | 45% S/R | +£68.19 BFLSP – W&P 87/116 | 75% S/R
34% above expectation
Since 2009 the following horses (amongst many others) have also been winners on the angle…
MIGHT BITE – BUVEUR D'AIR – TOP NOTCH – OSCAR WHISKY – FINIANS RAINBOW – MAD MAX – RIVERSIDE THEATRE – GRANDOUET – SANTINI
…a who's who of Henderson talent you could say!
It's a simple angle but it churns out the profits, whilst all the time highlighting a wealth of future stars from the Henderson yard.
Does SON OF CAMAS have the tools to join the list above?
I'd like to think so…
Follow the above Henderson angle for profits AND future talent…
2. Reserve Tank disappointed again going left-handed…
Colin Tizzard's RESERVE TANK was sent off as 1/2 fav in the Grade 2 John Francome Novices' Chase on Saturday, but he never looked all that happy at any stage of the contest and I think it's fair to say that the writing was on the wall some way out.
Whilst not wanting to take anything away from the impressive winner DANNY WHIZZBANG, I do think there's a potential reason for the below-par effort of Reserve Tank.
That reason being his preference for a Right-Handed track over a Left-Handed track.
Take a look at his LH-RH splits…
Form on a Right-Handed track = 1111 (4/4)
Form on a Left-Handed track = 37122 (1/5, 0p)
He's lost both his left-handed chase starts whilst impressing on his one right-handed chase start.
He has obviously won a G1 going left-handed (2019 Mersey Novices Hurdle) but the overarching theme of his form is starting to suggest that he wants to go right-handed.
Which could, obviously, have a major impact on his chances in the spring festivals at Cheltenham and Aintree.
It's still relatively early days for the horse, and things could yet change, but his jumping has been down right average (no pun intended!) on his two left-handed starts and as I say, the overarching theme is that he prefers going the other way round…
Don't get LEFT behind, keep on the RIGHT side of Reserve Tank…
3. Samcro is in danger of turning into a 'what if' horse…
…which feels strange to say given he's won two Grade 1's in his career and clearly carries a vast quantity of class as well as a massive engine within him.
However, look at his class splits…
G1 & G2 level = 11F225F (2/7)
G3 level & below = 111111 (6/6)
He's a horse with a huge reputation but those class splits don't really back it up, not yet anyway.
Samcro embarked upon a chasing career this term (a season too late for my liking) but for me he's not quite made a smooth transition from jumping hurdles to jumping fences.
In Sunday's Drinmore Chase he was almost 'hurdling' some of his obstacles, which ultimately cost him in the end, falling two out when still, apparently, cantering. 
Although he only had 8 hurdle starts (below the cut-off where it becomes tricky to make a smooth transition between hurdles & fences at the top level) he did spend two seasons hurdling (1 and a half seasons I suppose) and that can, in some cases, be another obstacles to making the transition between the two disciplines.
His class will always keep him in races and if he gets a clear round he'll be hard to beat (probably very hard to beat), getting a clear round against opposition who put his jumping under pressure, however, will not be an easy task.
The simple facts are that Samcro needs to improve his technique, and quickly. The class and engine still remain but you need more than just that on your side when you're jumping fences, especially at the top levels…
Will Samcro ever fully fulfill his undoubted potential?
.
Ben (NTF)
p.s. If you are new to the Blog then grab some FREE Guides on the following page…
>>NTF FREE National Hunt Guides
Stats have been sourced from the excellent Proform Professional database