10
Dec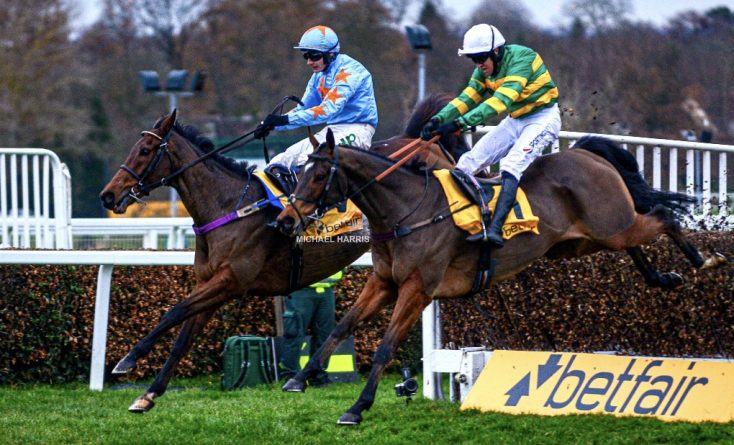 What we learned from the weekend: 6th, 7th & 8th December…
What is it about the Tingle Creek that keeps on giving us enthralling finish after enthralling finish?!?
This year we had the continually progressive DEFI DU SEUIL holding off the seemingly evergreen UN DE SCEAUX by a neck, with the pride of the north WAITING PATIENTLY snapping at their heels in third, an ever diminishing 0.75L behind the front two.
The 2019 Tingle Creek.
What. A. Race!
The horses they had beaten off, a further 8+ lengths behind, are far from a bunch of slouches either and you have to think that the form of this renewal will stand up as the season progresses.
Aside from the beast of a race that was the Tingle Creek there was plenty else going on over the last weekend for me to delve into, so lets not hang about, lets crack on with the latest edition of…
What we learned from the weekend: 6th, 7th & 8th December…
1. Cilaos Emery is making his way to the top of the 2m chasing tree…
His racetrack appearances have been sorely limited by injury in the past couple of years but he's finally getting a chance to show what he can do as a chaser, with his latest victory in the Hilly Way Chase at Cork allowing him to post a massive career best figure on RPR scale.
That win made it 3 from 3 for the 7yo over fences and despite his novice season being limited to just the one start it's well worth noting the fact that the form of that victory has been backed up multiple times by those in behind.
Providing he stays fit (fingers crossed) you have to be thinking he's a serious challenger for G1 glory this season.
Not only did the horse enhance his credentials on Sunday, his trainer, Willie Mullins, also enhanced his excellent record at Cork in Non-Handicap Chases, particularly under the following…
Willie Mullins | Cork Non-Handicap Chases | 4yo-9yo | 1st or 2nd in the market
…where he now holds figures of…
32/50 | 64% S/R | +£35.11 LSP – W&P 36/50 | 72% S/R
Even by Mullins high standards those are a sparkly set of figures.
Make sure you cash in on the Mullins domination of Cork chases…
2. Top Notch is still very much a player when he meets with Prime Conditions…
The battle-hardened TOP NOTCH seems to have been around forever, but amazingly he's only eight (going on nine) and given the evidence of his latest victory – Sunday's Peterborough Chase – he's still got plenty fight left in him.
Especially when he lines up under his Prime Conditions…
7 or less runners | November-February | DSLR 60 or less
…where he is now…
11111111211 (10/11, 1p – 10 of his 14 career wins)
He has his limitations – he's 'only' won one of his ten G1 attempts – but give him his absolute prime conditions to race under and he's almost impossible to beat.
He doesn't have a huge amount of strong options left this season but races such as the Listed Chase he won last season at Kempton in January and the Oaksey Chase at Sandown at the end of the season (despite that being out with his absolute prime months) must be high on the agenda for the 14 time winner.
He's a cracking little horse, a favourite of many, and hopefully he's got plenty more glory days ahead of him.
Keep your eyes open for Top Notch and his Prime Conditions…
3. The best time to be backing a Harry Whittington Novice Hurdler…
Harry Whittington has some very interesting stats in Novice Hurdles, especially when it comes to the market position of his horses.
Check out the following splits…
H Whittington | Novice Hurdles | Top 2 in the market
24/50 | 48% S/R | +£21.94 BFLSP
H Whittington | Novice Hurdles | 3rd or lower in the market
1/55 | 2% S/R | -£24.55 BFLSP
Clearly when the horse is fancied it's got a high chance of getting the job done (like Young Bull at Wetherby on Saturday) but when it's not fancied it's pretty much got no chance!
You can improve those basic stats into a bit of an angle as well…
H Whittington | Non-Handicap Novice Hurdles | Oct-Apr | 4yo-6yo | Top 2 in the market
22/41 | 54% S/R | +£25.91 BFLSP – W&P 31/41 | 76% S/R
51% above expectation
Your betting radar needs to start pinging when a Whittington Novice Hurdler starts in the top 2 in the market…
NTF Xmas Gift…
Tis the season to be jolly and all that…😒
I'm not much of a Christmas fan in all fairness but to stop myself being a complete grinch I'm currently pulling together an awesome free guide for all members of the FREE NTF list.
It will be ready the back end of next week(ish) so keep an eye on your inboxes for that.
If you are not already on the free NTF list then simply click the below link and stick your name and email in the box on that page to make sure you also receive the free Xmas gift (and the other free NTF guides that are currently available)…🔻🔻🔻
>>>Don't miss your free NTF Xmas Guide!
Ben (NTF)
p.s. The 'What We Learned From The Weekend' posts may go a bit more sporadic over the next few weeks.
p.p.s The awesome Defi Du Seuil/Un De Seaux pic was taken by my good racing pal Micheal Harris. You can follow him on twitter – @mjyharris – and if you are any sort of racing fan you should definitely be following him, he is an outstanding equine photographer and constantly posts up some fantastic racing pics.
Stats have been sourced from the excellent Proform Professional database