5
Mar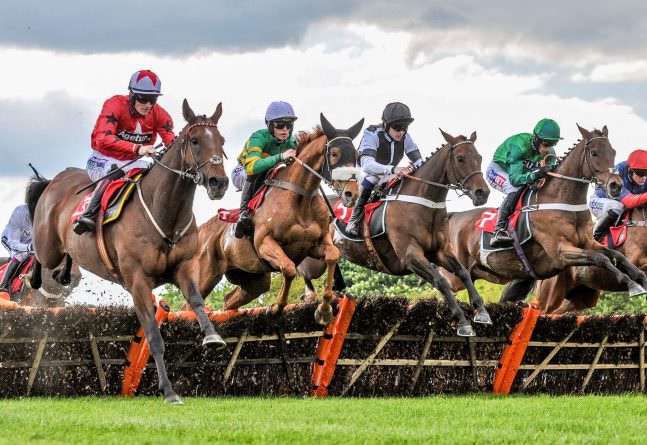 Five Cheltenham Festival stats that will need to be broken…
.
A week to go…
We've survived whatever the weather has been trying to throw at the past few weeks (heaters on…heaters off…heaters on…I mean seriously!? make your mind up weather!!) and we're now staring down the seven days to go Cheltenham barrel!! Seven days until the madness kicks in, that's all there is, SEVEN god damn days!
As usual it's starting to consume my every thought at the minute, but I'm used to that, it comes with the territory, bring it on!
I've very much been ramping things up on the festival front over the past week or so and hopefully you've all managed to download my FREE Cheltenham Festival Guides by now.
If not you can get them here.
They are packed full of trends and stats to help you 'narrow the field' over the four days and at the very least they should get your brain tuned up and fully focused for next weeks action.
Keeping on the stats front, today I want to take a look at a quintet of negative stats that will need to be busted next week if some of the well-fancied runners are to justify their cramped odds.
Lets get stuck in…
Five festival stats that will need to be broken…
1 – LALOR and the 'outside of top two finish last time out' Arkle stat…
If Lalor is to justify Arkle favouritism then he'll need to become only the third horse in the last 22 renewals to win it off NOT finishing in the first two last time out…
The Arkle is slowly starting to fall apart as we edge closer to the big day, with both Dynamite Dollars and Le Richebourg posting sick-notes in recent weeks and Defi Du Seuil likely to be heading for the longer JLT option.
Lalor himself has missed a couple of engagements due to the fast ground but as things stand he's bang on course for the big day and he sits snuggly at the head of the betting, despite finishing a well-beaten third when last seen, in the G1 Henry VIII Novice Chase at Sandown in December.
And it's that defeat that has me slightly concerned, particularly when you dig into the trends of the previous 21 winners of the race…
19/21 finished in the top 2 on their final start before winning the Arkle
Only Contraband and the mighty Moscow Flyer won the Arkle having not finished 1st or 2nd last time out.
The stats for those horses that lined up in the Arkle off third or worse placed finish are…
2/69 | 3% S/R | -£54.50 LSP – W&P 11/69 | 16% S/R – 45% below expectation
Not great reading for Lalor fans…
Also worth noting that 14 of the last 15 winners of the Arkle had 1 or 2 starts in the last 90 days, Lalor has been off the track for 94 days…
Just a few niggles that might make you think twice about lumping on the Arkle fav…
The defence…
His victory in the Arkle Trial at the track in November tells us the fences hold no fear for him and in winning that race he put up one of the best novice chase performances of the season.
There's no doubt that on his day he can win the race… but has his preparation (forced in some way by the ground conditions) just been all wrong for him?
Conclusion…
That last time out effort is a worry and the stats for finishing outside the top 2 last time out don't make for pleasing reading. It's not the only trend, on my race trends anyway, that he'll fall down on either. Just depends on how many of the others come into the race with a stronger profile (I know at least one will come in with full marks on my final NTF figures)…
.
2 – OK CORRAL and the 'at least 3 starts over fences' National Hunt Chase stat…
If Ok Corral is to justify his status as favourite in the National Hunt Chase then he'll need to be only the second winner in the last 22 renewals to do it off less than three career chase starts…
Nicky Henderson's 9yo has been all the rage for the 4-miler since his smooth success in a Listed event at Warwick in January, a race that was his second start over the larger obstacles.
And that's my sticking point with the 9yo; the fact he's only had two starts over fences.
Is that enough chasing experience to land a race as demanding as the 4-miler?
Especially when you consider the following…
20/21 winners of the NH Chase had 3 or more chase starts on their CV before landing festival glory
Those that lined up with 2 or less chase starts to their name return the following…
1/78 | 1% S/R | -£70.50 LSP – W&P 8/78 | 10% S/R – 80% below expectation
The only horse to defy the stat was Deejaydee in 1999.
It's always a race with plenty of large field hustle and bustle and coming in 'low' on chase experience hasn't been a good idea in recent seasons.
The defence…
He's two from two over fences, he's won five of his nine career starts, he finished second in the Albert Bartlett last year and he's only been out of the first two in one of his nine career starts; on the face of things it's not hard at all to make a case for him.
Conclusion…
He's always been a horse that looked like chasing was going to be his game and you suspect that had it not been for injuries and a slightly fragile body he could well have been contesting the Gold Cup this year, had he not spent long periods on the sidelines.
Whilst that makes him unexposed and potentially fresher than plenty of his likely competition I do just worry if his lack of chasing experience, and we have to remember both his chase starts have been in 4 runner fields, will find him out…
.
3 – FAUGHEEN and the '10yo+' Stayers Hurdle stat…
In the last 21 renewals of the Stayers Hurdle all 32 horses aged 10yo+ have been beaten…
Faugheen seems to have been talked up plenty in recent weeks with regards to his chances in the Stayers Hurdle, so much so he currently sits as 5-1 second fav behind 'hot-pot' Paisley Park.
If that had been the younger Faugheen who was destroying opposition for fun, prior to being off the track for almost two years with injury, then fair enough, I'd get that price, absolutely, but it's not, it's the 11yo Faugheen, who has only won two of his seven starts since returning from that injury lay-off, failing to complete in two of those seven starts.
More so he has some hefty age stats to try and defy…
10yo+ horses in the Stayers Hurdle are 0/32 | 0% S/R | -£32.00 LSP – W&P 4/32 | 12.5% S/R
Only one of the last 75 horses aged 11yo+ to have run in a G1 at the Festival have won (Moscow Flyer)
Horses aged 10yo+ in G1 hurdles at the festival are 0/48
As already mentioned, Faugheen is an 11yo and the age stats are most certainly against him…
The defence…
He's won 2 of his 3 starts over 3 miles, including the Punchestown Stayers Hurdle last April. He's actually only lost one of his seven starts over 2m3.5f+ and that was when falling last time out behind Apples Jade. He's also two from three at the track and we know the hill holds zero fear for him.
Conclusion…
Personally I just don't like backing the older legs in the Grade 1 Festival races, they rarely win and as always sentiment more often than not leads you to the poor house. If he pulls it off then fair play and I'll be one of the first to stand and applaud him, he's been a great horse for us National Hunt fans and I wouldn't begrudge him the win…but he's got a fair 'old' job on his hands…
.
4 – LOSTINTRANSLATION and the 'yet to record at least 4 career wins' JLT Stat…
All previous eight winners of the JLT had recorded at least four previous career victories prior to landing the race…
The JLT Novices' Chase is still a race in it's infancy, with only eight renewals currently on the board. However, the early evidence on the trends front looks very strong and very much suggests that it's a race for those horses that have already proven that they 'like to win'.
By that I mean all eight winners have proven their desire to get into the winners enclosure on multiple occasions, with all eight previous winners having recorded four or more (UK) career victories.
Those that come into the race with less than four career wins on their CV have returned the following…
0/22 | 0% S/R | -£22.00 LSP – W&P 2/22 | 9% S/R
The fact only two have even placed is what makes me think this stat is going to prove to be a solid one for the race once we've had a few more renewals to properly analyse the race.
The problem with Lostintranslation is that he, to date, has not proven to be one of those horses that has a healthy desire to get himself in the winners enclosure more often than not. With a career record of two wins from his ten starts, he seems to regularly like to find at least one too good for him and in relation to previous winners of the JLT, that's not a good sign.
The defence…
He jumps for fun (most of the time) and he won the Dipper on New Years Day in impressive fashion, storming up the hill to defeat the current JLT fav Defi Du Seuil. He is very much a chaser that still holds immense potential.
Conclusion…
I rate him highly, very highly, and have done since his Novice Hurdle days and in fairness his win ratio/number of wins is likely to be the only negative against him when I draw up my final figures for the race.
I'd be lying, however, if I said that those lack of career wins didn't concern me a touch and I do suspect there may be at least a couple with a stronger profile for the race…
.
5 – PRESENTING PERCY and the 'didn't run in a Graded Chase last time out' Gold Cup Stat…
The last 21 Gold Cup winners ALL had their last start before winning the Gold Cup in a Graded Chase…
…and as we are all aware, Presenting Percy had his tune-up in a Hurdle race.
The record of those horses that DIDN'T run in a Graded Chase last time out is…
0/62 | 0% S/R | -£62.00 LSP – W&P 4/62 | 6% S/R
If you look a bit deeper you see that…
20 of the last 21 Gold Cup winners ran in a G1 or G2 Chase last time out
Those that did NOT run in a G1 or G2 chase LTO are a paltry 1/94
There is no getting away from the fact that Presenting Percy has had an 'unusual' preparation for his Gold Cup tilt, it's there for us all to see and it's an odd one, pure and simple.
The defence…
He's won comfortably at the last two festivals and clearly loves the place, when it comes to 'festival form' it's hard to knock him.
Conclusion…
He's taken an extremely unconventional route to the Gold Cup and it's hard to bring yourself to be backing a horse for Gold Cup glory when you've not seen it over fences in it's first season out of the novice ranks, even more so when his competition have been scoofing up the regular Gold Cup 'trials' and 3m Grade 1's. I won't be 'surprised' should he win, he's clearly a high class animal, but there's going to be at least a couple that hold a stronger profile for the race and I'd be happier siding with them…
.
NTF Cheltenham Festival Service – Doors now OPEN!
I will be covering around 22 of the top races from the 2019 Cheltenham Festival as part of my NTF National Hunt subscription service, using my tried and tested NTF Race Trends assault tactics.
I know there are a number of you who want to be on the NTF service for Cheltenham Festival week so this is your chance.
Full details are available on this page.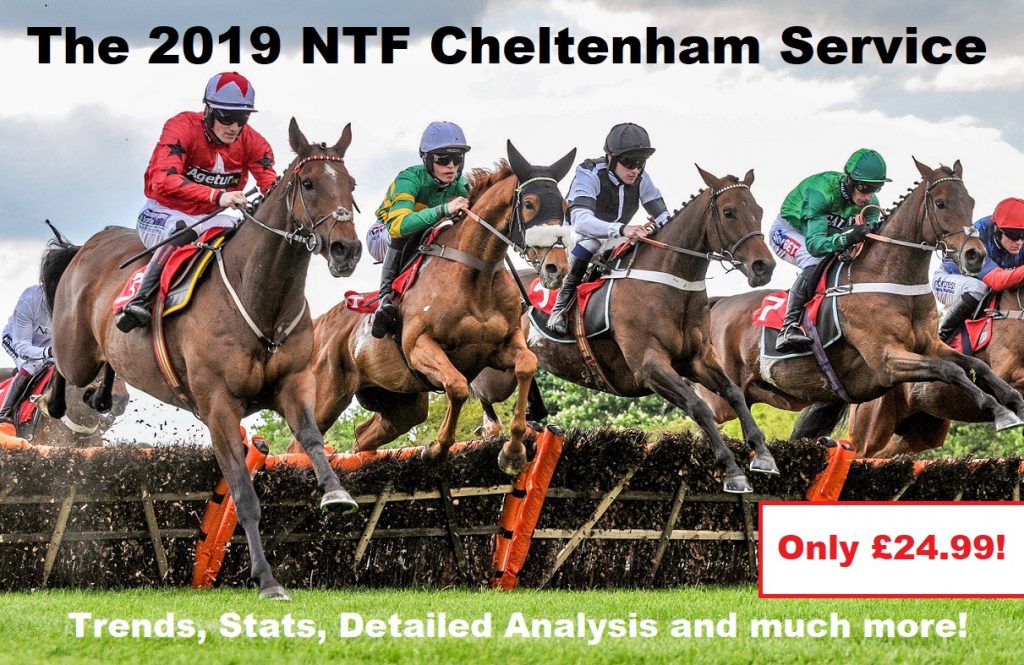 Ben (NTF)
14 responses to "Five Cheltenham Festival stats that will need to be broken…"