20
Feb

What we learned from the weekend: 16th, 17th & 18th of February…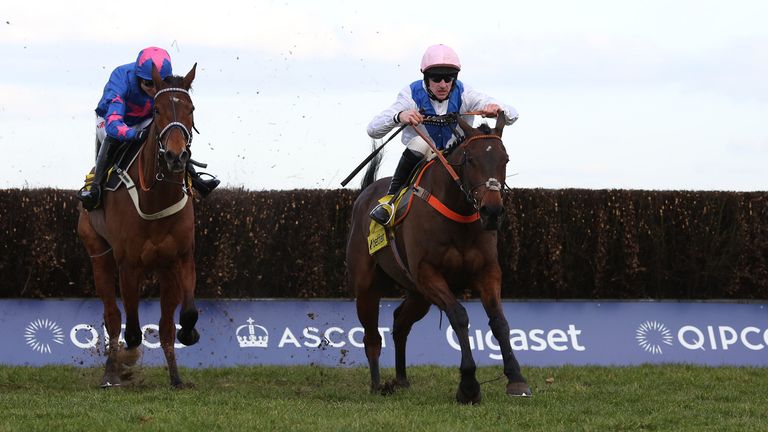 Waiting Patiently continues his rise up the ranks…
Only three weeks to go until the 2018 Cheltenham Festival.
Not sure where the first seven weeks of the year has gone (!?!) but here we are. Three. Weeks. Away. The Cheltenham beast is firmly on the horizon.
As is to be expected there were a smattering of festival contenders out last weekend. Some were dazzling us with their talents as they (possibly) tuned themselves up for March (Waiting Patiently), some were unexpectedly tossing their hat into the G1 Championship ring (Elgin) whilst others were digging deep to prove they maybe still have something special to offer on the big stage (Our Duke). It's all part and parcel of the puzzle and it's exactly why we love this game!
It wasn't just Cheltenham preparations that were in full swing last weekend, however, there was also a bit of an Aintree Grand National trial up at muddy Haydock and that, along with some Cheltenham thoughts, form the basis of this weeks 'What we learned from weekend' post…
What we learned from the weekend: 16th, 17th & 18th of February…
1. Our Duke finally got his season up and running in the Red Mills Chase…
After two relatively uninspiring efforts this season, where he finished a well beaten fav both times, last season's Irish National winner finally got himself back in the winners enclosure at the third attempt, holding off (the strangely campaigned so far this season) Presenting Percy in an absorbing battle down the Gowran home-straight.
In the aftermath of that victory he saw his odds contract into single figures for the Cheltenham Gold Cup and suddenly he was a live player again.
But is he really…?
The 8yo clearly holds plenty of talent, and there is no doubt he's got a fair old engine under the bonnet, but his tendency to whack a couple of fences along the way is becoming a bit of a worry and those errors, that are now creeping into his game more and more, could really find him out at Cheltenham.
That, however, is not my main concern regarding his Cheltenham Gold Cup hopes. No. For me the main worry is the fact he had his warm up for the big race at Gowran Park.
Horses going on to the Festival having had their last start before Cheltenham at Gowran (in the past 10 years) are a rather miserable 1/102 | 1% S/R | -£93.00 LSP – W&P 16/102 | 16% S/R – 84% below expectation
Even more worrying is the record of those horses when their Festival run is at G1 level…
0/58 | 0% S/R | -£58.00 LSP – W&P 7/58 | 12% S/R
For whatever reason Gowran Park has been a pretty disastrous warm-up track for Cheltenham Festival hopefuls!
To throw further shade on the horse's Gold Cup chances is the fact that his regular pilot, Robbie Power, has, unsurprisingly, decided to pair himself with Harrington's other Gold Cup runner Sizing John, meaning that Our Duke will have the assistance of Noel Fehily in the saddle for the first time.
Now the issue here isn't Noel Fehily, far from it, he's easily one of the best in the business at present, his talents are in no way up for dispute here. What does give me cause for concern, however, is the following stat…
15 of the last 15 Gold Cup winners had been ridden at least twice by their jockey prior to winning the Gold Cup
Those horses that were being ridden for the first or second time by their pilots are…
0/45 | 0% S/R | -£45.00 LSP – W&P 8/45 | 18% S/R
The heat of the Gold Cup battle is obviously no place to be getting to know your horse, it's not the place to be figuring out the likes and dislike of the animal, how it likes to attack it's fences, how best to correct it when it's meeting a fence all wrong, yadda yadda yadda…
These things need to have been ironed out prior to tackling one of the toughest contests the sport has to offer, the stats suggest it's not something that can be worked out as you go along (the Gold Cup challenge) and it's an added unknown that just complicates the Our Duke picture further.
He's a fine horse but I can't help but feel he's more of a Punchestown Gold Cup player than a Cheltenham Gold Cup player…
The Gold Cup challenge looks a tough one for Our Duke…
.
2. Blaklion kept himself ticking over for a tilt at the National in the spring…
Well I say 'ticking over' but perhaps I mean 'slogged his guts out over a marathon trip in atrocious conditions from a lofty mark'. Yeah that's what I meant, that one.
The campaigning of the current Grand National favourite has somewhat perplexed me this season. I get the Twiston-Davies thinking of that if they are fit they should run, you never know when they may pick up an injury and end up missing future targets when they could have been out on the track winning races, instead of being stuck in their boxes waiting for something further down the line…
But sometimes exceptions need to be made. Sometimes you do need to be a bit smarter and just take the route of less resistance, the route that gives you the best chance of turning up on the big day with your best possible chance of winning, especially when that big race is a handicap and even more so when that handicap is the Aintree Grand National. If it's a non-graded race that is your ultimate goal, such as the Gold Cup or Champion Hurdle or QMCC, then fine, I agree, get them running, what happens to their handicap mark in the process is of absolutely no concern, if they are fit and a race suits then get them in it. No issue there.
When it's an attritional race like the National and you already know your charge handles the fences like dream AND he's been dropped to a mark that looks absolutely stand-out for the National (Blaklion was dropped 2lbs to OR 153 after his second in the Charlie Hall, a mark only 1lb higher than his 4th in last years National) then sometimes you just need to sit back and go 'OK, lets forsake the Becher Chase, we know he handles the fences like an absolute good 'un and if he romps home like we think he will he's going to get hammered by the handicapper and that's likely to effect his National chances in the spring' 'whilst we are at it we should only really consider the Grand National Trial at Haydock in February if the ground isn't riding like an absolute bog, the last thing we want is for him to trawl his guts out over 3m4.5f with a massive weight on his back, from a mark that is hard for a horse to win ANY handicap from, and for him to be coming to the final two fences out on his feet and hardly able to lift his legs to get over the obstacles'…
Unfortunately that is exactly what Twiston-Davies has NOT done with the horse!
For starters he's taken in the Becher, he's romped home in that and he was hammered 8lbs for the victory, putting him on a mark of OR 161.
That means he has to produce a Many Clouds like performance to win the National. In fact he has to better that performance. Many Clouds carried 1lb less (OR 160). If you look at the last 20 Nationals and look at the record of horses carrying OR 158+ you get the following…
1/27 | 4% S/R | -£1.00 LSP – W&P 3/27 | 11% S/R – 37% below expectation
Only 3 of the 27 have managed to even place…
And just think that with a bit of smart campaigning Blaklion could well have been running in the race off a mark of around OR153!
153 would have been prime! Horses running from OR 154 or above in the past 20 years are 2/89 | 2% S/R | -£29 LSP – W&P 9/89 | 10% S/R – 55% below expectation, but he would have been BELOW that mark!!
And that's all without considering the slog through the Haydock quagmire he's just experienced…
Now don't get me wrong, I'm not saying Blaklion CAN'T win the National, not at all, but his chances of success, for me, have been significantly damaged by the campaign he's embarked upon this season.
Just imagine what kind of chance he would have had in the Grand National had they got him in on the mark he found himself on after the Charlie Hall (OR 153) AND avoided the absolute slog he endured through the Haydock trenches…
Can Blaklion still win the National after the way he's been campaigned?
.
3. Waiting Patiently confirmed himself as a top level performer…
…and he did it in style.
Ruth Jefferson's 7yo rocked up in Grade 1 company for the first time on Saturday and duly made the transition in his usual wait-wait-pounce fashion. This was the Flemensfirth gelding's ninth start and his seventh straight win on the bounce, the last six of those wins coming over fences, where he remains unbeaten.
Talk now naturally turns towards his Cheltenham Festival target; the Ryanair Chase.
He's a well supported 7/2 shot for that race and he deservedly sits near the head of the market.
His trainer, however, states that he's far from certain to go to the Festival and you know what, that might not be a bad idea.
There is race trend for the Ryanair that jumps out at me and Waiting Patiently does not pass it…
12 of the 13 Ryanair Chase winners had previously WON at the track
That trend becomes more interesting when you look at the mass of runners that have tried to win the race when lining up in the Ryanair without a prior Cheltenham victory to their name…
1/71 | 1.5% S/R | -£66.50 LSP – W&P 19/71 | 27% S/R – 84% below expectation
That's a huge amount of runners that have come unstuck in the Ryanair when trying to win it without a previous course victory to their name, the fact that the angle is 84% below expectation tells you that this is a solid stat, it's one you really want on your side.
Not only, however, has Waiting Patiently not won at the track he's also yet to even RUN at the track. Those horses that lined up in the Ryanair Chase without previously experiencing the fences are a rather limp 0/14.
Not quite as damming as the 'yet to win at the track' stat but it again goes to show that track experience is certainly a bonus.
Avoiding the Ryanair this year could, however, have implications for his future chances of Festival success.
If, say, he is to go down the Gold Cup route next term then that's another race where Cheltenham experience is vital.
ALL of the last 20 Cheltenham Gold Cup winners have had at least one start at the track prior to winning their Gold Cup, those that turned up in the race without at least one previous taste of the course on their CV's are 0/29, 2p. (for the record that's another little negative against the chances of Our Duke this year…)
Now clearly Waiting Patiently could avoid the Ryanair Chase this term and then find a race at Cheltenham next season as a warm-up for the Gold Cup. The only issue there would be that the Cotswold Chase is probably the only real option for him and runners in that race have had a pretty terrible recent Gold Cup record (I covered this in depth in one of my January posts).
So what to do?
I guess there's an argument to be made to run him in the Ryanair Chase this year and pick up the track/festival experience that will set him right for next year's Gold Cup, regardless of where he finishes in the Ryanair Chase. Both Imperial Commander and Don Cossack took in the Ryanair Chase the year before their Gold Cup victories and it's far from a bad race for future Gold Cup prospects to have a spin in. Hell Waiting Patiently is so talented that he could well scoff at the stats anyway, his lack of a track run could easily be nullified by his sheer class and just because he doesn't pass a couple of stats doesn't mean he can't win the race…but from my own punting perspective the lack of that all important Cheltenham Chase victory does worry me.
The great thing for Ruth Jefferson is the fact she has the luxury of making this choice. It's also refreshing to hear a trainer say that Cheltenham isn't the be-all and end-all, there ARE other races and she won't comprise the horse by being rail-roaded into going to Cheltenham… just because it's Cheltenham. I like that, there is no need for her to rush into the decision off the back of the Ascot win, sometimes you need to let the dust settle before confirming plans…
Can Waiting Patiently win the Ryanair without a track win already on his CV?
NTF Cheltenham news…
I've opened the doors on my NTF Cheltenham Festival service early this year so that Cheltenham members can take advantage of all the early trends and race analysis work I do for full NTF members.
Already in the NTF members area is early analysis for the Gold Cup, the Ryanair Chase and the World Hurdle and I'll soon have some further early race analysis as well as plenty of informative trends and stats posts, all of which will be available to members of the Cheltenham service.
Full details can be found on the following page…
I'm also currently giving away a FREE Cheltenham stats guide 'Ten essential Cheltenham Festival stats you NEED to be aware of…' and you can pick that guide up from the following page…
Now is the time the Cheltenham analysis really steps on a gear…
Ben (NTF)
10 responses to "What we learned from the weekend: 16th, 17th & 18th of February…"