13
Dec

What we learned from the weekend: 10th & 11th of December…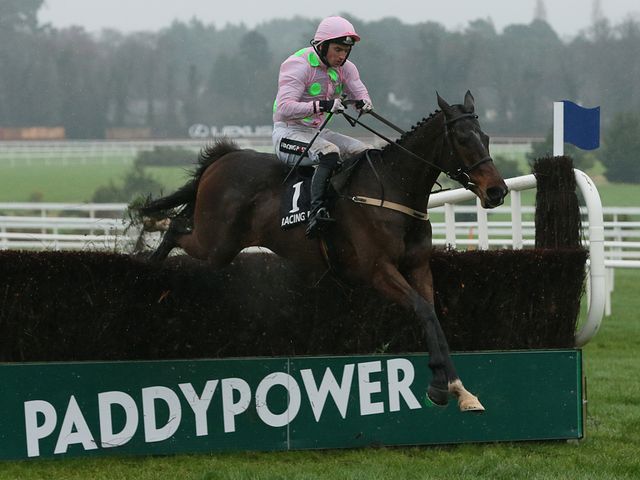 Douvan. Still has all four legs pointing in the right direction!
What we learned from the weekend?
That it's going to take something very special to beat Douvan this season!!
Willie Mullins' 6yo won as he liked on Sunday and once Paul Townend engaged second gear the race was over. A simple flick of the switch and the race as a contest was finished. Easy. Job done.
He actually equaled his career best RPR figure with that stroll in the park and fired in a Proform speed figure just 2lbs below his best, without really having to put in all that much effort.
He's quite simply a frightening prospect.
It wasn't just the Mullins monster that was catching the eye over the weekend though so let's crack on with this week's…
What we learned from the weekend: 10th & 11th December…
1. Djakadam added another notch to his Irish bedpost…
Djakadam is a horse I really like. Mainly because he's a horse I feel I've got a good read on but also because he's a damn fine animal.
On Sunday he landed his second John Durkan Chase, under what I would class as 'prime conditions' for him.
If you concentrate only when he is…
Racing in Ireland in races worth 50k or less to the winner and running in the December to March period you get a fantastic form line of U1111111 (7/8 – all 7 career wins)
He's also now 1112121 (5/7) in Irish Chases compared to 3F2F28 (0/6) in UK Chases.
The facts are that he's a much more reliable proposition on home soil.
Clearly his UK form shouldn't be crabbed, he does have two Gold Cup seconds on his CV, but the bare facts are that he keeps on failing to deliver when on his travels.
Does that make him a bad horse? Certainly not.
Does that mean he's unlikely to ever win when travelling over the Irish Sea. No, not at all.
It does mean, however, that I strongly favour backing him in Ireland and opposing him when he's sent on his travels.
I mentioned his form figures on Twitter after he won the John Durkan and a few people compared him to the magnificent Beef or Salmon, another of those Irish chasers that didn't seem to relish his trips across the Irish Sea (UK form of F4P20U203 – 0/9) and that's more than a fair comparison. Both fantastic beasts on home soil but never really managing to fully back that up on their travels.
Djakadam may well land a race over here at some stage in the future, I for one wouldn't begrudge him that in the slightest, indeed I would love to see that happen, as I said before I'm a big fan of his, but from a punting perspective it's highly unlikely he'll be carrying my money when/if he breaks his UK duck, his form figures stack heavily towards him being a safer investment on home soil.
Djakadam's form figures suggest he may never get a UK notch on his stable bedpost…
.
2. The most interesting horse to take from the Caspian Caviar Gold Cup may have been one that didn't even complete…
…and that horses name is…
KING'S ODYSSEY
Evan Williams' 7yo came down at the 12th fence on Saturday, just as the race was starting to hot up and approach the business end. He had made an error two fences before departing but he still looked full of running when making a slithering mistake and he just couldn't find a leg to save himself; I don't think it's too much of a stretch to say this effort has to go down as a shade unlucky. To be fair to the horse he had jumped well enough in the main up until those two errors and his jockey Daryl Jacob had yet to even contemplate asking his mount for any kind of effort.
With only five chase starts to his name there should still be plenty more to come and there's a good chance he'll make amends for this spill whilst the ground stays testing. He's 2 from 2 on heavy ground and he was clearly relishing the rain softened ground on Saturday, travelling well within himself before his unfortunate race ending blunder.
He wouldn't be a horse with a massive amount of wiggle room from his current mark of OR 147 but with a clear liking for Cheltenham he's worth keeping in mind for the G3 handicap run at the track on New Year's Day or the similar G3 handicap run on Trials Day at the end of January. Both are over the same C&D as the Caspian Caviar and there is a high chance he will get the testing ground he so desires.
Keep an eye on the King returning to Cheltenham in the near future…
.
3. Vaniteux needs to be kept away from Cheltenham…
Nicky Henderson's 7yo is clearly a talented beast and he was, yet again, well backed to do a job in the 2m handicap chase run at Cheltenham on Saturday.
The form book now shows, however, that he didn't do the job. It also now shows that was the seventh time (from seven starts) that he's failed to convert at Cheltenham.
Most of those 'failures' he's come into the home-straight looking a serious danger before just not finding anywhere near enough to go on and win.
His form at Prestbury Park now reads 32228U3 and although that's far from poor form it's more than a suggestion that he just doesn't appreciate climbing that damn hill.
Away from Cheltenham he has form of 531141213 and his wins have come at the much less testing tracks of Doncaster, Kempton & Sandown. Sure, Sandown has an uphill finish but the track as a whole isn't as near as testing as Cheltenham.
OR 154 (his chase mark) should be a winnable mark for him (may get dropped for this effort), his neck second to Ar Mad last season's certainly suggests he's better than a 154 horse, but the signs certainly seem to be pointing to future success coming away from Cheltenham.
Aim Vaniteux away from Cheltenham and he surely takes advantage of his mark before too long…
Ben (NTF)
Stats sourced from the excellent Proform Database
2 responses to "What we learned from the weekend: 10th & 11th of December…"