8
Nov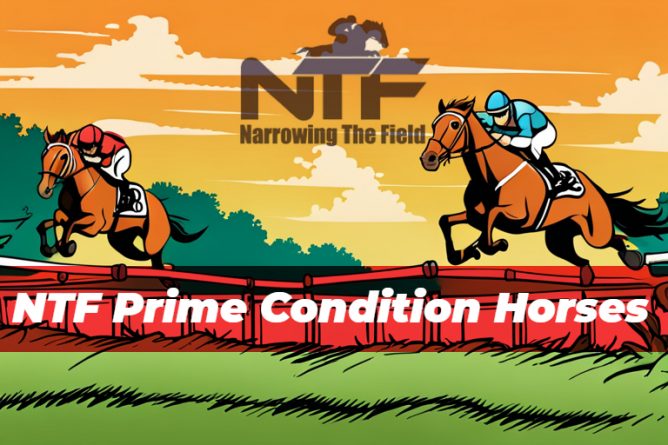 Today's Prime Condition Horses (08/11/23 Qualifiers)
Similar to the LTOW's that I posted on the Free Blog on Monday, Prime Condition Horses (PC) also feature heavily in the NTF Members Stats Sheets (available most days of the week)…
The Prime Condition/Noted horses section of the NTF Stats Sheets are where I highlight… well… horses that are set to meet with their Prime Conditions in the race they are entered to run in!
A simple and highly effective method… albeit you do need to put plenty work in to uncover the Prime Condition horses in the first place…  
Like the LTOW Angles, I also have a mountain of Prime Condition horses (100's of them… possibly even more than that!) plugged into my racing databases and I use the Stats Sheets to highlight horses running under their Prime Conditions to full NTF Members…
A horse's Prime Conditions can take on many shapes and forms… and you still need to take others things into consideration… but it is a method that has served me well over the years… and I expect it to continue to do so for many years to come…
Here are the qualifiers from the NTF Members Stats Sheet for today (Wednesday 8th November)…
---
Prime Conditions Horses: Qualifiers for Wednesday 8th November
MUSSELBURGH
1235 – RICKETY GATE
PC = >2m3f | DSLR >30 | Carrying 10-07 or less = 11231 (3/5, 2p – all 3 career wins)
Additional Notes… Oct-Nov form over 2m4f+ = 1161 | Musselburgh Hurdle form = 31 (1/2, 1p)
***
215 – MAGIC MIKE
PC = C5 Hcps | 2m1f or less = 1385113 (3/7, 2p – all 3 career wins)
Additional Notes… P Robson | C3 or less Hcp Chase & Hurdles | DSLR 11-42 | SP 8/1 or less = 9/21 | 43% S/R | +£22.01 – W&P 16/21 | 76% S/R
---
Once again…
Both might win… one might win… they could place… or… both could finish un-placed!
What I can say for sure, however, is that both, to my eyes, are running under their Prime Conditions… conditions both horses have gained ALL of their previous career wins under…
By the way, the 'Additional Notes' are taken from the 'Summary' section that is included in all NTF Stats Sheets… I think it's relatively self explanatory what that section of the sheets does 😐
Best of luck if you play today…
And remember… you get full access to the NTF Stats Sheets on the main NTF Members Service…
The Stats Sheets are posted the evening before the next day's racing, so plenty time for members to process the info 👍
Cheers – Ben (NTF)
…and if you missed the latest 'Three to Follow..' post you can get that HERE>>>
…and talking of MAGIC MIKE… here's a clip from one of the films… Nah!! Only kidding…
…but here's one of the songs from the soundtrack… proper tune this one…
6 responses to "Today's Prime Condition Horses (08/11/23 Qualifiers)"