7
Nov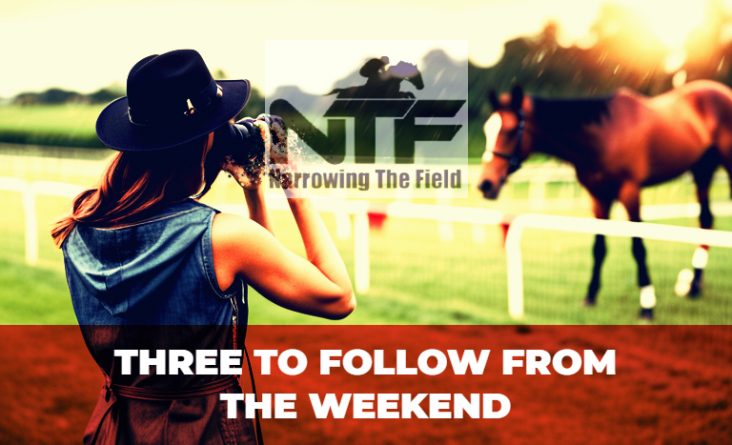 Three to follow from the weekend: 3rd, 4th & 5th November…
A disappointing 4-runner turn out for this year's Charlie Hall Chase at Wetherby… although that didn't stop the race churning out a thrilling finish and a beaten odds-on fav – BRAVEMANSGAME – in the process…
In defence of Bravemansgame he was taking on a race fit rival in the shape of GENTLEMANSGAME and one he was also giving weight to… the winner Gentlemansgame also had some solid form in the book from the limited number of times we had seen him… and had Bravemansgame not made his mistake at the last the result could have been very different… for all I'm in no way taking anything away from Gentlemansgame… he deserves plenty credit and praise for the win…
And whilst the first two home took most of the headlines, I do want to touch on one of the other runners in the race before I move onto this weeks 'Three to follow from the weekend'… and it's a horse I've talked about plenty here on the blog…
Yep, it's me old mucker AHOY 'can't jump/won't jump' SENOR… who never landed any semblance of a blow and finished a disappointing PU…
I've said this plenty times before about the Lucinda Russell trained 8yo… and I'm happy to say it again… AHOY SENOR just does NOT jump fences well enough to be a serious player in the top races, whether that is jumping out to his right or left… or just making an ugly shape at too many of his fences… he just doesn't jump well enough and I just don't get the love for him in the chasing division… I think for some reason he's become a 'fan favourite' and he starts at a price far too short than what his ability (over fences) really warrants…
He won a poor Cotswold Chase last season mainly because none of the others wanted to, or were able to, win the race, and I really think connections need to go back hurdling with Ahoy Senor and try and make him into a Big Bucks type character…
He's clearly got a massive engine in him, that is abundantly obvious, and he'll be able to use that engine to much better effect over the smaller obstacles, where his scrappy jumping won't be anywhere near as much of an issue… he could just ping away off the front end over hurdles and grind the opposition into submission… he'd be a massive player in the Stayers Hurdle at Cheltenham… they quite possibly wouldn't see which way he went…
And aside from all that, Ahoy Senor also needs his first run back off a break… with his form off a rest of more than 42 days now reading… PF5U2 (0/5, 1p)... so again, he really shouldn't have been 3/1 second fav in the Charlie Hall… despite it being only a 4-runner race…
If Ahoy Senor does have Prime Conditions then I suspect it would be the following…
LH tracks | DSLR <43
…where he has form of…
213121111 (6/9, 2p – all 6 career wins)
…so come on guys… forget his chasing career and get Ahoy Senor back over Hurdles… glory days are waiting from him over the smaller obstacles…
Now that's off my chest… it's time for…
Three to follow from the weekend: 3rd, 4th & 5th November…
.
 ARE YOU WISE TO THAT (JJ O'Neill)
2nd in a Class 2 Handicap Hurdle – 3.15 Ascot (Saturday 4th) 
I expected plenty better than this from the 6yo but he jumped out to his left in this contest and he just never really looked happy on this right-handed track (this was his first run going this way round) and he seemed to be taking off on the wrong leg at most of his fences.
He lost ground at a lot of the obstacles but made it up relatively easily between them, suggesting he's still got plenty juice in his current mark of OR 125… but the constantly jumping out to his left took its toll and he could just never land a blow.
He's worth forgiving this run due to him not handling the RH track and he's worth keeping on the radar for when he goes back to a LH track.
.
 ALTOBELLI (H Fry)
4th in a Class 3 Novice Handicap Chase – 1.30 Ascot (Saturday 4th) 
The winner – Knickerbockerglory – was able to control this from the front whilst ALTOBELLI was held up out the rear and had to make up plenty ground to try and lay down his challenge. That ultimately made life difficult for him, especially on seasonal debut and on Soft ground, but he was well clear of the 3rd horse (8.5L+ back to the rest of the field) and this was a satisfactory seasonal return…
He looks like he should be able to pick off something at least half decent from his OR 132 mark (went up 1lb for this effort) and with what is still an unexposed profile to o to war with (this was only his 4th Hurdle start and first in a handicap)…
.
 YES INDEED (JJ O'Neill)
3rd in a Class 3 Handicap Chase – 3.40 Carlisle (Sunday 5th) 
The 6yo is yet to open his account for Jonjo O'Neill since moving over from France (now 0/9, 4p over here)… but he looks well-handicapped to me off OR 127, even more so when you consider he started life in this country off a mark of OR 142…
He's looked much better since the wind-op he underwent last season (4-2-2-3 since then), and he should be opening his UK account before too long… some headgear may also be beneficial to him (although it wouldn't be a deal breaker)…
.
---
The above three horses, as always, were taken from my 'Weekend Notes' report that went to full members today…
Taking in-depth notes is a vital part of how I operate… it has been for many years… it's the one main piece of advice I'd give to anyone wanting to take their punting more seriously…
'do your homework, take notes, store those notes so they are available to you when the horse in question is running next… then rinse and repeat every week'…
Although I know not everyone has the necessary spare time required to take the details notes that make the process so worthwhile…
And that's why I make sure I provide my full NTF members with my own in-depth notes every single week of the National Hunt service…
Indeed this week I posted the full notes to members of the FREE NTF Mailing list as well…
So if you are on that list and haven't yet checked your emails… you should absolutely go do that NOW!
And if you are NOT YET on the FREE NTF list and want to get your hands on the full EIGHT-PAGES of the latest NTF Weekend Notes, just slide your name and email into the box below and you'll be sent a link to download the notes (and three other fantastic FREE guides!)… 
Cheers – Ben (NTF)
p.s. You can get last weeks 'Three to follow…' post HERE>>>
4 responses to "Three to follow from the weekend: 3rd, 4th & 5th November…"