9
Jan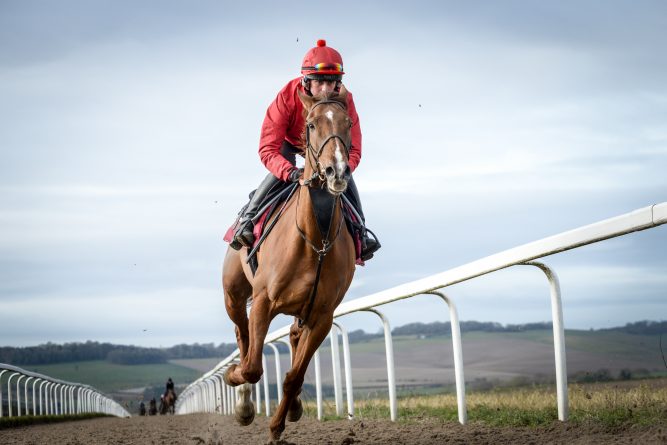 Happy New Year everyone!
Well maybe not 'happy', we are, after all, back in lockdown…😐
…and losing National Hunt meetings left, right and centre due to the weather…🥶 (although somehow all three jumps cards today have managed to pass their morning inspections!)
I suspect we will continue to see meetings fall to the weather during this cold-snap so with that in mind I thought I'd reach out for a bit of help from an All-Weather expert, see if I can maybe expand things here on the free blog for a bit.
The All-Weather expert in question is a man named David Punshon. I've followed David on Twitter for quite a while now and I've been impressed with what I've seen, he clearly knows his All-Weather onions! (whereas I almost certainly do NOT know my All-Weather onions!!)
This may be a one-off blog post, it may become regular, it may be the odd post here and there…there is nothing set in stone for now but I reached out to David the other day, asked him if he fancied doing a guest post here on NTF, he said yes…and here we are!
David compiles his own figures for the All-Weather and mainly looks at Speed and Pace, indeed he currently produces analysis for a Newmarket based Jockey and Trainer, again based mainly around the early pace make up/ pace maps etc and what has shown decent final pace figures.
Before I drop you his race coverage for today here is a brief intro from David in his own words…
"I have been punting for almost 30 years but probably only the last 5 or 6 years seriously and successfully, after I became good friends with a serious Punter/Owner who asked me to analyse races on their behalf based mainly on the pace in a race and speed.
I used to be mad about Jumps racing before reading one of Andrew Beyers books in 2014 and have since predominantly concentrated on Flat Racing especially the AW.
My Ratings consist of many factors. My Main Rating is the 'Today Rating' which is based on speed/pace/trainer/jockey form lately and together/weights and today's condition.
I generally look at several other factors along with this rating such as CD Speed (is it recent etc) Track/Distance Final Speed.

"
So let's crack into the analysis for today, with David deciding to cover the 2.34 from Chelmsford, a Class 3 7f Handicap…
---
SATURDAY 2:34 CHELMSFORD 7F CLASS 3 HANDICAP (0 TO 90)
LIKELY EARLY SPEED RUNNERS (MOST LIKELY TO RUN IN THE FIRST WAVE)
Stall 5 – ALMINOOR is 3 from 6 beating 79% of his rivals, he has only been out of the placings once and that was when trying to make all at Lingfield (a very tall order) finishing 4¾L behind a Brains who is 3lbs better off at the weights. He has led or raced prominently on all 6 starts and made all/virtually all for all 3 wins including over CD when winning a 15 runner Class 4 by 2L although that form does look questionable with only a 79 rated winner to come from 27 subsequent runs.
Stall 7 – EXTRODINAIR is 3 from 9 here and 2 from 4 over CD, he does generally like to go forward and has made all over CD but it isn't a given as he can also run in the second phase of runners and did also win over CD when tracking the leaders.
POSSIBLE EARLY SPEED RUNNERS (POSSIBLE CONTENDERS TO RUN IN THE FIRST WAVE)
Stall 1 – BRAINS has quite clearly not been able to run on his merits recently anchored at the back of his fields over the incorrect trip. All 5 of his career wins have come over 8f with the last 4 all coming from the front. He is now below his last winning mark but is 0 from 5 over 7f.
Stall 8 – ETON COLLEGE was a typically highly tried two-year old for Mark Johnston winning twice when making all over 6f on turf. He only raced once on the AW as a Juvenile and that was here when finishing 1l third of 6 over 6f when tracking the speed. He was then absent for 352 days returning to the track in September 2020 with a cosy win over 7f at Leicester when racing just behind the leaders worryingly though he returned 96 days later over the straight 7f at Newcastle and was beaten almost 8L when racing prominently. That was a Class 2 Handicap but it is worrying how quickly he was beaten but interesting that Mark Johnston persists with his as a four-year old.
SPEED TRACKERS (LIKELY SECOND WAVE RUNNERS)
Stall 3 – PISTOLETTO looks most comfortable tracking the speed and is a very intriguing runner for John Ryan, he was bought from Aiden O'Brien in August 2020 for £60,000. He was highly tried for Ballydoyle and unusually was a debut winning two-year old for them, in fact winning his first 2 races for them and then went off favourite for a Group 3 at The Curragh but was soundly beaten as he was for the rest of his time with Ballydoyle bar a neck second of 12 in the Group 3 Cornwallis Stakes. He then made the usual quiet start for this yard but did manage a 1½L third of 7 over CD in November when tracking the speed and travelling well for 5f before making a tame effort to win. He drops in to 0 to 90 Company for the first time.
Stall 6 – TALDEEL is 2 from 6 on the AW winning over the straight 7f at Newcastle and over 8f at Kempton. He has also won once over the straight 7f at Newmarket. He tracked the speed for both of the wins over 7f. He returns from 142 days off the track but his last win at Newcastle came after 247 days off the track. Personally, I would be worried by the suitability of this sharp track with him being beaten almost 16L in 2 runs here and he remains 7lbs above his last winning mark.
MID DIVISION (LIKELY TO RUN IN THE THIRD WAVE)
Stall 2 – FURTHER MEASURE is having his first run for Sylvester Kirk since leaving P Bary in France where he was 1 from 5 winning on soft ground over a mile when racing in mid-field. He is 0 from 3 on the AW, 0 from 2 on polytrack. He is very well bred out of a Group 1 winning Mare over 8f on turf and by a multiple Grade 1 winner from 9 to 12f on turf.
HELD UP OR UNPREDICTABLE RUNNERS
Stall 4 – REVOLUTIONISE won twice over this trip in January 2020, latest at Kempton off a 1lb higher mark and 20 days earlier over CD and both times he raced at the rear. He then struggled twice on turf over 6f before returning to the AW for 2 poor runs, over CD and at Kempton in October. He was then rested and had a wind operation before returning in December with a creditable 3L second of 9 over CD. The rider dropped the reins in the final furlong and second and third finished 3½L in front of the 91 rated fourth. Interesting runner with Jason Hart back in the saddle as he is 2 from 2 on this runner.
EARLY PACE THOUGHTS – POSSIBLY CONTESTED
Alminoor from stall 5 and Extrodinair from stall 7 are extremely closely matched on early speed figures. Extrodinair has just shaded it with an 11.73 sec/fur early sectional average recorded when making all from stall 2 over CD in August compared to Alminoor's 11.76 sec/fur when making virtually all from stall 14 over CD in October.
FINAL PACE THOUGHTS
It is also closely matched on My Final Pace Ratings. Revolutionise returned last time out over CD with the best final pace rating of 82.21 after 2 poor efforts.
Brains has shown that he has plenty left in the tank lately running some quick closing sectionals.
Pistoletto has recorded consistently quick closing sectionals on his last 4 runs running a Final Pace Rating of 81.91 at this track over 8f
Tadleel did run a Final Pace Rating of 82.1 over 7f at Wolverhampton but has run 2 poor races at this track
RACE TOUGHTS
I would like to ignore Alminoor's latest run as he wasn't tried with once beaten when trying to make all at Lingfield. He was kept tight to that slow inner rail and 4 of the last 5 in that race all took the same path. He would be dangerous if allowed and easy time of it up front.
Eton College is a difficult runner to be confident about. He clearly has talent but also clearly has issues.
Brains will likely be seen in better light when stepped back up to a mile as will Further Measure who makes his stable debut.
Extrodinair clearly likes it here and looks especially comfortable here over this trip. He has won returning from longer breaks than this but he does however need a career best and holds no secrets.
I would be worried by the suitability of this sharp track for Taldeel and he remains 7lbs above his last winning mark.
The interesting runners for me are Pistoletto and Revolutionise with the market likely to be the best guide for the first named runner.
RATINGS

(The above is only the Final Pace LTO section of David's ratings, he actually uses a much deeper set of figures than the above when looking at a race – Ben )
I prefer to use Final Pace Ratings rather than raw closing sectional times as I find that raw times can be confusing. A perfect example would be to compare Pistoletto who run a closing sectional average of 11.12 sec/fur over 8f at Lingfield and Revolutionise who run a closing sectional average of 11.58 sec/fur over this CD. At first glance one would assume that Pistoletto possesses a much quicker finishing speed than Revolutionise but when you compare these times to the individual CD Par it shows that Revolutionise run his final sectional a good bit quicker than the CD Par for 7f at Chelmsford than Pistoletto run his compared to the CD Par for 8f at Lingfield.
My Final Pace Rating is based on a nominal value of 80 and I then use the time difference from the CD Par V Actual Closing Sectional Time then adjust it for the Finishing Speed %.
SELECTION: Unless money arrives for Pistoletto, REVOLUTIONISE would be my confident selection. He has won over CD, is 1lb below his last winning mark, is 2 from 2 for the returning Jason Hart, the yard have had 5 winners from their last 9 runners and is having his second run back after wind surgery for which the yard are 2 from 3.
---
PLENTY to get stuck into there from David and he certainly holds plenty of knowledge of the All-Weather game.
A big thanks to David for agreeing to guest post on here, certainly given my non All-Weather brain plenty to think about and hopefully given you guys a bit of a different take on things as well.
Stay safe out there and I'll hopefully be back on Tuesday with the regular weekly NTF Blog posts (What We learned From The Weekend).
Cheers – Ben (NTF)
You can follow David on twitter, where he occasionally posts up some of his All-Weather thoughts. His Twitter handle is… @AWAnalysis
18 responses to "Time for a revolution?"