21
Feb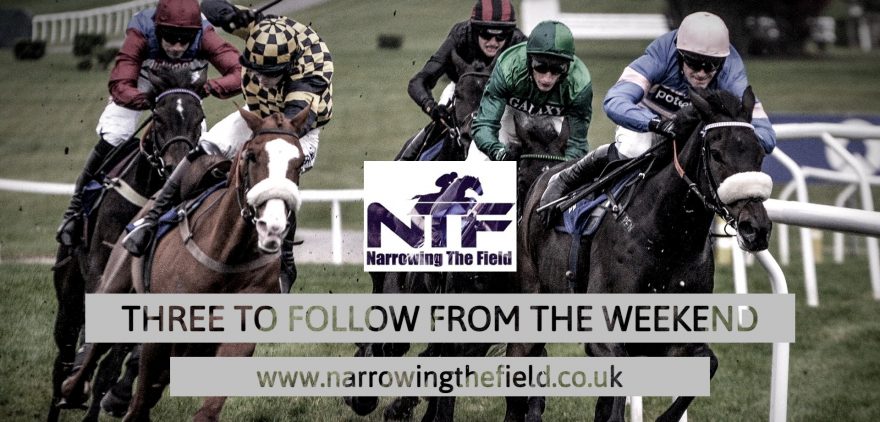 Three to follow from the Weekend: 17th, 18th & 19th February…
So… SHISHKIN… oof! That's a bit more what we've come to expect from him!
Wind-op… Tongue-Tie… step up in trip… job done 👌
Shishkin had been covered a couple of times in some recent PodBlast episodes and I'd mentioned each time that he's one I wanted to see run again before forming an opinion on (or I suppose reassessing my opinion of him would be more accurate)… his two runs prior to his Ascot Chase romp were extremely unsatisfactory (to say the least!)… on Saturday, however, he was MUCH more like the Shishkin we all know and love! 
On the figures front (Proform Speed Figures) he ran to a mark only 1 point below his very best, which comprehensively backs up the visual evidence we all witnessed in his 16L 'blow the opposition out of the water' run he fired in on Saturday at Ascot.
To further highlight how serious a run it was from Shishkin, second placed PIC D'ORHY ran to a career best chase figure (by a good margin) and equalled his best ever hurdle mark (which he gained when winning the 2020 Betfair Hurdle at Newbury)… and he was a yawning 16L back come the line! 🫣
The one question mark from the race for me was the run by third place FAKIR D'OUDAIRES… my main 'gripe' being that his positioning was all wrong, with his jockey having him wide throughout and causing him to cover unnecessary yardage, and he never realistically looked like he was going to get in a position to land any sort of blow. Even if he had been better positioned I doubt he would have beaten the Shishkin that effortlessly strolled through the race… but even still, I don't feel he was given the best opportunity to at least try and lay a glove on the Henderson horse. He came into the race with the least amount of questions to answers… but left it with the most…
Back to Shishkin though and the question now is can he repeat that performance at Cheltenham, with the Ryanair Chase almost certainly being his aim.
Here is how recent ASCOT CHASE winners (since race was shuttled up to its current distance) performed when/if going on to the Cheltenham Festival on their next start…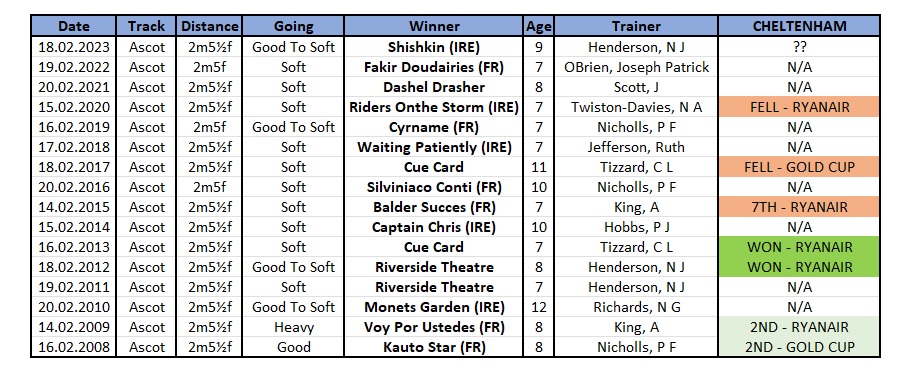 So perhaps a little surprising that only 3 of the last 9 actually rocked up at Cheltenham on their next start… none of that 3 winning and two of them falling (strangely enough both falling 3-out when still to play their full hand…)… prior to that the four previous Ascot Chase winners that had then gone on to run at Cheltenham had finished 2nd-2nd-1st-1st… one of which was the Nicky Henderson trained RIVERSIDE THEATRE… so he'll know exactly how hard (or not) he'll need to push Shishkin to keep him ticking for his Ryanair assignment…
Not the deepest amount of evidence to go on, with regards to Ascot Chase winners going on to the Festival, but it's at least another piece of the jigsaw to keep in mind…
I'll have plenty more Cheltenham Analysis to come over the next few weeks but there's still plenty of other racing going on that we can get stuck into (believe it or not!) and here's the latest 'Three to follow from the weekend'…
.
Three to follow from the Weekend: 17th, 18th & 19th February…
.FRONT VIEW
 FLASH COLLONGES (P Nicholls)
3rd in a C3 Novice Handicap Chase – 405 Kelso (Friday 17th Feb) 
It's perhaps a little surprising that this 8yo son of Saddler Maker is still a maiden over fences after six chase starts but in fairness to him he did bang in a joint career best on the figures on Friday at Kelso, matching the figure he produced two starts back at Chepstow, with the run inbetween at Exeter only being a shade below, which suggests to me that the wind op he underwent in the off season has, to a certain extent, had the desired impact.
So why then has he still not managed to get his head in front?
No clear answer to that but I'm starting to think they may be running him over the wrong trip since sending him chasing, with all six of his chase starts coming over trips of 2m6f+.
His distance splits would seem to back that up…
Form over 2m5f-2m5.5f = 1F211 (3/5, 1p)
Form over 2m6f+ = 3P2223 (0/6, 0p)
Indeed if you look at his last Hurdle run – a win at Kelso over 2m5f – you see the in-running comment of… "wandered close home but always doing enough"… suggesting he may have been coming to the end of his stamina reserves up the testing Kelso finish over the 2m5f trip…
With that in mind I am surprised that Nicholls has kept bashing away at the longer trips over fences and personally I'd like to see him given a spin over the mid-range trips again, I suspect that may just be the key to getting him winning again…
His final start last season came at Exeter over 3m0.5f and he was reported as "kept on at 3 out, challenged for second before 2 out, rallied after final fence, not reach winner"… which may have given the impression that he's one that wants a trip… but closer inspection of that race tells you it was a slowly run affair that returned a very poor speed figure, so ultimately he wouldn't have need to reach too deep into his stamina reserves that day.
There is, however, an upshot to him bashing away over (what seems to be) the wrong distance and that's the fact he's been dropped fully 15lbs from his opening hurdle mark, going down from OR 145 to his current perch of OR 130… that's lenient… I suspect it's VERY lenient… I'd have him as a low 140's horse based on his Hurdles form and with a little tweak in trip I'd be confident of him opening his chase account sooner rather than later…
FRONT VIEW
 IMPHAL (G Moore)
5th in a C3 Handicap Hurdle – 410 Ascot (Saturday 18th Feb) 
Made a complete b*ll*cks of the fourth flight here and despite the fact there was still over a circuit to go at that point it knocked him out of his handy racing position and his jockey could never quite get back him back into the position he wanted him, switching him a couple of times as the race heated up but ultimately that mistake just had him chasing his tail for the rest of the race.
He plugged on well down the homestraight once others wilted away and he was dropped 1lb by the handicapper for his troubles. That 1lb drop almost takes him into Prime Condition territory…
2m7f+ | G/S+ | OR 113 or less = 123111 (4/6, 2p – all 4 NH wins)
…although I'm always happy enough to be flexibility with things and OR 114 should be more than achievable, especially if his other conditions are met.
FRONT VIEW
 NEVILLE'S CROSS (T Lacey)
PU in a C3 Handicap Chase – 232 Wincanton (Saturday 18th Feb) 
Easy to draw a line through this effort from the 8yo as he was all but brought to a stop by the faller at the 7th fence and Tom Bellamy had no choice but to pull his mount up… it was almost certainly a fruitless task from that point on.
He's currently on a winnable mark – OR 134, his last and highest winning mark is OR 137 – and he's worth looking out for under the following Prime Conditions…
OR 137 or less | C3 or less Hcps | Good+ = P11221115F311 (7/13, 1p – all 7 career wins)
---
Cheers – Ben (NTF)
p.s. you can grab all previous NTF Blog posts HERE
…and I'll have some FREE NTF guides available shortly (working on them RIGHT NOW!) to help you navigate the minefields that will be the 2023 Cheltenham Festival Handicaps… make sure you are on the FREE NTF List so you get these guides the minute they are ready…
⬇️⬇️⬇️
4 responses to "Three to follow from the Weekend: 17th, 18th & 19th February…"