14
Feb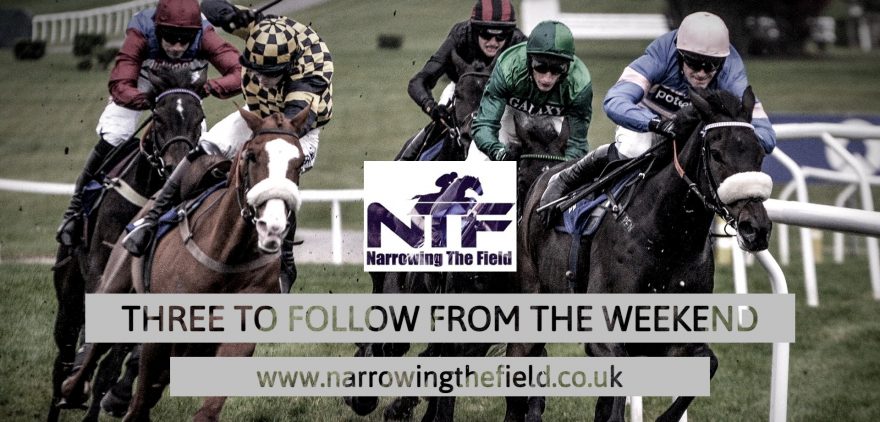 Three to follow from the Weekend: 10th, 11th & 12th February…
I don't know about you but the DENMAN CHASE and GAME SPIRIT CHASE just don't really do it for me these days…
The Irish stayers must have been looking at Saturday's Denman Chase with their feet up smoking a fat cigar, safe in the knowledge that they only have BRAVEMANSGAME to 'worry about' when it comes to the Gold Cup next month…
No offence to this years winner ZANZA… indeed he's a horse I actually have a lot of time for… but him winning the Denman Chase by a going away 7L tells you they need to do something different with the race… sure Zanza loves Newbury so it could have been expected that he outran his odds to a certain degree… but he was beaten 87L off OR 144 in a C1 Handicap last time out and prior to Saturday had been 0/14, 1p at Class 1 level. This year's renewal just looked a mess of a race and I'd treat the form with plenty of suspicion… it's just not attracting the right horses anymore and a race named after the mighty Denman needs to be a better than it currently is…
The Game Spirit Chase isn't much better… it's only ever had more than six runners lining up THREE times in the last 25 renewals… 13 of the 25 renewals have seen 5 runners or less… 6 of the last 9 renewals have seen 4 or less renewals… and whilst it maybe is attracting the right horses it clearing isn't attracting enough of them…
But I'll be honest… I'm not sure what the answer is…
Do the conditions of the races like the Denman Chase & Game Spirit need to be changed?
Do they need to be switched to limited handicaps?
Do they maybe need to become part of a group of races, like the Betfair Million races that Kauto Star nailed backed in the day, but not races where you need to WIN them ALL… I always thought that was pointless as when you failed to win the first race in the series the remaining races lost any incentive for any horse except the winner of the first race… for example the powers that be could bundle up, say, the Charlie Hall – Betfair Chase – King George – Cotswold Chase – Denman Chase – Gold Cup – Bowl Chase (Aintree) and then the horse with most points (maybe 10 for a win, 5 for 2nd & 2 for 3rd) once all races are run gets a hefty money bonus… rules being you need to have WON at least ONE of the races in the series and RUN in at least FOUR of them… (I'm literally making this up as I type… but I like it… I feel it's got legs!!).
Same could be done for the top 2-mile races on the calendar and whilst we are at it the same could be done for the top 2-mile Hurdle races and the top 3-mile Hurdle races…
Whilst we are at it you could also develop something similar for the Graded Novice races on the calendar… none of us (well maybe Nicky Henderson 🤨) really want to be seeing JONBON taking on just one opponent in a Grade 2 (for all the race did end up giving us all plenty to talk about!)…
Can't be too hard to pull that together surely?!?
As much as I love the Cheltenham Festival (and I do, I love it as much as most racing fans/punters) something needs to be done to boost the field sizes and competitiveness of races away from those 4-days in March…
Hell maybe we even need some sort of Pertemps Final style race over fences! As much as I'm not the biggest fan of those they do generally produce healthy fields throughout the season… and the final doesn't need to be at Cheltenham… I'm sure plenty of other tracks would be happy to throw their name in the ring to host a Pertemps Chase final…
Come on the powers that be! Get the race programme sorted… before it's too late…
…that went on a bit longer than I planned 🙈 so I'll shut up for now and give you what you are actually here for…
.
Three to follow from the Weekend: 10th, 11th & 12th February…
.FRONT VIEW
PASS ME BY (R Bandey)
2nd in a C4 Novice Handicap Chase – 200 Kempton (Friday 10th Feb)
An improvement on his two previous chase starts and I suspect that may have been due to the Good ground on offer at Kempton. His two previous Chase starts came on Soft whilst his sole win to date came on Good over Hurdles (Maiden Hurdle at Huntingdon – 20th Nov 2021) and I suspect he may be at his best on Good to Soft or quicker ground.
I'd be hopeful of Richard Bandey getting a win into him over fences before too long, especially if the ground stays on the decent side, and he was only shuttled up 2lbs for this run to OR 112, a mark I feel should be well within range for him.
Pass Me By is closely related to LITTLE RIVER BAY (trained by Philip Hobbs) and that one is a 3-time winner over fences so far, so positives there that PASS ME BY can make into a better chaser than he was a hurdler.
.FRONT VIEW
MAJOR DUNDEE (A King)
3rd in C3 Handicap Chase – 300 Kempton (Friday 10th Feb)
I'm pretty sure this one needs a Left-Handed track to show his best, with his LH/RH splits now reading…
LH form = 32110122F01 (4/11, 4p – all 4 career wins)
RH form = 6803 (0/4, 0p – well-beaten each time)
Both his runs this year have come on RH tracks (here and Ascot in October) so I wonder if connections are possibly trying to get his mark down a little before unleashing him back left-handed with a specific target in mind… he was dropped 2lbs for this run to OR 128 which means he has gone down 4lbs for his 2 starts this season.
.FRONT VIEW
TRITONIC (A King)
8th in C1 Betfair Hurdle – 335 Newbury (Saturday 11th Feb)
Seems a better horse going right-handed over obstacles, with his LH/RH splits now reading…
RH form = 4111 (3/4)
LH form = 8900525 (0/7, 0p)
He was dropped a very pleasing 4lbs for this run and that puts him on an even more attractive mark of OR 137, a mark that is 4lbs below his last and highest winning Hurdle mark, and it will be interesting to see where they go with him after this.
He's still only a 6yo and he should have more to offer under the correct circumstances, with those right-handed tracks looking the key for him.
---
Cheers – Ben (NTF)
p.s. you can grab all previous NTF Blog posts HERE
…and I'll have some FREE NTF guides available shortly to help you navigate the minefields that will be the 2023 Cheltenham Festival Handicaps… make sure you are on the FREE NTF List so you get these guides the minute they are ready…
⬇️⬇️⬇️
12 responses to "Three to follow from the Weekend: 10th, 11th & 12th February…"