15
Nov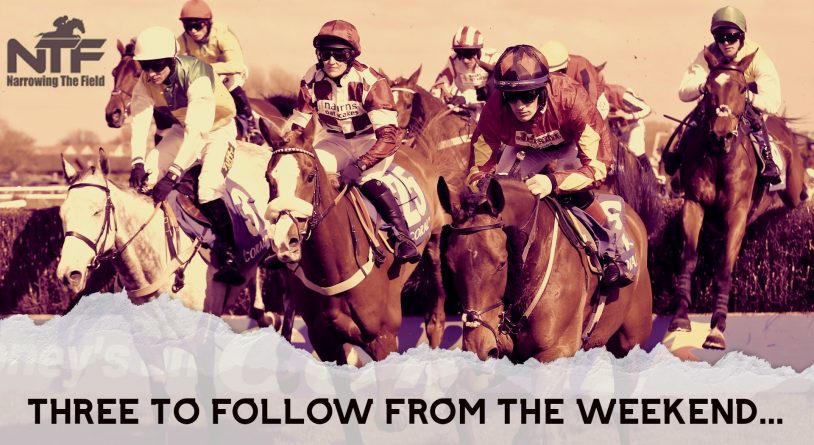 Three to follow from the weekend: 11th, 12th & 13th November…
Cheltenham November Meeting now in the form book ✅
Yep, the National Hunt season is properly motoring now 😁
No one trainer dominated the 3-day meeting this year… of the 19 races there were SEVENTEEN different winning trainers… only Milton Harris and Chris Gordon managed to fire in 'multiple' winners (they bagged two winners each).
That's a good thing though, I think we'd all prefer the wealth to be spread out rather than one or two of the major players landing all the spoils 👌
The most impressive winner for me was bumper winner QUEENS GAMBLE for Oliver Sherwood… she has now flattened two sixteen runner fields in her two starts by a combined distance of 18L, posting two very strong Proform Speed figures in the process… I like her a lot… I think she could go all the way to the top…
She was also a qualifier on the 'November Meeting Course winner angle' that I sent out last week in one of my free list emails… there were 3 qualifiers on that angle, finishing 1st, 2nd, 1st (the 2nd came in the same race as QUEENS GAMBLE)…
To make sure you don't miss out on any of the free list emails (and pick up some awesome free guides at the same time) then get yourself on the free NTF list today…
As always the November meeting weekend gave me a ton of top class racing to stick in my members Weekend Notes (ten chunky pages this week) and the following three to follow have been taken from those notes…
.
Three to follow from the weekend: 11th, 12th & 13th November…
.
ONE FOR YOU (A West)
4th in a Class 4 Handicap Chase – 1215 Southwell (Friday 11th)
This was chase debut for the 7yo son of Yeats and we know that the Yeats kids can need their first chase start (13.5% S/R on chase debut – 21% S/R on second chase start).
He did all his best work after 2 out in this and maybe the penny just didn't drop until he'd jumped most of the fences and he should be plenty sharper for this run, a mix of this being his seasonal debut and his first spin over fences means it was probably nothing more than a run to get him tuned up (it was also his first run for Adam West so his new trainer may have also just been gathering some info on him under race conditions).
Both of his hurdle wins came with cut underfoot and on RH tracks so plenty to suggest he'll do better with this run under his belt (and possibly with a little tweak in conditions).
*One For You was dropped 3lbs to OR 112 for this run, which puts him 6lbs below his highest winning Hurdle Handicap mark and 11lbs below his highest place mark 👍
.
XCITATIONS (P Sly)
4th in a Class 3 Handicap Chase – 153 Wetherby (Saturday 12th)
One that can run well off a break but his absolute prime DSLR (Days Since Last Run) period looks to be DSLR 21-100 (he was DSLR 291 here).
This was only his 5th chase start so every chance he has more still to offer over the larger obstacles and his Prime Conditions look to be along the lines of…
DSLR 21-100 | Handicaps with 11 or less runners = 11211 (4/5, 1p – all 4 career wins)
*Xcitations was dropped 2lbs to OR 130 for this run 👍
.
DOMINATEUR (B Pauling)
7th in a Class 1 Handicap Chase – 220 Cheltenham (Sunday 13th)
This was the 9yo's first run for 591 days so every reason to think he'll come on for this outing, which was also his first run for Ben Pauling since moving from the Oliver Sherwood yard.
I had rough Prime Conditions/Notes for him pre-race of…
Soft-Heavy | Undulating-Very Undulating tracks | Dec-March | C3 & below = 11113 (4/5, 1p – all 4 career wins) – could be up to Class 2 level
…and I'd probably stick with the same thinking for now.
He could be interesting if they can find Soft or Heavy for him next month as he is 311 (2/3, 1p) in December and horses that Ben Pauling gets from other yards do improve slightly on second run for him, especially in Chase or Hurdles…
First run for Pauling = 15% S/R
Second run for Pauling = 19% S/R
…those second run stats improve to 21% S/R when looking at geldings only.
*Trainer switch stats taken from Proform
.
---
Who wins the 2022 World Cup?
Argentina I reckon… that's where my money has gone… time for Messi to fully crown himself as the greatest player of all time… (to be honest I don't even rate him as the greatest Argentinian of all time… but that's a long time debate I'm having with my 13-year-old nephew… so I won't get into that here!!)…
To be fair (and despite me landing +52.32 points profit on my football head to head trixie with Tony Mac in the latest Racing Podblast episode 🥳🤯) there are people much better placed than I to provide you with betting insight for the forthcoming World Cup.
I'm always on the lookout for people that can help with my football betting… it's nothing more than a hobby for me but nevertheless I love looking at football stats (surprise surprise!!) and I did spent a good few years going through a few different options to find the one that fitted my needs the best…
These guys are the ones I keep coming back to…
…it's not the first time I've pointed you towards them but that's because I love what they do… I wish I had the time to do such digging myself… but you know, those Novice Chases at Ayr, Plumpton, Hereford, etc won't watch themselves… and the sire stats won't just magically drop in my lap… so when it comes to Football Stats I'm happy to take my knowledge from people who make it their business to dig up the all important stats and point me in the right (and profitable) direction.
And I'm not talking about the bog-standard stats you can find anywhere… nah… I'm talking a bit more of an alternative sort of stats digging…
I'm talking stuff like…
In World Cup 2022 Qualifying:
South Korea won the Most Corners bet in 9 out of 10 games (90%)
Spain won the Most Corners in 7 out of 8 games (88%)
Belgium won the Most Corners in 7 out of 8 games (88%)
Switzerland won the Most Corners in 7 out of 8 games (88%), and by some margin – with an aggregate score of 70 Corners For to just 18 Against. On average, that's 8.75 For v 2.25 Against, per game. With those numbers in mind, it's no surprise to learn that the Swiss landed -4 Corner Handicap bets in 6 of their 8 games
Under 10.5 Corners paid out in 9 out of 10 Saudi Arabia games (90%)
…I'd genuinely LOVE to have the time to find such nuggets as that… but alas I just don't… but the guys at Across The Leagues DO have the time… they make sure they have the time… because they know they can profit from the markets that most football punters are ignoring…
If you like your football stats and you want to have a dabble at the World Cup then definitely check out Across The Leagues…
Scotland, naturally, won't be at this World Cup (I mean let's be honest, 26 Scotsmen + all the backroom staff in the scorching desert heat of Qatar… they would have just melted in a massive tartan puddle after a couple of days anyway 🥵🤒) but allow me to indulge myself for a little and stick up the following video for you viewing pleasure…
Step forward David Narey and the GREATEST toe-poke in the history of world football…
>
…it only served to upset the Brazilians… but BOOM! what a thunder toe-poke from hell that was from the boy Narey!! Gaun yersel, Big Man!😁😁😁
---
Cheers – Ben (NTF)
p.s. if you ever want to check out previous NTF posts and three to follow from the weekend horses then just head to the main NTF Blog page here
4 responses to "Three to follow from the weekend: 11th, 12th & 13th November…"