18
Nov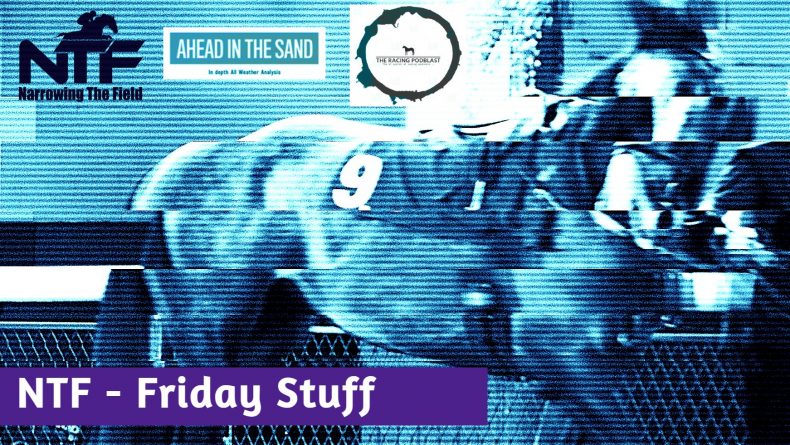 The Racing Podblast – Episode 6
A couple of bits and pieces for you guys to tuck into today…
Nothing you won't already be familiar with but plenty to keep you entertained going into the weekend…
.
THE RACING PODBLAST: EPISODE 6…
Many thanks to all of you guys that have listed to previous episodes of the Podblast 👍
I've found a way to embed the pod on the website here so that just gives you guys another way to listen to it…
.
.
This week on the Podblast we are concentrating on the Haydock action but as usual there is plenty more covered in the 21-minute pod (nice and quick for you all, won't take up too much of your time 👍) and we DEFINITELY mention the massive combined trixie results from last week  😲🤯 and you may be a little surprised about where we head this week for Top, Middle & Bottom…
.
THE RETURN OF AHEAD IN THE SAND…
Yes… All-Weather Davy and Ahead In The Sand WILL be making a return in the near future…
Dave has been ticking away on Twitter and plenty of you have been asking when/if Ahead In The Sand will be starting up again at some point…
So the answer to that is YES, it will be 👍
AWD (All-Weather Davy) and myself are putting our heads together and coming up with a bit of plan but until then Dave will post bits and bobs of analysis here on the FREE NTF Blog, starting with his thoughts for the Fillies Novice Stakes at Kempton (5.15) this evening…
The above is just a part of what Dave will be producing on the AW, we are also looking at getting his ratings sheets live and available on Ahead In The Sand… I know many of you loved digging into those files and finding your own angles into the races so the AWD ratings sheets are definitely something we are looking into having available this season…
.
ODDS N ENDS…
The latest 'Three to follow from the weekend' post can be found on the following link…
…and if you are planning on having a dabble on the 2022 World Cup and like your football stats then I definitely recommend theses guys…
.
Enjoy your weekend
Ben (NTF)