25
Sep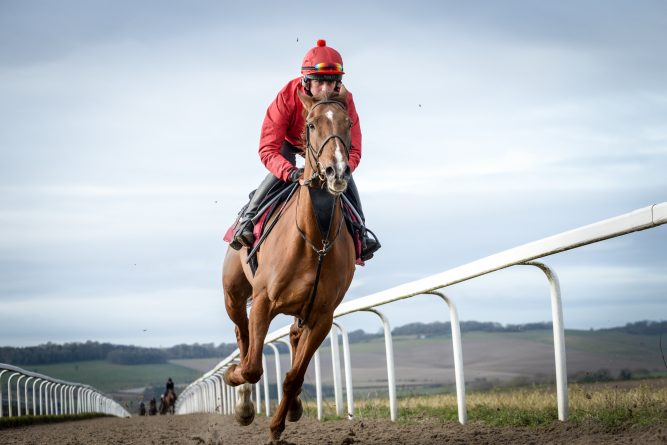 Three emerging National Hunt Jockeys you want on your radar…
There might just be a chance of a fight for the National Hunt Jockeys Championship this year, if the early skirmishes are anything to go on anyway.
Richard Johnson has won the past four championships, AP McCoy won the previous 20, Dunwoody won the three before that and Peter Scudamore and John Francome shared the 12 before that (seven to Scu, four to Francome and one shared crown). So in my 38 years on the planet there have only been FIVE Champion National Hunt jockeys!! FIVE!!
But is there just a chance of a 'new' name on top of the pile this year?
If Brian Hughes has anything to do with it then yes, there will be a new champion crowned come seasons end.
At the time of writing Richard Johnson still sits on the top perch with 60 winners to his name.
Brian Hughes, however, is bang on his tail with 59 winners. He's right there breathing down the champs neck.
As always it comes down to numbers. You need the support of many to reach the top. The more rides you get the more winners, naturally, you have the chance of riding.
And that's where Hughes has a chance.
So far Johnson has been given the leg-up on 272 mounts. Hughes, however, isn't that far behind, with the northern based jockey picking up 238 rides to date. He'll need to keep that level up to have any chance of taking the crown but he seems to have the support of the 'north' and if anything he's riding better than he's ever been (which is saying something as he's always shown immense talent and skill in the saddle).
There's still a long way to go, Johnson will 'probably' pull away at some point, but there's just a glimmer of hope that we'll have some sort of battle at the top…
It's not the top end I want to concentrate on here, however, it's the up-and-coming end (if that is indeed an end?!?). Those guys and gals currently working their way up the ladder.
It's those youngsters I want to concentrate on and today's post highlights three 'unexposed' jockeys who I think can make a big impact in forthcoming seasons.
Spotting a jockey at the start of their career can be a profitable pastime. Especially if you think that jockey is well worth their claim. The wider betting public will often be put off, rightly or wrongly, by a jockey they don't know or are not overly familiar with. The upside of that for us shrewd punters is that the horse being ridden by the young jockey we earmarked will often go off at a couple points higher than it should; giving us that wonderful position of a 'value price'.
So, which three young jockeys have caught my eye?
Take a look…
JACK TUDOR
Current claim – 7lbs
Attached to the Christian Williams yard
Overall figures (since October 2018) – 8/49 | 16% S/R | +£2.63 BFLSP – Win & Place 16/49 | 33% S/R
When a youngster finishes the season with a form line of…
4-2-P-1-5-5-1-1-1-1 (5/10, 1p)
…you know you need to sit up and start taking notice.
It's been a shade harder for the youngster so far this season (3/39, 7p to date) but it's all experience for him, it's all toughening him up for the season ahead and once the season starts to roll at full tilt I'd expect the winners to start flowing again for this talented youngster.
He has the support of the flourishing Christian Williams yard and his boss thinks very highly of the rider, making the following comment about him around this time last year " "I've a young boy in the yard who's an exceptional rider and I'm trying to find runners for as many amateur races as I can to give him experience.". That's exactly the kind of support a young jockey needs and Williams is sure to be repaid in spades in coming seasons.
It's still a bit light on the stats front for Tudor but I have noted that he's extremely adept when riding one from the front or just off the pace…
FR & CP runners = 6/24 | 25% S/R – W&P 10/24 | 42% S/R
…whilst he maybe has a bit still to do with those he holds up out the back…
HU runners = 2/25 | 8% S/R – W&P 6/25 | 24% S/R
…although in fairness out the back is the trickiest place to return solid stats from anyway.
I've also noted his strong record on those that start near the front of the market…
SP 5/1 or less = 7/21 | 33% S/R | +£7.78 BFLSP – W&P 11/21 | 52% S/R
A jockey that can get the job done on a fancied runner is never a bad thing, it's either a sign they don't feel the pressure of being on one that the market likes or they simply are not even looking at the prices full stop, either option being a likable trait for the man on top.
Christian Williams has provided the youngster with the vast majority of his rides to date but he's starting to sneak in a few rides for outside yards as well and he looks a star of the future if the early evidence is anything to go on.
BILLY GARRITTY
Current claim – 5lbs
Attached to the Micky Hammond yard
Overall figures (since start of 2016) – 21/159 | 13% S/R | -£20.86 BFLSP – Win & Place 51/159 | 32% S/R
If you've not heard of Billy Garritty then you'll likely have heard of his dad Russ Garritty (former jumps jockey, of Hussard Collonges fame) or his brother Jack Garritty (current flat jockey).
Billy is following in his fathers footsteps by going down the National Hunt route and he's got his sights set on the Conditional Jockey's crown this year. Whilst that may be a tough ask with Jonjo O'Neill Jnr also gunning for that crown young Garritty has started the season in fine form, with eight winners already to his name. Given he ended last season on 12 winners it's safe to say he'll surpass that total with ease this term.
Indeed if you look at his totals on a year to year basis (as opposed to a season to season basis) then his improvement is clear for all to see…
2016 – 0/18
2017 – 1/6
2018 – 3/40
2019 – 16/94
Clear signs this is a young man growing in confidence and ability.
On the punting front he's another youngster who is acquiring the knack of getting the job done when the money is down on one of his mounts.
Take a look at his record when riding a horse that starts in the top three in the market…
17/61 | 28% S/R | +£39.88 BFLSP – W&P 31/61 | 51% S/R
33% above expectation
If you want an example of his toughness in the saddle then just watch one of his most recent rides, his victory on CANFORD THOMPSON at Kelso (10-09-19). His stylish yet never-say-die attitude in the saddle was in full flow that day, on a horse that doesn't win that often (career form of 3/36), and I can only but see the winners flowing for him this season as he tries to chase down that Conditionals title.
Miss Isabel Williams
Current claim – 7lbs
Attached to the Evan Williams yard
Overall figures (since June 2016) – 14/82 | 17% S/R | -£19.05 BFLSP – Win & Place 32/82 | 39% S/R
I actually noticed the talents of young Williams during the 2017/18 season, where she recorded figures of 5/16, 4p, but she didn't really kick on as expected last term, finishing the season with figures of 3/43, 10p, which, given her previous season figures, was a tad disappointing.
She seems 'back on the ball' again this season though, with seasonal stats of 5/19, 3p, as of 25-09-19.
What is instantly noticeable about the young pilot is the amount of horses she rides quietly out the back.
These are her running style splits so far…
FR – 0/1
CP – 0/9
HU – 14/72
*wins/rides
A massive 88% of her rides have been held-up out the back. That takes confidence, real confidence, in not only your abilities and the abilities of your horse but also your ability to judge the pace of a race.
Given that she is striking at 34% above expectation from out the back then these are clearly tactics she is very much on the way to mastering, and that's nothing short of impressive.
Like the previously two mentioned jockeys Miss Williams is another that is more than capable of getting a fancied runner home in front, just take a look at her record when sitting on one of the front two in the market…
12/35 | 34% S/R | +£15.54 BFLSP – W&P 20/35 | 57% S/R
36% above expectation
Improving to…
12/29 | 41% S/R | +£21.54 BFLSP – W&P 19/29 | 66% S/R
70% above expectation
…when you look at those she's ridden from out the back and also started in the top 2 in the market.
When a young jockey shows a strong ability and confidence to get the job done from out the back of the pack (and it is no easy job, the stats tell you that) then they deserve our full attention. Isabel Williams is exactly that jockey.
Keeping with clan Williams… and going off on a random tangent…I've always thought that if I had to pick a National Hunt trainer to be on my side in a fight it would be Evan Williams! There is something seriously Roy Keane-ish about the Welsh Man!!
These three 'unexposed' talents all look on a serious upward curve and if given enough firepower this term, and all three do look well-supported, then it's not hard to see them bagging themselves a plentiful supply of winners, as they make their way up through the jockey ranks.
But…
What do you guys think?
Have any young jockeys out with the top echelon captured your attention?
Which claiming jockey do you think will make the biggest splash this term?
I'd love to hear your thoughts and opinions below…
Ben (NTF)
p.s. the latest Free NTF guides are coming along sweetly and I'll be releasing them to members of the free list very soon.
Not yet on that list?
10 responses to "Three emerging National Hunt Jockeys you want on your radar…"