22
Nov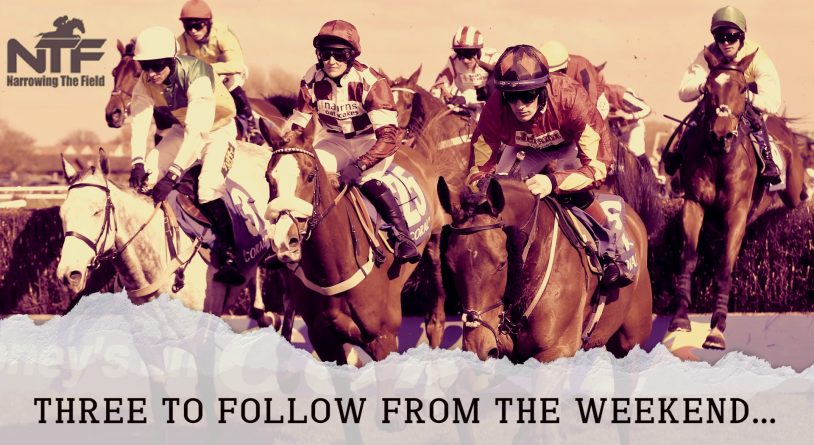 Three to follow from the weekend: 18th, 19th & 20th November…
Current Cheltenham Gold Cup holder A PLUS TARD made his seasonal return in the Grade 1 Betfair Chase at Haydock on Saturday, although things didn't really go to plan… did they?! 😬😬😬
Trainer Henry De Bromhead seems as bemused as everyone else by the lacklustre pulled-up effort from the 8yo and I think it's fair to say he never really looked all that comfortable at any stage of the race.
Any horse can, however, have a bad day at the office and I'm sure he'll bounce back from the effort… I doubt that's him gone at the game or anything along those dramatic lines (unless of course an injury is uncovered) but it's NOT good news for his chances of retaining his Gold Cup crown in March. Winners of the big one rarely post a Pulled-Up effort in the season of their Gold Cup win (prior to winning the Gold Cup)… indeed you need to go back to 2000 winner LOOKS LIKE TROUBLE for the last Cheltenham Gold Cup winner to have a PU on their seasonal form line in the year they won the Gold Cup… since then ZERO Gold Cup winners have done what A PLUS TARD did at Haydock on Saturday and then gone on to land the Gold Cup crown in March…
Hardly damning evidence against A Plus Tard and it's certainly not a case of 'he has NO chance of regaining his Gold Cup crown'… but it's a worry for sure… a relatively big worry… it's a hard enough race for horses to win back to back (Al Boum Photo really deserves much more credit for his back to back victories) without the added negative of a PU effort on the CV for the season… 🤨
There was, of course, plenty else going on over the weekend away from the Gold Cup winner throwing in a stinker of a seasonal debut and I've cherry-picked the following three from my own NTF Members Weekend Notes for this week's…
>
Three to follow from the weekend: 18th, 19th & 20th November…
.
 REVELS HILL (H Fry)
2nd in a Class 2 Handicap Chase – 205 Ascot (Friday 18th) 
I suspect he just bumped into one here in the shape of the winner YOUR DARLING but this was a solid return and he generally comes on for a run anyway. He's yet to win on his 3 seasonal debut runs, returning form figures of 642, with his 3 wins coming off breaks of 50 days or less.
He's only had 6 chase starts to date so there should be more still to come from him and he's worth looking out for in handicaps over 2m5f+, where he is holds a form line of…
211U21P (3/7, 2p – all 3 career wins)
He's got stamina to burn (already a winner over as far as 3m4.5f) so a step up in trip from this wouldn't be a bad move and he should have plenty of options going forward from this.
.
 SAM'S ADVENTURE (B Ellison)
5th in a Class 3 Handicap Chase – 1240 Haydock (Saturday 19th) 
This was the 10yo's first run off a wind-op here and Brian Ellison runners on their first run off a wind-op generally do need the outing, with figures of 4/91 on their first run off a wind-op compared to 9/88 on their second run off a wind-op, figures that improve again under the following…
B Ellison | 2nd run off a wind-op | geldings returning off a break of 42 days or less
9/57 | 16% S/R | +£32.98 – W&P 19/57 | 33% S/R
With that in mind SAM'S ADVENTURE may be worth looking out for on his next start, especially if meeting with the following Prime Conditions…
Soft/Heavy | LH tracks | Dec-Mar | C2 or less = P1112141211 (7/11, 2p – all 7 career wins)
He's exceptionally well-handicapped at present as he ran in this race off OR 131, a mark that is 8lbs below his last and highest winning mark of OR 139 (the mark from which he won the 2021 Eider Chase at Newcastle). 
This was actually his 3rd career wind-op and he also failed to win first time out off his previous two wind-ops, before banging in a 0.5L second and a 1.3L win on his second starts off those wind-ops, again giving hope that we'll see better from him next time out, with this run now in the tank.
.
 BOWTOGREATNESS (B Pauling)
2nd in a Class 3 Handicap Novices' Chase – 225 Exeter (Sunday 20th) 
The 6yo maybe just hit a bit of a small flat spot when push came to shove around 3-out, before rallying strongly on the run in and just failing to get up by a short-head. No massive surprise that fitness maybe momentarily deserted him as he has been better off a run previously, with form of 0F25 (0/4, 1p) off a break of more than 60 days compared to 2311 (2/4, 2p) off a break of 60 days or less, so whilst this was a big run on Chase debut he should be plenty sharper for the run as well.
Also well worth noting that Ben Pauling geldings on their second chase start show some strong stats…
18/72 | 25% S/R | +£59.26 – W&P 30/72 | 42% S/R
…so it would be no surprise if this one goes in next time out.
.
---
.
NTF Seven Day Ticket…
Newbury's Coral Gold Cup meeting (formerly Ladbroke Trophy… formerly Hennessy Gold Cup) is the focus over the jumps this week and I'll be opening up the next NTF Seven Day Ticket option for those of you that want to hop on and off the service for the bigger meetings.
This ticket will run from Wednesday 23rd November to Tuesday 29th November and you will have access to ALL NTF analysis that takes place during that period (the Coral Gold Cup one of a number of races that will be covered on the Race Trends).
The NTF Seven Day Ticket is an email only service so you will receive all the information via email the evening before the next days racing.
On the ticket you get full access to ALL members guides that are produced during the duration of the ticket… so all Daily Stats Sheets, all Race Analysis Guides, the NTF Weekend Notes for that period… and any other ad-hoc guides that I may produce during that week…
You will only be able to sign up on a Wednesday (so tomorrow – Wednesday 23rd November is when you need to act for this NTF Seven Day Ticket) and you won't be able to sign-up in the middle of an active ticket period. I will open doors around 9.30 am on a Wednesday so make sure you keep an eye on your inboxes for the sign-up links…
*The NTF Seven Day Ticket WON'T give you access to the Members Area nor will it give you access to the NTF Members Telegram group
Make sure you are on the FREE NTF Service so you don't miss YOUR chance to grab one of the NTF Seven Day Tickets…
You'll also be able to grab a chunk of FREE National Hunt guides as soon as you hook onto the Free NTF List 👍
Cheers – Ben (NTF)
p.s you can grab all previous NTF posts HERE
2 responses to "Three to follow from the weekend: 18th, 19th & 20th November…"